Honeywell last week announced a new "Connected Freight" solution that gives shippers and logistics companies unprecedented ability to monitor shipments of high-value and perishable goods, helping prevent costly damage and loss.
The new solution, developed in collaboration with Intel and third-party logistics companies, provides real-time information about the location and condition of critical freight while in transit. Real-time shipment information is critical, for example, when shipping perishables and goods that require uninterrupted refrigeration, such as pharmaceuticals, or high-value equipment that is sensitive to vibration or shock.
I spoke to Sameer Agrawal, VP of Supply Chain Solutions, Honeywell SPS  to learn more.
"Intel came to us, with the problem that occurred when they were shipping large pieces of equipment and there was a problem in the shipment," he said. "They said this just tells me that an event happened. It doesn't tell me anything about why and how it happened, or the events leading up to it. It doesn't tell us what we could have done to avoid it happening. We knew that we should be using IoT sensor tech to be able to track and manage our freight."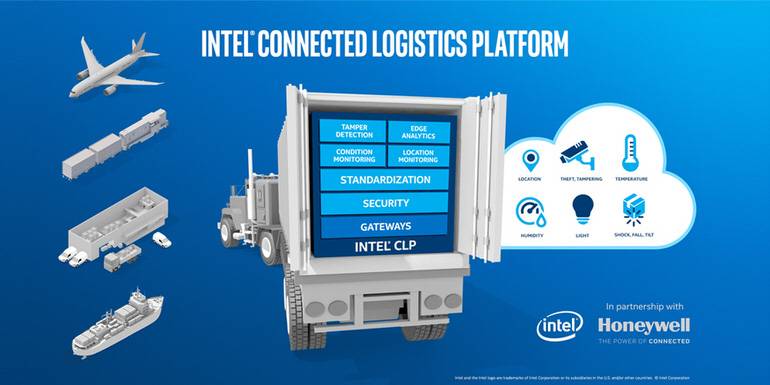 Honeywell's Connected Freight solution consists of cost-effective sensor tags that sense a range of environmental conditions, such as temperature or vibration. The tags can be affixed to pallets or individual packages. The sensor data is captured by a mobile gateway placed inside a truck or shipping container and then transmitted via cellular networks to a cloud-based command-and-control platform.
See also: Can blockchain and IoT solve international freight's issues?
Users can establish alerts based on temperature, shock, tilt, humidity, pressure and intrusion detection. The solution can alert manufacturers of high-value, highly sensitive technology if equipment has been damaged while being loaded or unloaded, or if it may have been stolen. The cloud can also store data for compliance and audit needs, and provide predictive and reactive analysis, such as which routes to avoid.
Agrawal explains that there are a number of reasons why this is happening now, with the first being price point:
"It's not as if things are getting lost or damaged 30%, 50% of the time. The logistics industry is such a large industry even small errors will create a humungous amount of waste. The cost of the sensors, the cost of communicating, we're now at a point where we can start looking at 15, 25 percent of all of the logistics market as a starting point."
Secondly, personal consumer shipping has set a precedent. "There's a real awareness of the hype around IoT. Today when you order something from Amazon, you get visibility at the time you want visibility. You can track your order from door to door, pretty much hour to hour.  But today when I go back into my businesses and ship my stuff, I'm back to the phone call. Why can't I get the same thing in my business?  So there's a lot of pressure in the marketplace.
"This demand for visibility is further coupled with the desire of traditional industries to work with established names with a  good reputation. They say they need to make sure that this company is going to be around and that they're going to be selling this product for the next five to ten years because,  'if I offer this and built up the expectation that is available, I need to be able to sustain the offering of the service'. This is really just one of the reasons why things are starting to come into play and why this was the right time for us to do it."
The impact of human error
The system is still in early stages in terms of roll out and some interesting discoveries have happened already according to Agrawal:
People have the notion that on a plane, pallets get dislodged or lost during the journey but a more common scenario is where a person opens up the cargo at the end of the journey and the customer says, 'What is this, we were supposed to have 8 pallets but there's actually only 7' and we can see that one was left on the runway at the airport. Or whilst watching a shipment, a customer asks the driver, 'Where are you?' And the driver replies, 'Oh I'm on my way' but we can actually see via the data that they are sitting at a truck stop and there's was no way in hell they could get there in time."
At the other end of the spectrum is overcompensation. "Think about pharmaceuticals, the stakes are very high. In Africa, these days they can't afford to say, oops this vaccine is bad and let's wait another 10 days for a shipment, they don't have that kind of luxury. This is where the value of IoT comes into it." As Agrawal details:
"One of the things pharmaceutical people talk about is that 2-3 degree shipments are the toughest ones because what ends up happening is not that the truck temperature goes above eight degrees and it causes problems.  It's that people overcompensate and they make it cooler, below two degrees, which wastes a lot of energy and money."
Predictive analytics and remote repair
Logistics service providers and shippers can use the platform's alerts to make real-time decisions that can reduce operational costs, maximize utilization of associated assets, as well as increase service levels to customers. Highly granular data can also assist companies in planning and predicting future operations to proactively avoid problems and greatly improve overall supply chain efficiency.
The data gathered and communicated en route by smart and connected shipments will help industries not just track goods, but also improve business decisions like rerouting if demand shifts or intercepting a damaged shipment. By analyzing data from thousands of shipments, logistics service providers will be able to predict and avoid routes where damage or delays are likely, establishing a more reliable distribution network. While the service is still in its infancy in regard to future tech that includes not only remote diagnosis but also remote repair of cargo problems or vehicle difficulties, this is just the start if greater things.