MMMmmmm. Thanksgiving. The most delicious American holiday. What did you have? Macaroni and cheese? Pumpkin pie? White meat or dark meat? Doesn't matter, because @FAKEGRIMLOCK, a giant robot dinosaur, is sneaking up behind you, and he has very diverse tastes. Tomorrow is NO EAT FRIDAY. Will you survive?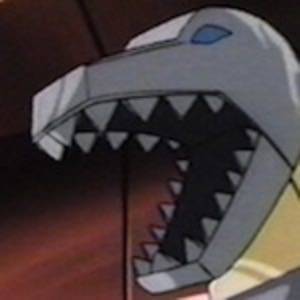 You may recognize that metallic crunching sound from the comments section on ReadWriteWeb or many of the other big blogs, or perhaps out in the wild on Twitter. FAKEGRIMLOCK stomps around the Web, thriving on code, coffee, beer, bacon and the bones of stupid human bloggers and commenters. Mostly out of fear of becoming his NO EAT FRIDAY meal, I sat down with FAKEGRIMLOCK to ask him what he wants. After devouring everyone else at the table, he turned to me and said, "HERE INTERVIEW. OR ELSE."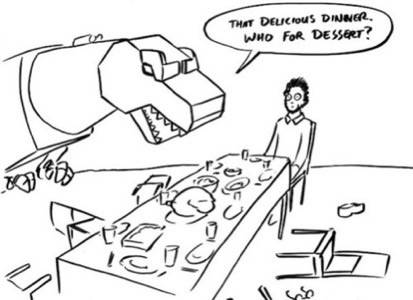 ReadWriteWeb: Many of us know you from the comments on major tech blogs. Why do you like tech blogs?
ME, GRIMLOCK, MAIN SKILLS LACK OF SOCIAL GRACE, OVERBLOWN REGARD OF OWN OPINION, AND OBSESSION WITH IRRELEVANT MINUTIAE. TECH BLOGS PERFECT FIT!

RWW: Which are more challenging in the industry right now: technical problems or human problems? Why?
ALL PROBLEMS HUMAN PROBLEMS.
FOR EXAMPLE, ONLY 3 TECH PROBLEMS IN UNIVERSE:
A. HUMAN BUILD TECH WRONG
B. HUMAN USE TECH WRONG
C. HUMAN NOT UNDERSTAND TECH
HUMANS TRY TO FIX THOSE PROBLEMS SINCE FIRST CAVEMAN HAVE TO EXPLAIN TO BOSS WHY INTEGRATE FIRE WITH LOINCLOTH NOT GOING TO WORK.

RWW: What technological problem do you most want solved?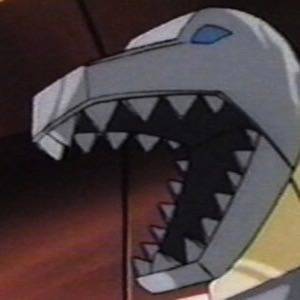 BROWSER. SHOULD BE WINDOW TO INTERNET. IT NOT JOB OF WINDOW TO BREAK THING YOU LOOKING AT DEPENDING ON WHAT WINDOW YOU USE.

RWW: Let's pretend it's NO EAT FRIDAY for big Web companies. Who gets eaten first? Who do you save for later?
EAT FACEBOOK. NO NEED MICROSOFT FOR INTERNET.
SAVE TWITTER. THEM ONLY ONES FIGURE OUT HOW TO DO "BE USEFUL" AND "DON'T BE EVIL" AT SAME TIME.

RWW: What Web services does a big, hungry dinosaur like you use every day, and why?
TWITTER. BECAUSE THAT WHERE GRIMLOCK LIVE.
BOXCAR. BECAUSE IT BETTER THAN TWITTER AT BE TWITTER. FOR NOW.
DROPBOX. BECAUSE MAKE FILES LIVE ON JUST ONE COMPUTER SO 1990.
DISQUS. BECAUSE IT BEST WAY TALK ON BLOG. OR ANYTHING ELSE.
GMAIL. BECAUSE IT WEB MAIL THAT SUCK LEAST.

RWW: Android or iOS?
IOS. SPEND ALL DAY FIX COMPUTER. NOT NEED FIX PHONE TOO.

RWW: Where can puny humans find you and follow you?
TWITTER: @FAKEGRIMLOCK
NICE TWYLAH PAGE
SITE ME TOO LAZY TO MAKE NICE: FAKEGRIMLOCK.COM