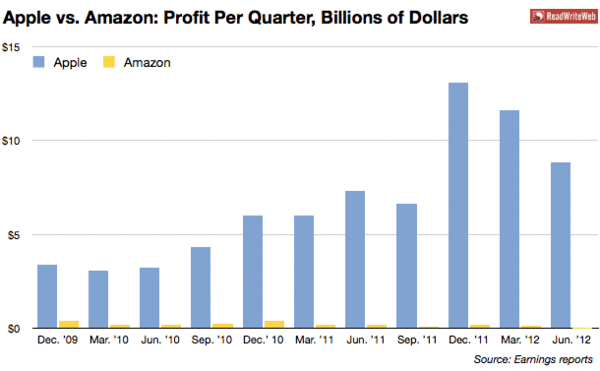 Apple and Amazon are both in the business of designing small computers – tablets, ereaders, phones, media players – and selling them to the public. But how they do it is the big difference. And that's best depicted by the astonishing difference in the two companies' profits.
Amazon's Approach: Sell Now, Profit Later
Amazon CEO Jeff Bezos explained his approach last week at the company's Kindle press event.
"We want to make money when people use our devices, not when they buy our devices," Bezos said. "If someone buys one of our devices and puts it in a desk drawer and never uses it, we don't deserve to make any money."
Bezos clarified that he's not interested in selling devices at a steep loss – the razors/razorblades model. He is most interested in a business where Amazon makes a little money here, a little money there, and gives people a really good deal.
Amazon's mantra: "Above all else, align with customers. Win when they win. Win only when they win," Bezos said.
A little different than most companies? Yes. But that's okay: It certainly resonates with customers.
Apple's Approach: Big Profits From Small Devices
Apple generates profit – up to hundreds of dollars per device, especially for the iPhone – every time it sells a gadget. Its media ecosystem is there to support the hardware. In other words, iTunes and the App Store exist in large part to sell more iPhones, iPads, Macs, Apple TVs, and iPods.
As Apple CFO Peter Oppenheimer described on a 2008 earnings call: "We're thinking about the App Store in the same way that we think about the iTunes store. While it will generate some revenues, it will be a small profit generator, and just as with the iTunes store making iPods more attractive, we think the App Store will make the iPhone and iPod Touch more attractive to customers. We'll hopefully see an indirect return by selling more iPhones and iPod Touches."
What's Better? They're Just Different
Obviously, if short-term profit is all that matters, Apple is winning by a mile. Apple has generated more than $73 billion of profit over the span of this chart, while Amazon is around $2 billion. Some of that has to do with the relative size of the companies; Apple is about three times bigger, sales-wise. But Apple's approach is still dramatically more profitable on a relative basis.
That said, there's also merit to Amazon's approach. By pricing its devices lower, it's potentially bringing its technologies to more people in different economic positions. Apple has lowered its pricing premium significantly over the years, but there are still potentially millions of people who could justify buying a $200 Kindle Fire but not a $400 iPad. Apple is now expected to launch a smaller, cheaper iPad, something it once suggested it wouldn't do – an action attributable in part to Amazon's success.
Will Amazon's approach ever lead to substantial profits? If Apple and Google are driving media and app prices lower, that leaves less room for Amazon to profit in the future. But Amazon is a multifaceted machine, ranging from digital media sales to paper-towel delivery. It's possible that getting customers all-in on Amazon's digital and Prime services will eventually lead to greater profits across the board.
Another question: Could competition from Amazon force Apple to lower its prices, potentially at the expense of its profit margins? Perhaps, over the long term, on some models. But one of Apple's biggest strengths is the supply chain it has built of the years, meaning better prices and efficiency than its competitors. If Apple and a rival both design devices with similar features and charge the same amount of money for them, it's entirely possible that Apple could generate a profit off each sale while its competitor takes a loss.
The good news: Today's market is big enough for both companies. Profitability will eventually help sift the tablet winners and losers, just as it has in smartphones. (Apple and Samsung the big winners; RIM, Nokia, Palm, Motorola, and others the losers.) Amazon is big enough to keep doing what it's doing; it might work. And in the meantime, Apple will continue to pile up the cash.
Also: What The New Kindle Fire Means For Amazon's Smartphone