Users of Doodle, the scheduling app and Launchpad finalist, can now integrate Google Calendar, Lotus Notes, Outlook, or any calendar with an ICS feed using the new "Calendar View" feature. It's a useful enhancement that helps the SaaS compete with similar services.

As we wrote last summer, Doodle is a single purpose but potentially useful web app for scheduling. Users can create an event, add a list of potential dates and times, and send it around to other participants to vote on a final time slot for the event.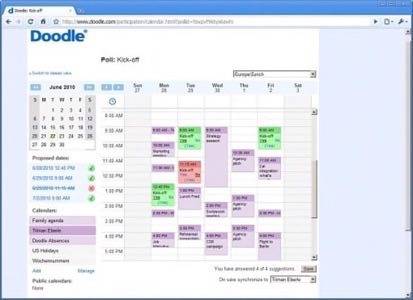 The new calendar integration brings popular calendaring services directly into the service, allowing users to see both their calendars and any calendars that may be shared with them. This is a particularly useful enhancement for the tool, especially of users that may be scheduling events with participants using a wide variety of different calendaring tools.
Although hardly alone in offering this type of service (competitors include Tungle and When is Good?), Doodle has gained considerable traction. The company says it has over 6 million users, and it was a Launchpad finalist at Enterprise 2.0 in Boston last week.