This post appears courtesy of the Ferenstein Wire, a syndicated news service. Publishing partners may edit posts. For inquiries, please email author and publisher Gregory Ferenstein.
Legislation around drone use is of paramount importance for their hardware and software developers, as well as businesses hoping to make use of them for deliveries, security surveillance and other purposes. Laws governing their use not determine the scope of their use, and can even shape public perception of these compact flying machines.
What will the public think now that drones in the U.S. are now legally permitted to fly equipped with non-lethal weapons aboard? The change comes courtesy of a recently amended bill in North Dakota.
See also: Why Drone Regulations Are Taking Forever
The law's author, Representative Rick Becker, originally wanted to require police to secure a warrant for drone surveillance. But then local law enforcement managed to sneak in the right to equip drones with tasers or rubber bullets by amending the original prohibition against lethal and non-lethal force to just limiting lethal weapons.
Weaponizing Drones: This Is No Game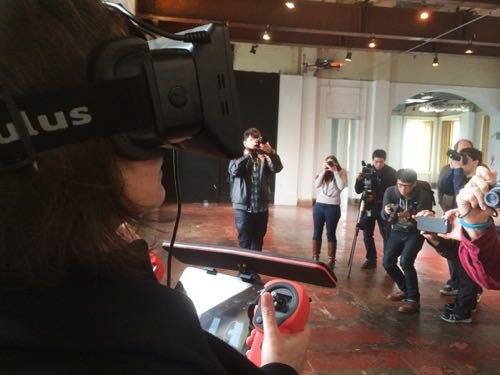 When I contacted Becker, he showed concern over the revised bill. He's worried, in particular, that it will have dramatic unintended consequences.
"I think it's important to maintain the humanity in making decisions to deploy weapons against another individual," he told me. "We can't depersonalize it and make it like a video game."
See also: Forget Pizza: In The Future, Drones May Deliver You
It's easy to see where the concern comes from. Drones tend to be navigated by handheld units that often mimic game controllers. With weapons on board, the whole premise also puts the attacker further removed from the target, as well as the injury he or she will inflict.
Becker says he "has no knowledge" that police are equipping drones with tasers to hunt down criminals, and he trusts that local law enforcement knew what it was doing when it amended the law. But he suspects it could be an issue in the near future. "Clearly it was important to them to add that provision," he said.
Drones have faced varying regulations around the country. Back in 2013, Virginia passed a temporary moratorium on state use of drones, so officials could probably assess the safety and ethics before releasing them into the wild.
Droning On
The matter in North Dakota shows how the nuances of local politics could influence the future of drone laws. But do these politicians and lawmakers fully grasp what's at stake when they create or vote on legislation?
Becker is only a part-time representative. In his day job, he's a plastic surgeon. When I called him, his phone rang at a medical office. At the time, he seemed unaware that that story had even reached the national spotlight.
It has, in part, thanks to the efforts of tech companies like Amazon, Google and Facebook, all of which have much-hyped drone initiatives.
Amazon has been aggressively lobbying all levels of government to ease restrictions, so it can unleash a fleet of drone delivery vehicles. (Because who doesn't want tacos to rain down from the skies?)
Becker's scenario is not uncommon. North Dakota has a part-time state legislature that convenes on odd-numbered years. "A legislature that only meets half time can only do half as much damage as one that meets full time," he said. North Dakota will meet again to reconsider drone laws in 2017.
Technologies, particularly emerging ones, often collide with politics, as our elected and appointed officials try to make sense of new devices, services and software. Many find themselves struggling to define rules for public safety without hampering the spirit of innovation that led to those innovations. It's a tough balance, and drone use in particular is going through its fair share of scrutiny.
A consequence of these proceedings is the public's impression of the technology, which already carried a fair amount of suspicion in light of privacy concerns. What happens now, with their weaponization being sanctioned, remains to be seen.
What's certain, and perhaps most important for entrepreneurs pursuing drone technology, is that adoption will likely go through many more assessments and challenges before it becomes mainstream.
For more stories like this, subscribe to the Ferenstein Wire newsletter here.
Photos by Adriana Lee for ReadWrite