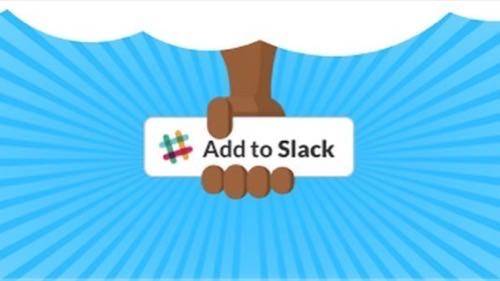 You're probably familiar with pinning something to Pinterest, sharing it via Twitter or posting it to Facebook. Now there's another option: Add to Slack.
The new button introduced by the Slack team can be embedded into almost any site, service or app, giving users an easy way to get third-party content into a Slack channel of their choice. This works slightly differently from all the integrations Slack has set up with the likes of Dropbox, Google Hangouts, IFTTT, Trello and so on.
See also: Inside Slack: How A Billion-Dollar Email-Killer Gets Work Done
"Once configured, any Web apps or services that send you notifications or emails can start automatically reporting those to Slack," explains the official blog post. Apps and services can also directly share things into Slack, without prompting users to leave their app.
Slack offers up some examples too: You can pipe in news alerts from Nuzzel, designs from InVision and files from Box, all without leaving the app in question. Slack says a dozen or so apps already have the necessary integrations built in, with support for many more coming soon.
According to Slack, "If you run a service or app that periodically sends notifications, or you'd like users to share their work directly into Slack without leaving your app, chances are you could easily make use of this feature." The company invites interested developers to check out the Slack Button documentation.
See also: Let's Talk: Quip, Zendesk, and Evernote All Want A Piece Of Your Work Chat
Replacing the need for webhook URLs and copying and pasting of API tokens, the update offers something much more streamlined. Slack is also increasing the number of integrations available free to teams, from 5 to 10, to encourage use of the new feature.
99designs has a useful run-down of how it set up the "Add to Slack" feature during the private beta phase. Once connected, task updates appear in the chosen channel automatically.
In the future, it's not hard to imagine it acting as a catalyst for a paid Slack app store. For now, however, it's a useful tool that offers simple Slack integration for developers, with less legwork.
Image courtesy of Slack