Facebook, the social network people either love to use or just love to hate, doesn't want to stand in the way of Messenger's success—so it's stepping aside, letting people without Facebook accounts sign up for the messaging service with just a phone number.
See also: Why Facebook Messenger Is A Platform—And WhatsApp Isn't
Messenger doesn't lack for users—it already has 700 million signed on—and yet the company apparently thinks that's not enough. (Messenger trounces rival WeChat and its 500 million monthly active users, and its not far behind Facebook's other messaging app, WhatsApp, whose ubiquity on even older wireless networks earned it 800 million monthly active users worldwide.)
Why the new user recruitment tactic? Because the more users Messenger has, the more it can entice developers into the fold—and the larger its revenue potential becomes.
About Face
Facebook apparently wants to expand Messenger's audience by going after the people who have yet to hear the social network's siren call—or resisted it. There are 1.44 billion people on Facebook, but many more who have mobile phones.
See also: Facebook Messenger Wants To Claim E-Commerce … And Fist Bump GIFs
That's where things start to get murky for developers.
If Messenger has any hope of making money, it rests with a large and growing user base, and a developer community rallied around it. Facebook's Messenger team has been trying to attack both sides of that equation.
Let's Chat About Money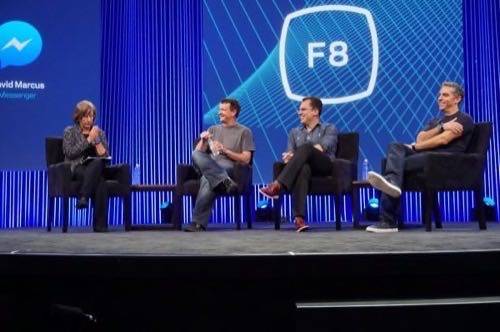 Though the social network itself has already tried appealing to app makers, hoping they'd see the social network as a platform for games and other apps (as well as, of course, ads), Facebook Inc. used its recent F8 developer conference primarily to shine a spotlight on Messenger. The company unleashed a bevy of tools last March covering embedded videos, embedded posts, app linking and more.
For mobile app makers specifically, the announcements presented some obvious benefits: By letting people access their iOS or Android apps directly from within Messenger, they could drive attention and usage to them. Facebook's Messenger chief, David Marcus, explained at F8 that he wants to give developers the "opportunity to build on these platforms"—not just once, he said, but often.
App integrations may ensure people stick with Messenger, as a single access point for playing games and sending videos, selfies, and even money to friends. The company may wonder if they'd even be willing to pay for that convenience—though the chances of Messenger subscriptions seem slim. Facebook doesn't charge people to use its apps, and it's currently in the midst of making Messenger more accessible, not less.
If the company won't charge users, then it may consider pointing its cash register in another direction: by charging developers.
It has plenty of advertising experience that could come in handy there, though probably not for straight ads. Even Facebook likely knows that foisting ads in a messaging app would be a fast ticket to a user backlash. However, the advertising world's pay-per-click model could play out for app downloads. And if Messenger enables paid app downloads or in-app purchases, it could grab a slice of that for itself too.
Other chat apps make money in a host of ways. The Wall Street Journal notes that China's WeChat app rakes in the revenue by taking a cut of transactions that happen through its app, everything from hailing taxis to purchasing apparel. According to the article, apps like WeChat and South Korea's Line, which makes money by selling stickers, may give Marcus a reference point, but he thinks Messenger "need[s] to leapfrog what happened in Asia," he said.
Interesting choice of words, and they could be interpreted a lot of different ways. Chances are, if Facebook hopes to strike Messenger gold, it's sifting through all of them.
Photos by Adriana Lee for ReadWrite