Televisions weren't always smart. In fact, given how long people tend to hang on to their TVs, plenty of so-called "boob tubes" still dominate numerous living rooms across the country.
Fortunately, you don't need a smart TV to tune into Netflix and other streaming services. All you really need is a plug-in gadget. The add-ons come in a range of sizes and prices, anything from a HDMI streaming stick to a set-top box shaped like a hockey puck to a full-fledged console, with a range of features to suit a variety of users.
See also:
So whether you're looking for stocking stuffers or primo gifts, there are plenty of options to suit a range of users—from your cord-cutting brother-in-law to the cable TV holdouts who raised you. Here are five of our favorites for your holiday shopping consideration.
Cheap HDMI Streaming TV Stick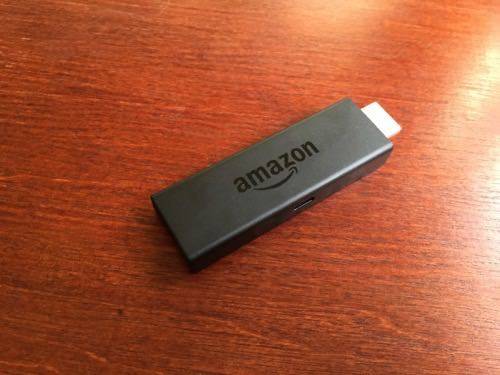 Our pick: Amazon Fire TV Stick, $39 ($24-25 at select retailers)
Here's a surprise: Amazon actually made a gadget that's a winner (besides its terrific Kindle e-reader). I was going to put the $35 Chromecast as my top pick; its software evolution has been progressing quite nicely this year. But it has no remote control, and its "fling video from your phone" approach can be tough for some folks to wrap their heads around. The Roku stick does come with a remote, but performance is kind of laggy.
Fire can stream several popular services for a bargain price, works faster than Roku, and offers a slick interface and remote control. But the remote doesn't support voice like the full-fledged Amazon Fire TV. That might be okay, though, since the feature's still pretty limited. (If your friends really want to check it out, they can upgrade the remote or download the app, if they have another Amazon Fire mobile device.) Let's also not forget that, as a simple black stick—with no fat end, big logo or blaring purple color—it won't look ugly attached to a television.
But Chromecast, a very close runner-up, also makes an excellent gift if your recipient isn't too attached to a remote control and enjoys casting media from their phones. The teeny Google device's streaming inventory just expanded yet again, with Comedy Central, Nickelodeon, Epix, ENCORE Play and others newly joining the ranks.
Runners-up:
[Update: Roku Streaming Stick just went on sale for $40, with two months of Rdio Unlimited free ($20 value)]
TV Set-Top Box (mid-priced)
Our pick: Roku 3, $100
TV sticks may be trendy, but that doesn't mean gadget makers overlook the appeal of a full-fledged set-top box. Typically faster and more powerful, these units are built for people who want to give their dumb TVs some smarts. The market saw other $100 boxes enter the fray this year, like Google's Nexus Player and Amazon's Fire TV, but their app selection and marquee feature, voice search, still needs more work. Apple hasn't brought Siri to its Apple TV (yet), but that's probably because its popular box hasn't gotten an update in two years.
Roku claimed a stake in TV streaming early on, and now boasts a giant selection of streaming sources—more than 1,700 channels cover the major services, as well as others, from sports to children's shows to Korean and Chinese dramas. The Roku 3 offers the fastest performance in the company's line-up, comes with all the bells and whistles—including a handy headphone port embedded in the remote, for private listening—and comes with an ethernet port for a hard line, in case Wi-Fi's too finicky.
Runners-up:
TV Set-Top Box (splurge)
Our pick: TiVo Roamio Plus, $325, or Pro, $500 (on sale)
Granted, TiVo's Roamio family of boxes is not new this year, but they're still among the best. These are big-ticket items for TV addicts who won't cut the cord, but still want streaming and apps, as well as recording capabilities.
TiVo's acclaimed interface and remote control come with generous storage: At the upper end, the box offers 3TB, which can record and hold more shows than you could hope to watch, plus six tuners that can record six channels at once. While not the fastest set-top box, it greatly improves on the previous Premiere HD. By a lot.
Roamio Pro comes with built-in WiFi support, which the older box lacked. That lets it stream recorded shows to your iOS and Android devices, the latter of which just got support this year. The box also pipes in online streaming services like Netflix, Hulu and Amazon, as well as the Opera TV app store.
This year, Roamios also boast some new Chromecast-like powers: Users can "cast" YouTube or Netflix videos from phones to TVs. There's a downside though: The box requires a subscription—monthly ($15), yearly ($150) or lifetime ($500). But the company's ardent fanbase finds it worth the cost. There's also a base model available for $150, but bear in mind that you'll skimp on storage, tuners and streaming of TiVo recorded shows.
Runners-up:
None. (The Roamio stands alone as the top premium box for both traditional TV, DVR recording and streaming.)
Game Console With Streaming
Our pick: Sony PS3, $340
At this point, all TV streaming devices offer some measure of casual gaming. But for more serious games, none can compare to an actual purpose-built console. Two reigning champs dominate the game console market: Sony's PS4 and Microsoft's Xbox One. When it comes to streaming, however, an old-timer holds its ground on our list: the PS3.
Sony's previous console is still the best game console for streaming. It offers 22 streaming apps—including Netflix, Hulu Plus, Amazon Instant Video, YouTube and HBO GO—and plays media from Blu-ray discs, USB drives or streaming from a computer or smartphone. Plus, as an older machine, it also has a fuller library of games.
Granted, some people may care more about having a recent model, no matter how great the older version is. But even in that case, the newer PS4 still doesn't win. The Xbox One, our runner-up, supports more streaming services than Sony's latest, and thanks to recent Plex support, it can also stream media from desktops and mobile devices.
Runners-up:
TV Box To Stream Sports (Or Other Live TV)
Our pick: Sling Media's Slingbox M1, $150 ($124 on Amazon)
TiVo can "kinda-sorta" do live TV streaming. Users have to start recording a show, and then can immediately start watching the recording on their computers or mobile devices. It works, but it's a bit clunky. If Aereo hadn't failed—or rather, gotten whupped by the legal system—it could have become a contender in live TV streaming, at least for local broadcast stations. But RIP, Aereo.
Fortunately, we still have the Slingbox M1. While it doesn't offer digital video recording like TiVo, its primary feature, slinging live TV in 1080p to computers and mobile devices, seems to work really well. Considering how limited or expensive streaming sports can be, the M1 seems like a no-brainer for catching regional, college or national games on the go.
The device connects to external boxes for cable, satellite or DVR, and sends the signal to the Internet, where the user can watch it in a Web browser, desktop application or mobile app. It works over Wi-Fi or cellular LTE, and the best part is, there's no subscription fee.
Runners-up:
I recently got a smart TV, and I find that I still use auxiliary TV devices. Smart television platforms have only just begun to evolve, so their built-in connectivity, features and slowly growing app stores can't yet offer everything that these add-ons can. That means these sticks, boxes and consoles should be around to give your lucky gift recipient plenty of streaming joy all year long.
Roku 3 and Slingbox M1 photos courtesy of respective companies; all others by Adriana Lee for ReadWrite