Google has finally released its new mobile operating software, Android 5.0 Lollipop. But if you're not buying a new phone that comes with Lollipop installed, it's much less clear just when—if ever—you'll see the update.
Of course, Lollipop looks worth having. Google's tweaks to the mobile platform are designed to make it much more intuitive and attractive as well as function, in part so that people will embrace it on devices beyond phones—tablets, TVs, watches and more. That still doesn't mean you'll see it any time soon.
The company's "reference" devices—its Nexus line of phones and tablets—will get first crack. Other phones will have to wait until their manufacturers and the mobile carriers greenlight the updates.
In theory, that process should move more speedily with Lollipop. For the first time, Google released a developer preview of the software this summer, hoping to give app makers and partners some lead time. The idea was that by the time Lollipop officially launched, developers and manufacturers would already be prepared to ship out Lollipop updates and updated apps more quickly.
So far, though, Lollipop doesn't seem to be picking up the pace.
Android Phones Queue Up
Unlike Apple, which controls both its software and hardware, Google doesn't have a big, shiny red button that mass-blasts new Android updates to gadgets in one shot. Software updates don't gush forth; they trickle out, bit by bit.
See also: 10 Things You Need To Know About Android 5.0 Lollipop
Google's Nexus devices should get upgraded to Android Lollipop first. Those units were designed to show off unmodified "stock" Android, free of manufacturer tweaks, added layers of user-interface "skins" and carrier-mandated bloatware. So naturally, as gadgets bearing no custom features or tweaks to Google's original software, they get first dibs on the latest version.
The brand-new Nexus 6 smartphone (by Motorola) or Nexus 9 tablet (by HTC) will ship with Lollipop installed. Other Nexus devices, if they're relatively recent, will likely receive the update before devices from the other partners. The Nexus 4 and 5, and select versions of the Nexus 7 and 10 appear to be next up. As for the rest, updates will go out in stages.
GigaOm attempted to fashion a loose Lollipop release schedule based on statements from various hardware makers. Unfortunately, when it comes to actual dates, there were slim pickings.
HTC
Lollipop will work with the current version of HTC's user interface, Sense 6, as version 7 reportedly won't be ready in time.
LG
LG G3: Maybe Q4 2014
LG G2: Perhaps sometime in 2015
LG Germany posted a Facebook status update, a translation of which says:
Hello everyone, we want to inform you hereby, that it upgrade to Android 5.0 2014 will be published lollipop for the LG G3 in the fourth quarter. The upgrade package for the LG G2 will follow.
The information may be true in Germany, and perhaps LG has similar plans in the U.S. But it doesn't look like it takes into account testing by the wireless carriers, which could throw a wrench into the plan.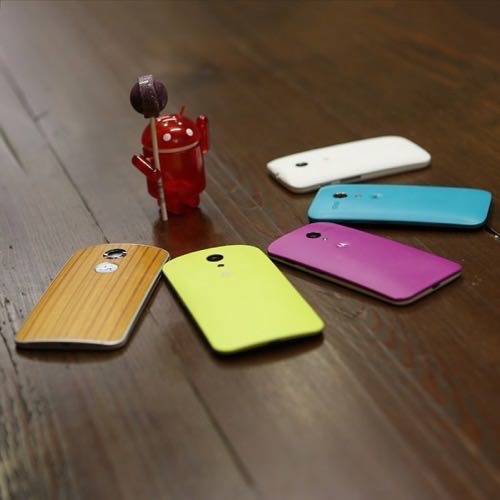 Motorola
Moto X (1st and 2nd generation)
Moto G (1st and 2nd gen)
Moto G with 4G LTE
Moto E
Droid Ultra
Droid Maxx
Droid Mini
Motorola announced these phones will get Lollipop, though it didn't say when. However, GigaOm writer Kevin Tofel thinks the first of these might get the update as early as later this month. Also note that the Droid Turbo was not mentioned. This may have been oversight, though. The Turbo, as the latest Motorola Android device (apart from the Nexus 6), is not likely to be left out of the Lollipop fold.
[Update: As RW reader Seneca Pierson points out, the Droid Turbo now appears on Motorola's upgrade page, confirming that the company's latest won't be left out.]
Samsung
Extremely likely, but there's no official announcement yet:
Samsung's current Galaxy S5 is all but certain to get Lollipop—a S5-specific build of Android 5.0 has even been spotted—and tech site SamMobile cites unnamed sources who say last year's S4 model will, too.
Sony
Xperia Z
Xperia ZL
Xperia ZR
Xperia Tablet Z
Xperia Z1
Xperia Z1S
Xperia Z Ultra
Xperia Z1 Compact
Xperia Z2
Xperia Z2 Tablet
Xperia Z3
Xperia Z3v
Xperia Z3 Compact
Xperia Z3 Tablet Compact
Sony Z Ultra Google Play edition devices: Will receive the update first, though exactly when is not known.
Last month, Sony announced its Xperia Z smartphones would get Android 5.0, even the older handsets. But it wouldn't offer dates or timeframes, apart from saying its Google Play edition devices will get it first (though it may not arrive until next year).
The Lollipop Guild
There's plenty of uncertainty in this list. Some of that goes back to complications resulting from the simple fact that phone makers love modifying Android.
Adding new interfaces and features lets manufacturers believe they've set themselves apart from the mobs of other Android gizmos on the market. (Think Samsung's TouchWiz or HTC's Sense interface.) During a major Android update like Lollipop, though, those modifications can break or become unstable. That's why it's crucial for device manufacturers to work with the new software and run swarms of tests on their devices.
But that's not the final hurdle before a phone gets upgraded. Because even if the smartphone makers are ready to roll, nothing happens update-wise unless the carriers are ready, too.
Wireless providers also have to test major Android software updates before pushing them out to customers. It's one reason Android updates can take months to go out.
I contacted all four major wireless carriers—AT&T, Verizon, T-Mobile and Sprint—and as of this writing, only the latter responded to my inquiry so far: "Google has not provided a date for the rollout," a Sprint spokesperson told me. "Once testing is complete, we will roll out with the update accordingly." Sprint, like the others, puts the updates through "a very thorough testing process."
So far, the earliest timeframes for non-Google devices seem to linger around the three-month mark. It's not clear whether that includes the carrier testing phase or not. Either way, you're not likely to be unwrapping a new Lollipop upgrade until at least next year.
Nexus devices photo by Adriana Lee for ReadWrite; Motorola photo courtesy of Motorola
Correction: The text incorrectly alluded to the Nexus 9 tablet being a phone. The article was corrected.