Apple CEO Tim Cook told an audience of journalists Tuesday—literally—what he has up his sleeve: "An entirely new product. We believe this product will redefine what people expect from its category."
He was talking, of course, about the new Apple Watch. (Note the lack of a little "i.") The new squarish wearable—available in two different sizes, a choice of metals and various colored straps—doesn't just tell the time. It's a health and fitness gadget that does double duty as a wrist-worn, voice-powered communicator. The device is similar in size to the Pebble Steel, though more rounded with what looks like few sharp edges.
Of course, we won't be seeing the Apple Watch until "early" next year. But its potential is intriguing, even if the interface looks like it will take some getting used to.
See also: Apple Announces The Apple Watch—But You'll Have To Wait For It
There's a side-situated "digital crown"—remember those wind-up knobs on old gear-driven wristwatches?—that acts like a scroll wheel wearers turn to navigate up and down, or zoom in and out. But some gestures require swiping the screen, while others use the "force sensing screen" to register "force touches" or intentional press on the display … which happen to be different from "taps" and long presses somehow.
Exactly how isn't crystal clear; the Apple Watch seems to know the difference between the taps. Still, customers might need to brace themselves for a bit of education or training. It's a different sort of interface than iOS users are accustomed to.
The device also turns on the screen when you pick up your wrist, which should reduce any scroll heavy spins or clunky force bumps. And there are those handy Siri-powered voice features, allowing users to do things like talk to their wrists to respond to messages.
Things you can do with the Apple Watch:
Track fitness and health using several baked-in, wrist-facing sensors
Get iPhone notifications. (Yes, an iPhone is, of course, required for this watch)
Talk to other Apple Watches
Pick up your heart rate using LEDs and sensors
Pay for goods with your watch at numerous nationwide stores (thanks to Near Field Communication technology)
Trigger actions or dictate messages via Siri
Change watch faces
Run a variety of functions, like maps for turn-by-turn navigation or a communicator tool that lets you connect directly with friends' Apple watches
Display your favorite photos
Tweet from your wrist
See airline flight information
Unlock a hotel room door by waving the device (Starwood)
Run widget-like customizable bits of info showing things like calendar data and music info (which actually smacks a bit of Android Wear)
Get notification vibrations using a so-called "taptic engine"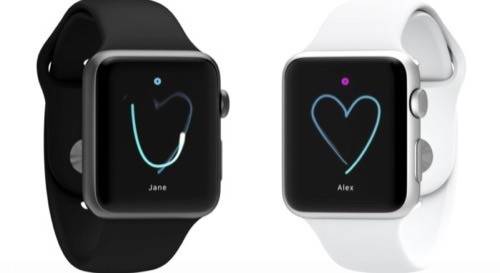 One of its wackier features is the ability to capture your heartbeat pattern, set a vibration that works in time with your pulse and send that to another Watch. What it won't do, however, is offer you a keyboard. You can talk to your Watch, or use emoji, the little graphics that represent emotions.
See also: The New Apple Watch Leaves Fitness Trackers Looking Unhealthy
In addition to the functions mentioned, others cover Pinterest, a feature to locate or monitor BMW cars, Major League Baseball for sports scores, Nike fitness and Honeywell, for controlling your connected thermostat. It's not quite the HomeKit integration we previously thought, but it's another step closer to controlling our homes with our arms.
Other outside developers will be able to make cool new uses for the watch using an upcoming WatchKit SDK. So look for these features to expand.
Images screencapped by Stephanie Chan for ReadWrite