On the heels of this year's Gear 2, Gear Neo and Gear Live, Samsung just announced Thursday another new smartwatch. And this one's a looker. But is it a doer? That's another question entirely.
The Gear S, announced Thursday, features a curved, two-inch AMOLED screen that should offer beautiful visuals (and does, at least in Samsung's marketing photos). And because the screen isn't just another flat slab of glass, it lends the whole watch an uncharacteristically fashionable appearance—one similar to those wide cuff-style bracelets intended for both women and men.
In theory, the Gear S backs up its handsome appearance with both brains and brawn. Unlike most modern smartwatches, it can connect directly to the Internet; users can also make and receive phone calls in the absence of a smartphone. Like other smartwatches, it can also pair to a smartphone in order to run apps and receive notifications.
You can see why Samsung would want to go this route at this time. Apple could introduce its long-rumored iWatch (or whatever) as soon as September 9, so Samsung's move looks very much like an attempt to steal some thunder from its design-obsessed rival.
Which presents a big risk. Because Samsung has loaded this watch down with so much gadgetry—not to mention unfamiliar and potentially confusing software—that it risks turning off the very fashionistas it's apparently trying to court.
What The Gear S Does
In some ways, the Gear S isn't all that different from its rivals in the wearable-technology market.
It can pair to Samsung's Galaxy line of smartphones in order to funnel in text and email notifications and extra features, courtesy of mobile apps designed to work with the device. It also offers fitness features, like heart-rate monitoring and step tracking.
The Gear S is accompanied by an accessory called the Gear Circle, a nifty set of Bluetooth headphones with a magnetic clasp. Together, the pair of gadgets allows users to receive or place calls without ever whipping out their phones.
The Gear S also comes with a 3G radio and built-in GPS, as well as Bluetooth and Wi-Fi. But that wireless independence comes at a cost—in this case, a heavy drain on the watch's smallish 300 mAh battery. For comparison, that's less than one-eighth the size of the battery in the Galaxy S5. It's also a smaller battery than those in rival watches such as the upcoming LG G Watch R and the Moto 360, whose power cells top 400 mAh.
Now, maybe Samsung has some magnificent power-management technology up its sleeve. Otherwise, it's going to be very interesting to see what kind of battery life the Gear S can deliver.
What The Gear S Looks Like
At least those internals come housed in a good-looking case with a beautiful, curved display.
The company likely registered the positive feedback from the curved screen on its Gear Fit fitness tracker. Plus, it allowed Samsung to indulge its penchant for enormous screens—a giant flat slab on an arm would be problematic for numerous reasons, comfort being a big one.
The Gear S has a 2-inch curved "Super" AMOLED display, which should offer visuals in a generous size for something wristworn. It's a big screen even for Samsung; the company's earlier Gear 2 showed up with a 1.83-inch screen, while last summer's Gear Live featured an even smaller 1.63-inch display.
Of course, that AMOLED display will also likely hit the battery hard. Samsung says, under normal use (whatever that is), the watch should deliver 2 days of battery life. We're a little skeptical—unless "normal" means shutting down everything that makes this watch unique. But we'll reserve judgment until we get our actual hands on it.
What Makes The Gear S Run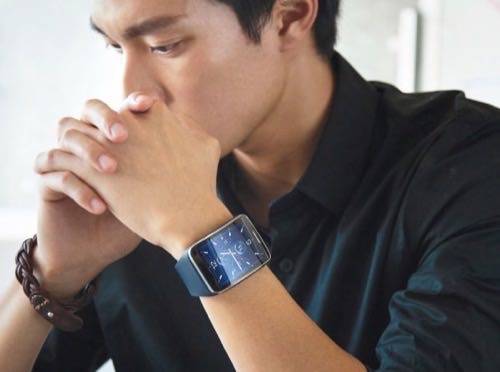 Speaking of software, Samsung seems to be ping-ponging between operating systems, hedging its bets between Android and its home-grown Tizen software. For the Gear S, it's gone with Tizen, software that analysts and Samsung rivals frequently disparage as "dead in the water" or as having "no chance to be successful."
Samsung would obviously like to pull away from Android and its dependence on Google. But its on-again, off-again affair with Tizen is doing consumers no favors.
It went with Android for the first Gear, threw it over for Tizen on its follow-up Gear 2 and Gear Neo, and then hopped on the Android Wear bandwagon in June with the Gear Live. Now it's bouncing back to Tizen.
Samsung plans to present its new wearable at the IFA show in Berlin next week, where it will announce global availability starting at the beginning of October.
Photos courtesy of Samsung.