Twitter is set to start publicly trading later this week, and as the company gears up for its public entrance, we've put together a list of how Twitter has changed in the last year to supercharge its efforts to make money.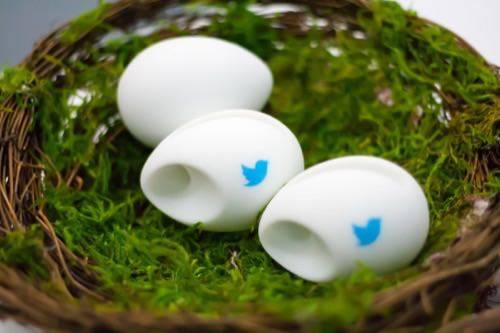 Twitter released a significant amount of updates this year. And as features like Vine launched six-second videos into our hearts, the birth and death of Twitter Music left much to be desired.
Advertising Pays The Bills
Not surprisingly, Twitter's number one stream of revenue is advertising. Promoted tweets can be targeted to select users during specific times to give advertisers a direct line to their potential audience. But unlike Facebook, Twitter has a relatively small number of monthly active users, almost 232 million. When compared to Facebook's 1.19 billion monthly active users, the number of eyeballs for advertisers is minute.
Twitter recognizes that stagnant growth poses a problem for its largest moneymaker, so in the year leading up to its entrance on the stock market, it has implemented numerous changes to help drive a growing audience and increase revenue.
January: Vine, Twitter's Video
Twitter's short-video application that lets users create six-second clips and embed them directly into Twitter timelines launched into mainstream popularity as the go-to app for capturing and sharing brief videos, prompting Instagram to follow suit.
But the product isn't just for consumers to produce amazing gif-like video loops – it's another way for advertisers to get creative.
Twitter's most recent update (which we'll touch on later) embeds image and video previews from pic.twitter.com and Vine into the Twitter feed, putting visual content front and center. Now users see previews of video ads in their Twitter feed, and may be more likely to view the advertisements.
February: American Express Turns To Twitter As An E-Commerce Platform
The so-called "tweet to buy" feature lets customers purchase select items online with a tweet. By enabling AmEx cardholders to buy goods with a hashtag describing the purchase, like #BuyAmExGiftCard25, Twitter signaled that it's ready to be more than a social platform.
Although e-commerce is a significantly different vertical, partnering with payment platforms and companies could turn hashtags into revenue.
Starbucks just launched a similar program, Tweet a Coffee. If two friends both have a Twitter account and the sender has a Starbucks account, then a $5 gift card, the equivalent of a coffee, can be sent via tweet.
Although Starbucks' program is still in beta, if it's successful, it could prompt other companies to follow suit.
March: Goodbye Third-Party Twitter Clients
Twitter announced it was eliminating support for TweetDeck's non-web apps, TweetDeck for iPhone, Android and AIR.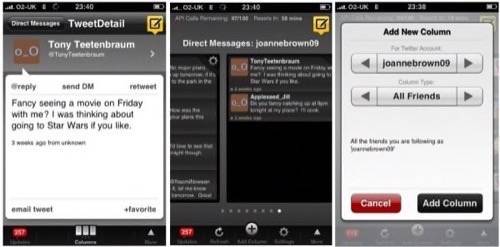 The company's effort to eliminate third-party applications forced developers to fold clients and apps that power-users favored. As Twitter grew into itself as a platform and began to control and jettison alternative clients, customization of the social network abruptly stopped.
April: Play Your Cards Right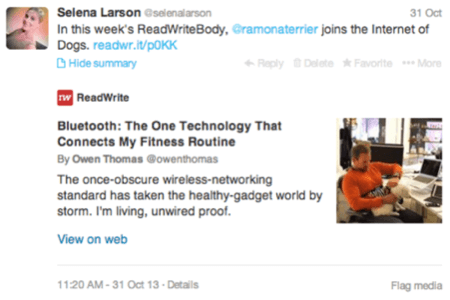 The outrage resulting from the power-grab and platform consolidation lessened in the spring when the company released Twitter Cards, a way for developers and media companies to connect applications, media products, photos and videos to tweets.
Cards are able to link directly to products, outside applications, and media by using the metadata from posts and displaying it to the public. For instance, when a link is shared from a news website, Twitter gives users the option to "View on Web," which will link directly to the organization's site.
Twitter cards existed since mid-2012, but increasing the Card variety and allowing tweets to feature links to anywhere on the Web transformed Twitter from a social network to an Internet compass, pointing users to relevant information anywhere online.
As Dan Rowinski noted when Twitter released then-new Cards, it opened up the ability for developers to get creative and transitioned from being a solely social site to becoming a directional and, eventually, transactional platform.
Twitter #Music debuted in late April after much speculation as to whether the company would delve into the realm of music streaming. The music service for iOS and the Web was a standalone application for music discovery that let users listen to, follow and purchase music from artists.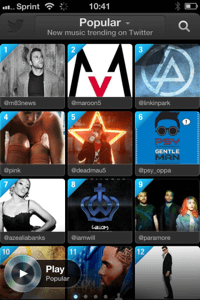 It was well-received by musicians as a way to grow their fan base, but the benefit to consumers wasn't immediately obvious.
Twitter #Music failed to present itself as a distinctly different and superior option to other music players, and consumers never understood the benefit of choosing Twitter #Music over other favored apps. In October, Twitter killed its short-lived music application.
The failure could be seen as evidence that Twitter might not be capable of succeeding with products that pivot considerably from the microblogging and content-sharing service the company built, and investors might balk if the company tries again.
August: Related Links
Twitter rolled out its "related headlines" feature that provides links to websites that embed the original tweet. The related links appear under the original tweet, and are supposed to provide users with additional context and connect them to more in-depth stories.
When the feature rolled out this summer, the company made no mention of how it would determine the order of related links, prompting many naysayers to predict that Twitter could start charging advertisers and publications for ranking.
The new feature was an additional step to cement Twitter's place as the best place to find and follow news online, with the hope that more users will start turning to the social network to consume breaking news.
September: Facing Its Spam Problem
Twitter made its IPO plans public on September 12, by tweeting it. By using its own platform to broadcast the confidential plans, the company highlighted its strength: as a real-time platform for breaking news.
Twitter began experimenting with personalized recommendations in early September, and created the account @MagicRecs to push direct messages to followers containing suggestions of which accounts to follow. The tool quickly became popular, but also created a vulnerability that was an easy target for spammers.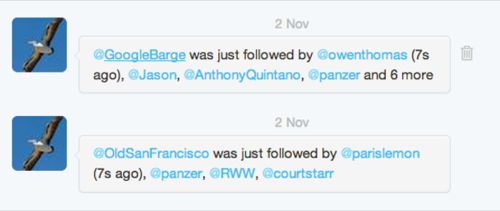 Eventually, Twitter made the key feature of @MagicRecs, pushing follow recommendations to users, a built-in feature in its mobile application. Now users can choose to receive similar push notifications directly from the Twitter application.
Although users have yet to receive a promoted recommendation, it could become another avenue for advertisers, similar to the promoted tweets that regularly appear in our feeds.
October: Twitter On The Visual Web
Twitter's initial public offering filing went public on October 3, and documents revealed that stagnant user growth could affect the company's success.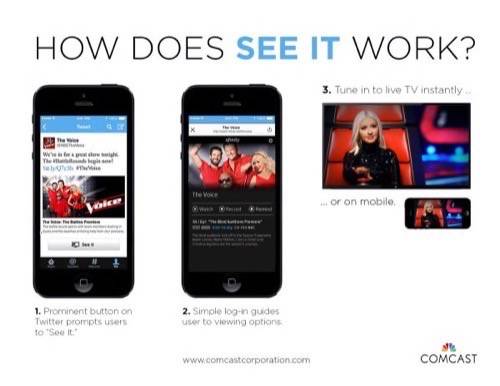 To hopefully spur user interest and capitalize on the "second screen" experience that makes Twitter the top social network for conversation around television shows, the company announced a partnership with Comcast and NBC Universal that allows viewers to control their televisions through Twitter. Xfinity TV customers can access television shows, movies, and sports with a tweet, as well as set recordings.
It could stand to reason that the company will invest more in television partnerships, because Twitter is currently the top social network that drives interest and audience surrounding live TV, according to Nielsen's Twitter TV Ratings report.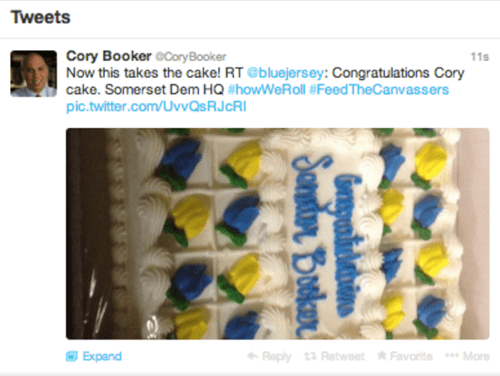 Last week, Twitter became the latest social network to capitalize on the interest of the visual web. Twitter now displays previews of images and video directly in the newsfeed. Although many users aren't happy with the update, it makes sense for Twitter to attempt to make timelines more visually engaging, as images and video are becoming more appealing to consumers, as well as investors.
A Breakout Hit
It's clear this year Twitter made a concerted effort to increase its user base and advertising revenue. By focusing on the user experience and implementing changes that have generally been well received by consumers, Twitter becomes more appealing to the mainstream, which will boost its standing with investors.
It remains to be seen how Twitter will perform on the publicly traded market, but if the success of its competitor and predecessor Facebook is any indication, Twitter will be welcomed with open arms and open checkbooks.
Lead image by Garrett Heath on Flickr, Twitter #Music by SharonHahnDarlin