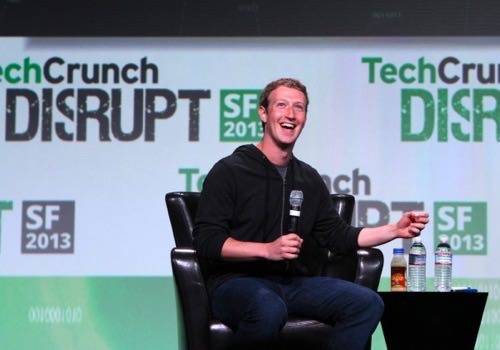 On Wednesday, Mark Zuckerberg addressed a packed room at the TechCrunch Disrupt conference, saying that his company wants to start using social tools to connect in different ways.
While the social network has 1.15 billion active users, Zuckerberg increasingly hopes that developers will build more ways to tie those users together.
"We want to focus on doing a few of the core things and enable other companies to build great social apps," he said.
That stands in contrast to some of Facebook's recent moves to imitate popular apps—for example, how it built Facebook Camera even as it was in the process of acquiring Instagram, and launched Poke, an ill-fated clone of Snapchat, a service that sends disappearing photo and video messages.
"The full vision over time was that we could help applications by enabling login, importing friends, and distribution," he said.
A Platform Shift
Historically, "Facebook apps" have meant social apps running on Facebook's website, like Zynga's once-popular, now-fading Web-based games. Distribution was the main part of its appeal.
Now, Facebook wants developers to work Facebook into multiple tiers of the application-development process. To that end, it recently acquired Parse, which operates some of the back-end services mobile-app developers need.
Last week, Zuckerberg addressed a crowd at Parse's developer conference, harping on the importance of developers using Facebook's services when building apps. His talk today made it even clearer that the company wants to be in as many applications as possible, making Facebook the platform upon which all applications are created.
These apps might use Facebook as a log-in service, or to populate accounts with personal data, or to import lists of friends—or simply as a computing back end.
The Mobile Push
At the same time, Facebook's own mobile apps have gone through a major overhaul.
At this time last year, Facebook had no revenue from its own mobile apps. That has changed following the introduction of popular new mobile ad products: In recent earnings reports, Facebook has said that almost 40 percent of Facebook's revenue is on mobile. Zuckerberg also mentioned that people spend one-fifth of their total time on mobile devices using Facebook. A close second: Facebook-owned Instagram.
See also: Zuckerberg's Surprise Speech: Facebook Needs Developers
The one major disappointment has been Facebook Home, an app which heavily modifies the user interface on Android smartphones. (It's not available on Apple smartphones, because Apple's operating system is less open to such customization.)
Home has limited availability on various models of Android phones, though, and users rejected aspects of its design.
Zuckerberg suggested Facebook hadn't given up on Home yet.
"It's a tough thing determining when something doesn't work, and when something hasn't worked yet," he said.
He said that the best features from Facebook Home were implemented into the mobile application, like Chat Heads.
Zuckerberg said users liked the Cover Feed feature which displays photos and posts Home displayed on their phone's home screens, and that Facebook is considering incorporating with other social applications like Instagram.
That would make Home less of a Facebook app, and more of a platform for other developers' social software—and as with other services Facebook is building, putting third-party developers first may well be the way that Facebook finds success.
Photo by Madeleine Weiss for ReadWrite