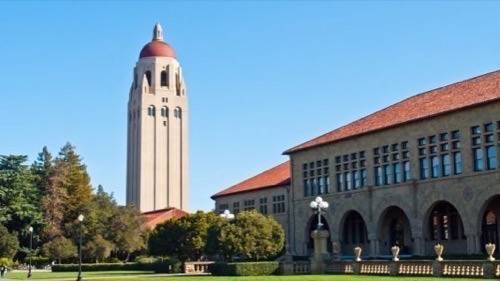 Stanford University has a lot of smart people. But the school's nickname is dumb: the Stanford Cardinal. As in the color red. How unimaginative. Here's a better idea: the Stanford Entrepreneurs.
Yes, harder to fit on a souvenir coffee mug but a much more accurate handle. A recent study by business research firm CB Insights shows Stanford dominates all other universities in the field of alumni entrepreneurship.
The first-ever University Entrepreneurship Report tracks companies founded by or led by alumni (and dropouts) from six top U.S. schools – Stanford, Harvard, UC Berkeley, New York University, University of Pennsylvania and MIT – and the funding they've received.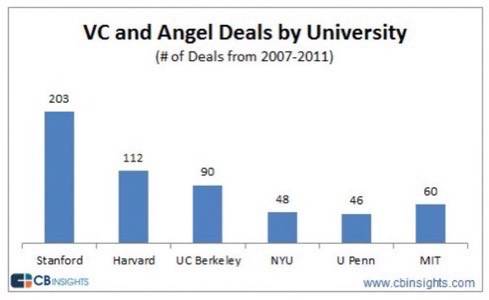 Stanford alums have raised $4.1 billion in 203 financings. Harvard alums are second, at $3.8 billion in 112 financings. But strip out Facebook and Harvard funding drops to just $1.8 billion.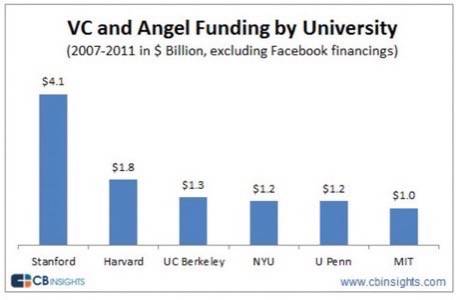 "We did go into the study thinking Stanford would stand out from the crowd but we were surprised at how much they dominated," says CB Insights CEO Anand Sanwal. "The level by which they have a lead was more eye-popping than we imagined."
The University Entrepreneurship Report is of interest to a lot of different groups. Schools like Stanford and Harvard, which used to churn out a lot of investment bankers but have pivoted from that focus, want to see if their shift is paying off.
Where Are The Hotshot Startup Founders?
Investors, of course, want to know where to find the hotshot entrepreneurs.
And the report is of interest to local groups because it also measures "alumni leakage." Are smart students soaking up community resources then leaving town to start companies and employ people elsewhere? Stanford and Cal alumni usually stay put, which is not surprising since Silicon Valley is next door. Harvard alums tend to start companies in places other than Massachusetts – mostly Silicon Valley and New York – but MIT grads are less mobile.
"That speaks to the nature of the startups coming out of those universities," Sanwal says. "When you're dealing with the hard sciences, like at MIT, you might need ongoing access to the specialized talent of the universities and the professors, so you might stick closer to your alma mater. Whereas if you're in tech or social media, you don't necessarily need to be tied to Boston, so you're more inclined to go where the money is."
A Different Kind Of Diversity
At all six universities studied, tech startups attracted the most funding. But Berkeley and MIT alums founded more companies in industries outside of tech.
"We were surprised by the diversity of startups coming out of Cal and MIT and the general lack of diversity of startups elsewhere," Sanwal says. "I expected to see more overall in the life science and clean tech realms at the other schools. I think Cal and MIT are more progressive and forward-thinking when it comes to commercialization of research."
What About Your School?
If you're wondering why your own alma mater is not included in the report, CB Insights chose these six schools because they have the most data. They're also the six with the most entrepreneurial alums.
"We've had a lot of other universities calling us and asking why they're not in the report," Sanwal says. "It really came down to how much data we could capture. A lot of people said why didn't we include University of Chicago, because that's where Groupon started. We wanted schools where there was a consistency of funding across many companies, not just a blip with one hot company." (Or, these days, not so hot.)
Why Stanford Wins
So why is Stanford the big winner? A lot of credit goes to the school's emphasis on technology. A lot also goes to the many angels and VCs who live in the neighborhood. They like to support the home team, as do investors everywhere.
"Boston firm Highland Capital is most active at MIT, New York firm Union Square [Ventures] is most active at NYU and Silicon Valley firm DFJ is most active at Stanford," Sanwal says.
And what about students who want to found tech companies some day. Does this study point the way to the best colleges for them? Sanwal seems to think so: "This begs the question: do you have to go to a top school to get funding for your startup?" he said. "I don't see that changing. It's not just what you know but who you know."