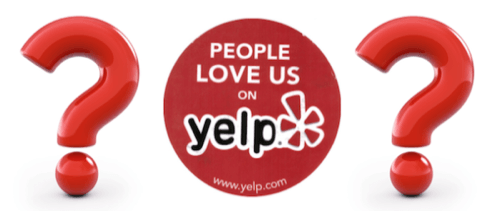 Yelp, the leading website for online reviews of restaurants, hotels and other service-based businesses, has long denied ongoing allegations of pay-for-play. But small business owners continue to insist their good reviews are being held hostage until they agree to buy advertising.
Go to the Yelp page for TraxNYC, a Manhattan jeweler, and you see the dreaded one star, based on just one review. An employee of the jeweler responded to the review and even said the company would consider issuing a refund.
Still, that one-star review stings, and it means TraxNYC sinks to the bottom of search results when people search Yelp (or even Google, which gives added heft to Yelp pages) for jeweler recommendations
The problem, according to Jen Lim of TraxNYC, is that single review is not the jeweler's only review on Yelp. If you click on the barely noticeable "filtered reviews" button and then go through a reCAPTCHA protocol to prove "you're not a robot," you'll see 10 additional reviews, nine of which rate the company five stars.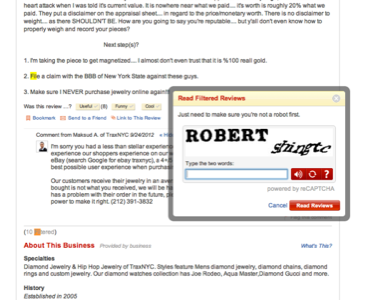 Lim, and a dozen other small business owners interviewed by ReadWriteWeb, are all crying foul over the situaton, saying the good reviews were filtered only after they refused to buy or canceled advertising on Yelp.
"We chose not to advertise with Yelp and since then, all our good reviews get filtered," Lim said. "It's predatory at its best and I am sure our business suffers for it."
Pay-For-Play Or Overzealous Algorithm?
It's not the first time Yelp has faced pay-for-play charges, and, as it has for other media inquiries on the issue, the company denied the allegations, saying the automated review filter keeps "content as useful and trustworthy as possible."
Darnell Holloway, Yelp's manager of local business outreach, denied that Yelp's filtering algorithm gives preferential treatment to advertisers or punishes non-advertisers.
"Let me be perfectly clear: the review filter applies the same set of rules to everybody, and we do not have a pay-for-play system," Holloway said. "We take a very serious stance when it comes to review quality on site."
Holloway said a small business owner will begin paying attention to their Yelp page after they are contacted by one of the company's sales reps. Some may start soliciting reveiws from family and friends, which the filter weeds out, and that may be fueling the appearance that Yelp is punishing advertisers.
"If those solicited reviews get picked up by the filter, the business owner may develop a correlation between the sales person's call and the filtered reviews," he said.
Yelp claims it is trying to curtail the paid review sites that promises small businesses good reviews for a fee. It also says its filter protects small businesses from reviews left by competitors or disgruntled employees.
Todd William, founder of Reputation Rhino, an online reputation management company, said he has one client with 19 published reviews and 365 additional reviews caught in the filter. Still, William takes Yelp's claims at face value and thinks the problem is with the algorithm that filters messages.
"While I am sure a 'hard sell' by certain Yelp representatives may suggest otherwise, the problem for Yelp is an inadequate and ineffective filter system," William said. "The Yelp filter system favors active Yelp members comments and reviews. New Yelp members are almost always relegated to the filter to prevent fraud, but this unfortunately penalizes well-meaning customers who merely want to show their appreciation for a positive experience with a company and do not have the time or inclination to complete a profile, comment actively on others' businesses, socialize with other Yelp members or otherwise engage the Yelp community."
Advertisers Get Some Preferential Treatment
But the same small businesses Yelp says it is trying to protect from phony reviews aren't so sure the company is being forthright in its explanations.
Jon Katz, CEO of Katz Moving, said he has been hit by negative Yelp reviews since first refusing an offer to advertise on Yelp in 2008.
"I was getting about three to four phone calls a day about advertising with them," Katz said. "After about 45 days they started to 'filter' our reviews… And then all of a sudden we went from having eight 5-star and one 4-star reviews to having three, then two reviews stay on our page."
Katz said he has spent the past several years trying to work around negative reviews. During that time he has paid close attention to competitors that do pay to advertise on Yelp and has noticed that once a company advertises:
Yelp filters more negative reviews
Yelp mixes in older good reviews while pushing newer, low-rating reviews lower on the page.
Yelp allows advertisers to choose whether they want their ad displayed on a non-advertising competitor's Yelp page.
Holloway denied Kat's first two allegations, but did concede advertisers can purchase packages that remove competitors ads from their Yelp results as well as search placement ads that would allow their ad to be displayed on a competitor's Website.
The whole truth about exactly what's happening here may never be entirely clear. But it's a safe bet that concerns about these issues won't go away as long as Yelp reviews have an effect on retailers' bottom line.