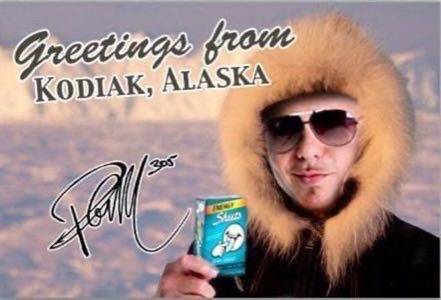 Call it a rare win-win-win for online corporate marketing: Internet pranksters successfully hijacked Walmart's Sheets Energy Strips campaign, Walmart and Sheets reaped all the publicity they could have hoped for – and the citizens of Kodiak, Alaska, got a rare visit from an international rap star. Does that mean Walmart ran a brilliant social network promotion? Well, no – and yes.
Walmart's online promotion of Sheets Energy Strips (think Red Bull meets Listerine tongue strips) promised to send Florida-based rapper Pitbull to the Walmart store that racked up the most likes on Facebook. On June 29, David Thorpe and Jon Hendren, two writers from the website Something Awful, spurred fans on Twitter and Reddit to "like" the Facebook page of the most remote Walmart in America, located in Kodiak, Alaska. Less than a month later, after hundreds of press mentions and 65,000 Facebook likes, Pitbull dropped by the Kodiak store to sign autographs with Thorpe in tow.
Thorpe's worst fear about the whole Kodiak affair, besides being eaten by a bear, was that corporate types would "spin this as a Big Social Media Win, which is kind of gross," the writer told the Associated Press. The campaign did not owe its success to marketing savvy, he pointed out. Before he got involved, Walmart's concept was "fairly dull." His own effort to subvert the campaign made it worth anyone's attention.
"Voting for Pitbull to visit your local Walmart isn't too thrilling," he wrote in an email to ReadWriteWeb, "but voting to send him somewhere totally strange seems like a lot of fun. It was a collaborative prank that everyone could get in on. Each and every person who voted can now picture Pitbull in a big furry coat in the Kodiak wilderness and think, 'I made him go there.' This got in the news 'cause it was a prank and it was funny, and because it WASN'T run by corporate bigwigs."
Marketing experts don't necessarily disagree. Ben Carcio, the founder of Promoboxx, a start-up doing marketing for big brands, believes that Walmart and Sheets had the right tactic, just the wrong strategy with Pitbull, whom the Web wanted to send to the outskirts of civilization for not-so-nice reasons.
Carcio's take-away isn't the ease with which corporate campaigns can be co-opted: It's the power of local retailers. One of the big winners of this social media campaign, as Carcio wrote in a company blog post, were individual Walmart stores, each of which has its own Facebook page in accordance with the company's My Local Walmart program. The Kodiak store's page saw an unprecedented volume of activity in the weeks leading up to Pitbull's appearance, not only from curious onlookers around the world but also local residents.
"The method of a brand (Sheets) connecting with local retailers (MyLocalWalmart) was extremely innovative," Carcio said. "With this campaign, Walmart established a new marketing asset, the local Walmart retailers. Now brands like Sheets can market their products with the local retailers vs. the national brand."
Facebook as a vehicle for hyperlocal marketing? That doesn't sound so gross.