The killer app for the social Web is the one that will filter the signal from the noise. In the Facebook age, even casual Web users hold tons of conversations at once. Engagio, the conversation discovery company, pulls them all into one place. It also leads you into new ones. And with a new dashboard view released today, it lets you click one button to figure out what's actually going on in all these conversations.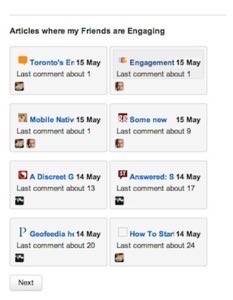 Engagio's dashboard breaks out articles, sites and other links from all your social networks into separate panels, and lets you reply, share and like straight from there. But the best part of this section is the "context" button.
The button doesn't really have a halo, but it should. It puts an end to that feeling that you're seeing a snippet of something that's relevant to you, but you don't know what it is. If a message part of a larger conversation, click "context," and the whole message expands. This is a great way to discover things that are interesting to people in your networks.
Inbox
Engagio's original component is its inbox. As of today's update, you can now add unlimited, multiple accounts for all of your connected services. Those include the usual social networks, Facebook, Twitter, Google+, LinkedIn and Foursquare. It also follows conversations centered around blogs, connecting with Tumblr and Disqus, as well as with Hacker News, a popular news aggregator for people in the tech industry. It also connects to your Google contacts, so you can track those email conversations.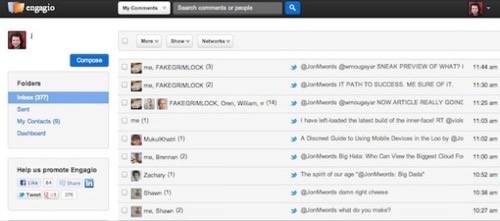 There's also a new Chrome extension for Gmail users, which brings some of Engagio's powers into the inbox where millions of people already live. It gets people used to the idea of an inbox for all conversations.
Contacts
The final key component is the contacts section. You can use Engagio for what Mougayar calls a "deep follow," identifying friends from various networks and following their conversations, not just your conversations with each other. By inviting users to connect on Engagio, you're saying, "I like your stuff. Will you join Engagio, so I can see more of where you hang out online?"
This is a fairly intimate connection, as social media connections go, and Engagio is great about handling that. You can follow strangers or friends, but you don't have to reveal personal contact info until later. For example, revealing email addresses to one another is a sort of Engagio right of passage. For those Internet friends who seem to be constant sources of new and amazing things, Engagio provides a way to open up each other's worlds.
Correction: The last paragraph originally stated, "You have to deliberately connect to someone and reveal your email address to them in order to be able to watch each other," which was a slight misunderstanding of the feature.