In The Wizard of Oz, the all-knowing wizard creates a magnificent illusion. Surrounding himself with smoke and flames, he appears to Dorothy and her pals as a floating, omnipotent green head. He concocts his magic behind the curtains, far from human view. But when Toto opens the curtain, the Wizard appears as just an ordinary gentleman who spins wheels and pulls levers. He speaks into a microphone, which amplifies his otherwise unimpressive voice. Without his magic, he is nothing more than a regular person.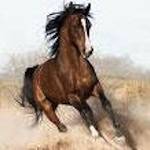 Yesterday, Gawker published a story revealing that it had tracked down the bizarre @horse_ebooks Twitter handle, which has accumulated a rather cultish following. Indeed, it was the beginning of the end of this well-kept Twitter secret. Sometimes, it's better not to know the man behind the curtain or, in this case, the computer.
"This is the story of Horse_ebooks, beloved online automaton, and how I tracked down its human master," writes Gawker's Adrian Chen, proudly. Indeed, capturing the horseman is a feat.
Chen didn't start this on his own, however. The hunt first began this past January at ROFLCON, when the conference organizers tweeted "Anyone know how we might be able to get in touch with @horse_ebooks?" But where did @horse_ebooks come from? It was originally set up to promote an equally as ridiculous site, http://horse-ebooks.com/.
"I am Buffalo Bill's horse," the eBook Description reads. "I have spent my life under his saddle – with him in it, too, and he is good for two hundred pounds, without his clothes; and there is no telling how much he does weigh when he is out on the war-path and has his batteries belted on."
There's a link to click and "learn more" about this magnificent horse. And the actual horse_ebook is quite reasonably priced – 45 ebooks only cost $9.95. But instead of following a simple ebook Twitter feed trajectory like, say, science ebook site DownloadTheUniverse's @DownloadTheUni, horse_ebooks spouts nonsense amidst random promotions of the actual site. It tweets spam links, too.
Yet, it has been able to dodge Twitter's spam filters because it also posts the equivalent of random, entertaining thought blurbs that one might imagine coming from an autistic-leaning individual (I write that with only the most loving intent, btw): "Year of Good Hair" and "As you might know, I am a full time Internet".
Twitter users' responses to the later tweet are delightful: "WE ALL KNOW THAT," replies wutang fart captain a.k.a. @dudehugs; "ME TOO," tweets @siik, echoing @horse_ebooks' random Internet-y, somewhat emoticon-inducing sentiment.
Regardless of its awesome bizarreness @horse_ebooks remains niche, catching the attention of not-quite-mainstream Internet users and Web comic artists. The New York Times' Jenna Wortham details the Web comics inspired by @horse_ebooks' non-sensical tweets. Calling the Twitter handle "something else entirely," Wortham writes that horse_ebooks has become "…a never-ending fountain of inspiration and amusement for a certain sliver of the Internet." She also hints at the person who many suspected was already behind the Twitter handle: It turns out that a Russian who is supposedly named Alexei Kouznetsov Kouznetsov owns the horse-ebooks site.
It seems like the mystery had already been solved. But had it?
Gawker's Adrian Chen continued to hunt for the man behind @horse_ebooks. His quest feels as intense as the Scarecrow, the Tin Man and the Cowardly Lion all combined, looking for a brain, heart and courage, respectively. Bypassing pleasant weather and an opportunity to leave the computer for fairer, non-pixelated pastures, Chen kept at it, winding through the supposed 140 domains that Alexei owned, including search engine-optimized ebook sites that all led back to the Clickbank affiliate network. A CLUE!
Eventually Chen he found himself on Facebook, where searches usually end and the person is somehow discovered through mutual friends. Not so this time. Alexey's profile was on lockdown; but he was searchable on the Russian equivalent of Facebook, VKontakte. Yes, Alexey Kouznetsov is his name, and he does have a connection to Clickbank marketing sites. He lives in the Russian city of Tula, 100 miles south of Moscow. He is your average computer nerd, and he declined to be interviewed for Chen's story.
Was it worth the hunt? Did we need to know the real identity of this mysterious man behind the curtain? No, we did not. But it's good to know that, like the Wizard, Mr. Kouznetsov is just like everyone of us.
Like trying to read the book after seeing the movie, however, now everyone who reads this story, Chen's story, and one of the many other re-blogged iterations will picture a nerdy Russian guy at home in his room, tweeting about horses. But please, pay no attention to the man behind the curtain.
Now, just click your glittery red heels together and remind yourself that there's no place like home.
Image via @horse_ebooks.