The social audio sharing site SoundCloud upgraded its iOS app today, adding a tablet-friendly UI for iPad users. The app lets users find and listen to tracks, comment on waveforms, connect with others and record audio using the iPad's microphone.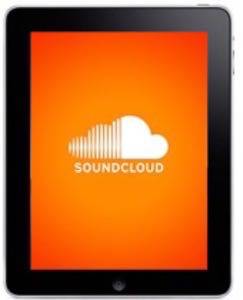 Most of the functionality from the service's Web app is here. If you've seen the SoundCloud Mac App for the desktop, this is a very similar experience.

The iPhone version of SoundCloud has always worked on the iPad, but it never came close to having a UI this nice. With this update, more of the functionality of SoundCloud is unleashed and the interface takes far better advantage of the tablet screen real estate.
The app can be used to actively discover and listen to music and audio clips in short bursts or can provide more of a "lean back" experience for sound, functioning as a sort of digital mix tape to listen to in the background.
Read/Write Sound: The iPad as a Content Creation Device
When the first iPad launched in early 2010, one of the biggest criticisms leveled against it was that it was too heavily geared toward passive consumption of content, and lacked many of the participatory features of the Web. As the iOS platform has evolved and Apple has updated the hardware to include a camera, the iPad has grown into more of a read/write device.
Just as other iPad apps allow for the creation and publication of text, photos and video, Soundcloud lets you record and publish snippets of audio from the device. In the process, you can share it on Twitter, Tumblr or Facebook, including any brand pages your Facebook account has administrative access to.
In addition to posting audio clips, users can interact with others by commenting on individual sound files. Those comments can be added at specific points in the audio waveform, just like on the service's website.