It's been fascinating to watch the to and fro between Facebook and Google +, as the two products vie for social networking supremacy. As you'd expect, a strong challenger (Google +) has forced the current social networking world champion (Facebook) to make some defensive moves. Facebook made two big changes this week: automated friend lists and a new subscriber button. In a series of posts, I'll be analyzing this intriguing battle in more detail – because it's changing the social networking landscape significantly.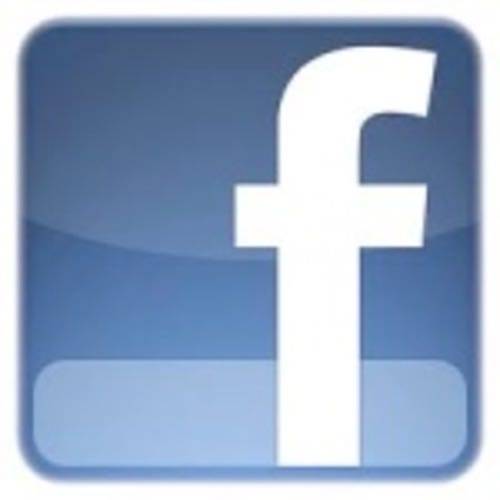 I'll start with Facebook's launch of the Subscribe button, another in a long line of Facebook efforts to get its users to post public updates. The Subscribe button has some undeniably good features, but the contentious one is that it enables you to subscribe to people's public updates instead of asking them to be your friend. This has the effect of prompting users to post more public updates in Facebook, so that subscribers have something to read from you.
The new Facebook subscribe button is a little confusing at first glance (and second and third glances!). Facebook has a reputation for clunky design, so that isn't a surprise.
What Facebook's Subscribe Button Is (In Plain English)
How to access the Subscribe button:
The Subscribe button is not live by default, so you have to choose to turn it on. Click here to do that.
Here are the two main use cases:
1) Subscribing to someone in Facebook who isn't your friend. In this case, that person's public updates will be added to your Facebook news feed. The "public updates" is the key bit. If they don't post public updates, then you won't see anything from them.
2) You can be a friend and a subscriber. This is the default, when you turn on the Subscribe button. Basically all of your friends become subscribers too. The key in this use case is that you can limit the amount of updates you see from that person. You can also unsubscribe from them, if you don't want to see any of their updates.
This is best explained by example. Our webmaster Jared Smith has graciously allowed me to use his Facebook profile to illustrate this.


Here I have been automatically subscribed to Jared, as he is a Facebook friend of mine. What you see here is the default: I will see "Most Updates" from him, including all types of updates (life events, photos and videos, and so on). I could choose to see everything he posts, or just "important" things (algorithmically chosen). Or I could unsubscribe from him altogether, if for example he posts weather updates every 10 minutes.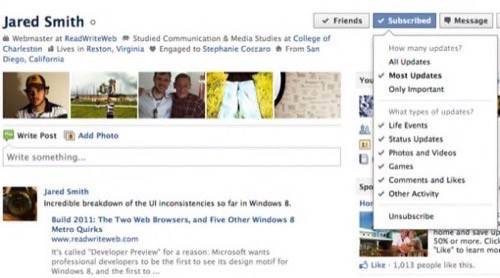 What's Really Going On Here?
There are two main things happening. Firstly, the Subscribe button does give you more control over what you see in your news feed. This is definitely a good thing. Anything that gives the user more control is a good thing.
The second thing happening here is all about Facebook competing with Google +. Facebook wants people to post more public updates and the Subscribe button is going to push that initiative along.
It's my best guess that most people in Google + post publicly. That is only speculation, because there are no hard statistics that I'm aware of that give a breakdown of public vs. private shares in Google + (if you know of any, please leave a comment).
Facebook started out as a completely private social network, back in its early Harvard days. Even before Google + arrived on the scene this year, Facebook had been gradually prompting its users to post public updates. To the point where public updates became the default and you need to change your settings to make private the default.
However it's likely that a large portion of Facebook's installed user base still has privacy as their default (I certainly do). Facebook wants to change that and the Subscribe button may persuade people to post publicly.
A note about Google + posting behavior. The default behavior in Google + is not straight forward either. It basically remembers who you shared with last time and makes that the default for your next post. It's also dependent on which device you use. So for example if you post something to your 'family' circle on your PC, the next time you post on your PC it will have 'family' as the default. But if you previously posted to your 'Best friends' circle on your smartphone, then that will be the default next time you post on that device.
As you can see, this isn't a black and white feature comparison. However, Facebook is clearly worried about Google + being used as a kind of public Facebook – where people post publicly and/or subscribe to the public updates of others. Facebook wants that use case happening on their platform too, hence the Subscribe button.
Do you think the Facebook Subscribe button is a good move by the company? More importantly, are you using it? Or perhaps you prefer to do your public networking over on Google +. Let us know in the comments.