Last Friday I ran WhereCamp5280 in Denver, which attracted over 70 people (many from out of state and a couple from Canada), used thousands of dollars from top-tier sponsors and was organized in probably less than six hours total. An unconference is a conference in the loosest of terms. People show up, we build our own agenda and then go for it. Here I'll describe how it was run.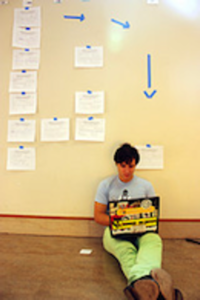 Venue
Guest author Steve Coast founded OpenStreetMap, the wiki world map and currently lives in Seattle.
We used the University of Colorado, Denver. The rooms were free. We had three rooms, each could seat between 50 and 125 people depending on the room and each had speakers, projector, lights and so on. You can find similar venues very easily, just ask around. We had the rooms from 9 a.m.-5 p.m. or so on the quietest day of the week for this particular campus and they were booked something like two-three months in advance.
Food
We used Einstein Brothers for breakfast and lunch. We planned food for about 100 people and it worked out very well, with food taken to the after-party too. We simply booked online, chose a ton of food and it arrived at 8:15 for breakfast and 11 a.m. or so for lunch. Breakfast consisted of bagels with various schmears, coffees (remember decaf too) and some bagel poppers (think donut holes). Lunch was boxes of bagel sandwiches (remember vegetarian option), iced tea, lemonade, cookies (three kinds I think), chips (including chips that don't suck, like Sunchips) and gherkins.
Set up was very easy, there were a couple of fold out tables and a few people volunteered to set up the boxes, etc., along with the staff from EB. At the end of the day I asked everyone in the room to help clean up one item (we had boxes, empty cups, etc., etc.) and it was done very quickly.
Breakfast mingling took from 8:30-9 a.m. or so. Lunch was one hour: noon-1 p.m. It was a nice enough day that people wandered outside, chatted and so on.
Website
As a hangover from last year, I happily used Google Sites to host www.wherecamp5280.org for free. It has a super simple editing interface. I only built a couple of very simple pages listing the details upfront as you can see.
Tickets
Eventbrite was pretty awesome. You set up your event, add ticket types (with different prices), link to it and you're done. It's entirely free to use if your tickets are free. For wherecamp, the majority of the tickets were free. You can also use their iPhone app to scan peoples tickets if you like, but I didn't do this as it's free and it would have just been a hassle for very little benefit. Tip: tell the attendees this so they don't print out the paper ticket! Also see sponsorship next:
Sponsorship
I used Eventbrite again. This worked out fantastically. Usually people spend a ton of time setting out sponsor levels, making a brochure and all that stuff about what a sponsor gets for their money. What I did instead was set up Eventbrite "tickets" that were priced as powers of two. So $16, $32, $64… $1024. Sponsors could then simply go in to Eventbrite and buy a ticket. This was wonderful for me as I didn't have to screw around with checks and bank transfers.
It was wonderful for sponsors as they could buy a "ticket" and expense that, whereas sponsorship is sometimes a much harder thing to get and has to go through other channels. One big thing to learn from though is that powers of two is a cute way to get sponsorship, but it doesn't match very well to what can be expensed. Often people can expense things with some rule like "so long as it's less than $1,000." Next time I will price things like $190, $490, $950 and so on.
As for "what do the sponsors get," I didn't produce a brochure or have anything particularly in mind. I've run conferences before which do do this and that's fine but this was a volunteer event. If the sponsors didn't come through, all I had to do was not order food (the major cost) and instead point people at nearby cafes, etc. It helps that I've run conferences before and therefore have a level of trust from the people sponsoring to not fuck it all up. I was asked a couple of times, but simply said it was a volunteer conference therefore time was short and we couldn't really produce brochures, etc.
How about actually getting the sponsors? I've built a large set of contacts over the past six or so years so it wasn't super hard to ping people and get sponsors. You can do a lot to make things simple for them though, like the ticketing above. Talk to your friends, and your friends of friends. Don't be afraid of pinging multiple people in large organizations where some people might be in a better position to help than others. Ask who's the right person to talk to. Be available on the phone if needed, and offer to have a call to prove your not a lunatic from the interwebs.
We didn't have any that I know about, but sometimes you get the guy in the audience who wants to super nitpick about something, or have a pointless or tolling discussion. Your audience need to know that when they go off to their separate rooms that they have the power to (politely) make that person shut up.
Once you have your sponsors, make sure the logos go on the website in proportion and order to the level of sponsorship. Make sure you thank them all with a big slide of sponsor logos at the beginning and end of the conference. If you want to, give speaker slots too. For a volunteer unconference this doesn't make a lot of sense as you have limited time and space.
Thankfully, all of our sponsors were clueful and spoke for themselves about things they were passionate about. There is nothing worse than subjecting your audience to a sponsor with 1,000 slides of bullet points. If you can, turn that kind of sponsor away – it's not worth the money to alienate your audience.
One big downside with Eventbrite is that they pay you after your event ends. So make sure you have the working capital to front money for food etc.
Media
We had a website, Twitter feed and I emailed lots of people on various mailing lists. Make sure to thank your sponsors across media. Follow your followers on Twitter (something I was lax about). Ask people to forward on the announcement to lists they are on. This worked well with various GIS and academic mailing lists in Colorado. Make sure your announcement and website are super, super simple. People are busy and don't have time to read pages about your fantastic event.
Make it about the who, what, why, where and when. Use pictures to give a feel for the event. Make contacting you super simple, just put your phone number and email address on everything. Worried about spam? Get a spam filter. Make it clear you're looking for sponsors.
Ask your sponsors to blog and tweet about your event too. It's in their interest!
Schedule
This is another big time saver you can leverage – don't have one. I gave a quick welcome, we had a 20 minute keynote and then anybody was invited to speak. To make this work in practice you need a thin structure to help organize speakers. You get everyone in one room in the morning and you tell them that anyone can speak about any topic they like. In addition, they can ask to hear about any topic they like if they're not the one who's the expert but wants to get a feel for a topic.
People form a line at the stage and describe briefly what they want to talk about. Then if there is a positive reaction they write down the topic on a standard letter sized piece of paper. They take that piece of paper and stick it on a grid on the wall. The grid has room names along the top, and time slots along the side: 9-10am, 10am-11am… and so on. They choose a time and a place and put that paper on the wall. You make the grid with other bits of paper: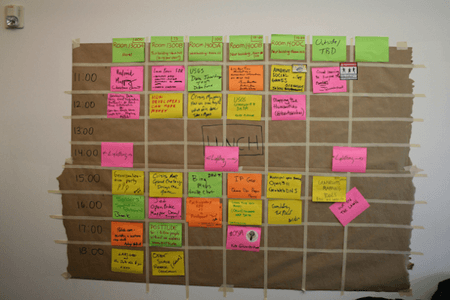 Photo by robotbrainz


You can use stickies. You don't have to make an explicit grid like the above example uses tape to do. Here is what our grid looked like, to the left on this picture (thanks andrei):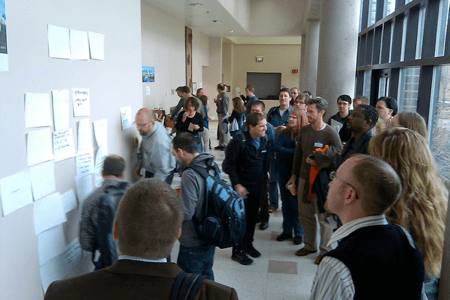 This means that slots on the grid are a scarce resource so there is immediately competition to get people up on stage early to say their idea before someone grabs the slot or topic they want. You might need to cajole the audience a bit to get them to open up and start suggesting things. Make it fun. Explain this concept in an email to all attendees (something you can do easily with Eventbrite) before hand. I didn't. But it was okay because enough people had been to these types of events that it worked out ok.
You might want to make very sure your sponsors are OK with all of this, but if they aren't then it's probably better that they don't sponsor. If you start screwing around with the event you can lose coherence pretty easily – for example by forcing everyone to go together at a random time to hear a sponsor pitch.
When you have everyone in the room at the beginning you can possibly do introductions but with a large group that tends to a) take a lot of time, and b) people get bored. Personally, by the time we're halfway through I've forgotten most of peoples names and jobs anyway. You can instead ask everyone to say hi to the person to the left or right of them for 30 seconds, then the person in front and behind. I think of that as the church-hug approach and it can work, but it can also make people a bit uncomfortable and weirded out by the touchy-feely thing. It's all personal preference.
Here are my simple intro slides:
View more
from
.
They just go over the basics – hello, here's the Wi-Fi, lunch is at noon…
At this event we also had a keynote. So I gave a little intro, there was the 20 minute keynote, then everyone comes up with session ideas, then we started. That took in its entirety from 9 a.m.-10 a.m. so we were ready at 10 to go to sessions. The keynote got people in the "conferency mood" and also gave people a opportunity to think up ideas and generally be warmed up a bit.
Lunch went on the schedule from noon-1 p.m. but people could still run sessions if they wanted. There was no official announcement of new sessions starting/ending at the top of each hour. People were expect to be grown up and know what time it was, be courteous to the next slot speakers etc and it worked out very well.
Sessions themselves – and this is important – were not one guy up on stage for an hour waffling about whatever they care about. They are interactive. People shout out from the audience, and the audience discussed between people, too. There may be several speakers with little demos or small slide sets to show. For example the session on OSM had several people up, some with slides, some just talking, some with a video to show. The audience was friendly and we had good discussion.
We didn't have any that I know about, but sometimes you get the guy in the audience who wants to super nitpick about something, or have a pointless or tolling discussion. Your audience need to know that when they go off to their separate rooms that they have the power to (politely) make that person shut up. Explain it like this: If you have 60 people in a room and someone wastes five minutes of their time, they've just wasted five man hours of time. That's just not cool!
You want to have a closing session with everybody too, so at 5 p.m. everyone came back to the main room. We had a couple of small announcements, thanked the sponsors then all went off for the after-party.
After-party. We had a fun time in Peter's loft: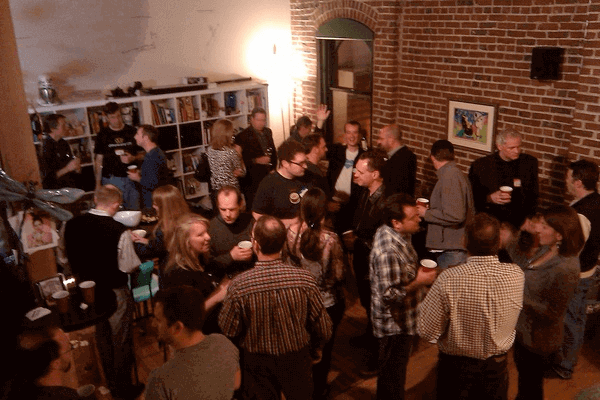 Make sure you pick a venue. I've been to too many conferences where the organizers don't specify an after-event venue. It's really simple – just pick a nearby bar or pub if you don't have the resources to do something yourself. If you don't do this, you split up the group needlessly, and everyone is confused on where to go. Pick a defined time too. Make it part of the announcement. Then people who can't make it during the day can at least come to the after party.
We had food, beer and wine provided free courtesy of our sponsors and Peter's hard work. Peter is also a master of entertainment so we had music and karaoke too.
Death by committee
This is another personal preference, but I hate inaction due to committees. You don't make your life easier picking a pub for an after-party as above by asking everyone's opinion – just choose one and maybe sanity check decisions by bouncing them off one or two key people. At the venue, if you ask the entire audience if they want to break for coffee or something, again don't expect a decision. Expect 70 people looking bewildered and looking around for the leader. Expect a few shouted out contradictory suggestions or nothing at all. Just don't bother, go make the decision yourself.
Feedback
Ask everyone for feedback continually. You might have to tease it out of them as sometimes people don't like to be negative. You also have to have a balance and know when someone is nit-picking. Especially with this kind of bottom-up volunteer effort you can't be responsible for everything and there will be feedback on things you simply can't control. If you get the room for free for example, and the projector breaks half way through the day… you can try hard but really there are limits to what you can do.
You can set up a Web form and put that in your after-event email to everyone – keep it simple though. Nobody has 30 minutes to help you with your feedback. Make it a simple rating or (my preference) a open text box that anyone can enter anything they like in to. The more open-ended you are, the more likely it is you will get better feedback.
External links
WhereCamp5280 had a fun hack day the previous day and after party. There was also a tour of the USGS the previous day. The day after, we had a ski mapping party and drinks, too. All organized by awesome people. So we turned a one-day free conference that might be viewed as a risk to attend into a three day geofest of free and fun activities with multiple angles and chances to hang out, work and play. We had people fly in from six or seven different states for this. So, find other awesome people and run things next to your event and that'll make it much more likely to succeed.
Okay Steve, I get it! Good! Now go and run your own unconference, there's nothing stopping you.
Lead photo by Chrysaora