The Adobe AIR for Android runtime is now available in the Android Market, news which is sure to excite a number of Flash developers. With the new application, developers can build mobile applications for Android users without having to learn new languages. Instead, they can continue using familiar programs like Flash Builder, Flash Professional CS5 or an ActionScript development tool.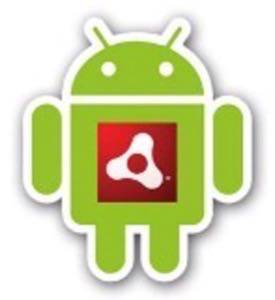 For end users, the availability of AIR means, simply put, new apps to try. Searching for "Adobe AIR" in the Market will now reveal a selection of apps that are built with AIR.
One downside to this news, it's "Froyo-only." For those not up to speed on the latest terminology, that means AIR is only available to Android devices running the latest version of the mobile operating system, Android version 2.2, code-named "Froyo." Unfortunately, some older phones don't have Froyo and never will, while others are still waiting. You can see if or when your Android phone is getting Froyo by checking out this handy upgrade list over on PCWorld (as of this writing, it was last updated Oct. 4th).
If you're one of the fortunate Froyo recipients, then you can download AIR apps now. Adobe's Serge Jespers recommends Qrossfire, Gridshock and Chroma Circuit from Bowlerhat Games. You can find others by searching on Cyrket for "Adobe AIR." A couple of non-game apps which caught our attention are Flickoid, a Flickr slideshow app and Queue Manager, an Android app for managing your Netflix Queue. Let us know if you've found others you like.
Developers, Want In?
According to Adobe, to get your AIR apps into the Android Market, you should do the following:
Get the SDK from the prerelease program.
Build the app using your preferred tool (see list above).
Package the app with the AIR SDK as an APK file (an update for the Package Assistant Pro is arriving today)
Publish the app to the Android Market
Adobe's Ryan Stewart notes that any user who installs an AIR app without AIR installed will be shown a screen like this which directs them to download the AIR runtime.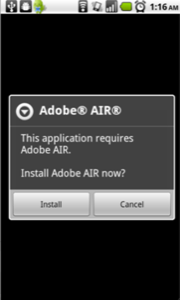 Image credits: Adobe, Ryan Stewart