A site called "Web Applications" (beta) is the newest addition to the Stack Exchange network, a service that powers popular tech Q&A sites including StackOverflow, ServerFault, SuperUser.com and StackApps. Like the others before it, the new site uses the same back-end framework to create a simple user interface where people can post questions and answers, this time about Web applications. For example: How do you export mail from Gmail? Or delete your Facebook account? Or send giant files via email?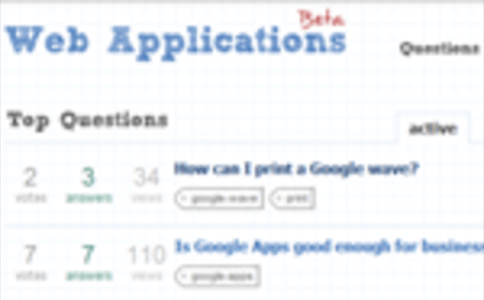 But "Web Applications" is just the first of many new StackOverflow-like sites on the horizon, and surprisingly, the next sites to launch may not be tech-focused at all.
Stack Exchange Uses Crowd-Sourcing to Launch New Sites
StackOverflow, the original site that led to the Stack Exchange network's creation was founded by Joel Spolsky, author and CEO of bug-tracking software company Fog Creek Software, and respected developer Jeff Atwood back in 2008. The idea was to create an alternative to the market leader at the time, Experts-Exchange (EE). Where EE was a fee-based site, the vision for StackOverflow was to offer a simpler, entirely free site where you could get the same type of assistance from knowledgeable users. To encourage participation, site users vote up the best answers to questions and those whose answers are voted on receive boosts in their "reputation" scores.
Earlier this year, the company raised $6 million from Union Square Ventures and announced plans to launch a handful of targeted sites running the same software. Spolsky said that the future sites would be determined by an automated process where community members propose a site, establish the site's ground rules and gather a team of core experts who commit to the site. When a critical mass has been built up (the boiling point determined by algorithms alone), the site opens. You can see this process in action now in StackExchange's new staging area, dubbed "Area51." Here, you can track the proposed sites, how many people have committed to them, details about the site's plans and goals, and, once launched, stats on number of users, questions, answers, views and more.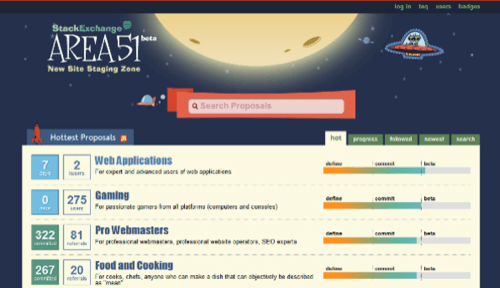 Web Applications, the Q&A site for "expert and advanced users of Web applications" was the first site to go through this automated launch process and a site for "Gaming" is now hot on its heels.
While the newest addition to the network is certainly a handy resource (we already learned how to print a Google Wave and organize Gmail labels), it's the site staging area that's the most impressive part of this whole venture. Instead of the company having to think up ideas, gather interest, entice experts to sign up and encourage people to join, the entire process has been offloaded to the community itself to handle. It's crowd-sourcing at its best.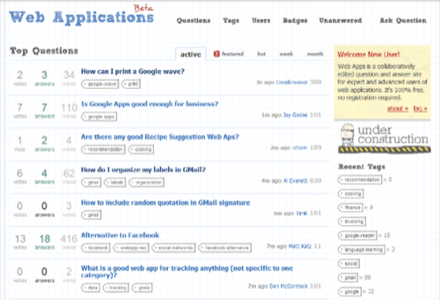 Beyond Tech: StackOverflow's for Cooking, Guitar and Grammar?
The site staging area will allow Stack Exchange to extend beyond its tech roots, assuming the future proposals in Area51 prove popular enough to reach the launch stage. Sites for food and cooking, English language and its usage, home improvement, photography, board games, coffee, guitars and other less-technical hobbies are listed among the geekier topics like SEO, game development, GIS, user interface design, healthcare IT and more.
The question now is how will these niche Stack Exchange sites compete with the one-stop shops, like the recently launched Question and Answer service Quora, which provides a single destination to ask questions about anything? Or the more personal Q&A offering from Formspring, which lets individuals share answers with a community on conversational topics. Plus, we can't ignore the fact that Facebook, too, is planning a Q&A app called "Questions." Can anything complete when Facebook – and its nearly half a billion users – get involved? And will Stack Exchange's niche answers fare as well as Yahoo Answers when it comes to being highly ranked by Google's algorithms?
Stack Exchange's move from a tech-related resource to a network of sites with broader appeal is a smart move, given the interest in the question-and-answer space at this time. But it also opens it up to bigger competition as well. It was one thing to take down Experts Exchange, but can it do the same with Facebook and Yahoo?