The U.S. Department of Health and Human Services is introducing a collection of community data sets today in an event at the National Academy of Sciences (webcast).

According to the HHS, the program is "a public-private collaboration that is encouraging innovators to utilize community health data to develop applications that help raise awareness of community health performance and spark action to improve health." At today's event a number organizations are demonstrating a preview of their work with the data, including Google, Microsoft and GE.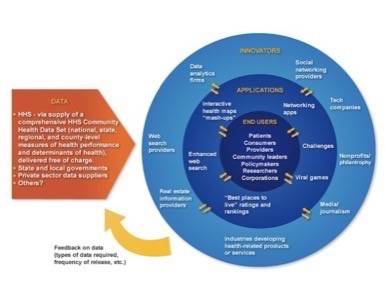 First Results
Google: The company imported the public data into Google Fusion Tables where it can be explored and visualized.
Microsoft Bing: "Using community health data, Bing has created new features that allow easier selection of hospitals based on patient quality of care ratings and new ways to assess potential areas to live based on a combination of community health measures and access to goods and services."
The Network of Care for Healthy Communities: A Web portal combined with community health data provides officials with policy information, local services, best practices and evaluation tools that can spur local action.
Community Clash: Created by MeYou Health, "Community Clash is an online card game that engages you in a discovery of your community's health and well-being status and how it compares to other communities in a head-to-head clash. Community Clash gets personal, prompting each player to compare his or her own Well-Being Score and encourage social comparison with friends through Facebook integration."
Opportunities


Data mashups: Sharing information across data sets and regions will create multiple opportunities. Will there be a management system in place to fix or enhance data sets and their underlying models as needed?




Services engine: There are a mix of CSV, XML, map data, and other sources available in the data set. Will the sets be offered as APIs and how it will be leveraged across different parties?




Missing gaps: Will the community health data initiative spawn new areas of research funding?




Public and private: What will be the focus of private companies that offer services based on this initiative? Will it attract VCs and investors outside of the public sphere?