As part of our lead-up to The ReadWrite Real-Time Web Summit, which is just over two weeks away, in this post we're listing 50 leading companies of the Real-Time Web. Like any list, it is bound to be missing some worthy companies – so we invite you to list more in the comments. Our aim is to unveil the top100 Real-Time Web companies at our event.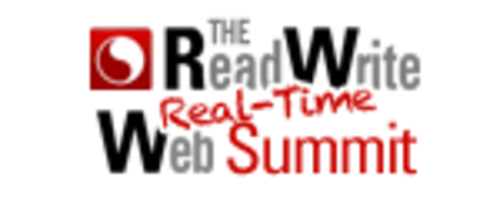 A reminder that the ReadWrite Real-Time Web Summit is happening 15th October in Mountain View, California. Many of the ReadWriteWeb team will be there, so we look forward to meeting and talking with you all! You can register here for the low price of $195.
50 Real-Time Web Startups
These companies are listed in alphabetical order. Once again, please use the comments section to add other startups that should be on our radar. You can also of course voice your agreement or disagreement about our choices!
AllVoices; Breaking News, Current Events, Latest News and World Events.
bit.ly (betaworks); URL redirection service with real-time link tracking.
BoilingPage; Find popular webpages among people in real time.
Cleartext; Enterprise Messaging Software as a Service.
Cliqset; Merging, Organizing and Sharing Social Information.
Cluuz; Web search engine featuring semantic cluster graphs, image extraction, and tag clouds.
Collecta; monitors the update streams of news sites, popular blogs and social media.
CrowdEye; Real-time Social Search.
Daylife; A point & click tool to create dynamic content portals.
Faroo; Real Time Search.
FirstRain; search-driven research.
Fwix; a local news site designed to show you the most recent and relevant information in your area.
Google; adding real-time web to search.
HighNote; Search, track and share the real-time web.
Insttant; Real Time People Generated News.
Isode; Messaging and Directory Server Software.
itpints; Real-time web search engine.
Jive Software; Social Business Software (SBS).
JS-Kit ECHO; next generation commenting system.
Kaazing; Enterprise Gateway extends real-time messaging and live data delivery to the Web.
Lexalytics; Sentiment and Text Analysis.
Liaise; an email add-on that analyzes the free-text contents of your emails as you write them.
MicroPlaza; Popular topics and news from the Twitter public timeline.
oneriot; real-time search engine.
PBworks; Collaboration, Intranet, Extranet, Project Management.
PeopleBrowsr; Social Search, Sentiment and Conversation Mining Dashboard.
Perpetually; keep up to date on your competitors.
PostRank; Discover the best blogs, find and follow topic experts and influencers.
Present.ly; a micro-blogging communication tool for your company.
Radian6; Social Media Monitoring, Measurement and Engagement.
Real-Time Innovations; Real-time messaging middleware and design expertise.
reddit; User-generated news links.
Scoopler; real-time search engine.
Scout Labs; web-based application that finds signals in the noise of social media.
Seesmic; manage your lifestream from Facebook & multiple Twitter accounts.
Shareaholic; An extension to share and bookmark web-pages on popular social sharing and bookmarking services.
Superfeedr; Real-time feed parsing in the cloud for web-developers.
Surf Canyon; Free Browser Add-On for Real-Time Personalized Search.
Sysomos; Business Intelligence for Social Media.
Thoora; delivering the news attracting the most buzz and discussion.
TIBCO; business integration and process management software company that enables real-time business.
Topsy; search engine powered by tweets.
tr.im; URL shortening.
Tumblr; light blogging service.
Tweetdeck; desktop Twitter client.
Twitter; micro-blogging.
Vayusphere; an enterprise software company dedicated to the acceleration of a corporation's time critical and frequently used business processes.
WebTrends; Enterprise Customer Intelligence.
Wowd; a tool for finding popular information, in real-time.
Yauba; Privacy safe, real-time search engine.