The government cloud computing service rumored since late July is here, and companies are jumping at the chance to join Apps.gov, an "online storefront" for cloud services and applications pre-approved for use by federal agencies. According to the post by U.S. CIO Vivek Kundra, Apps.gov will move at the same cautious pace Data.gov has, and currently the site is pretty bare bones. Certain areas are without any vendors and all but those related to social media are dominated by Salesforce.com and Google. Other big players, such as Amazon Web Services, are also looking to cash in by becoming a part of the site.

In the post on the White House blog, Kundra said that the federal government currently spends more than $75 billion on IT. In a time when the government is one of the only reliable sources of IT spending, enterprise vendors of all kinds are looking to enter that market. That includes cloud computing companies, from platforms like Amazon Web Services to software suites like Google Apps.
So why is the federal government providing a free shopping cart for these vendors? By giving the software and services in Apps.gov its official blessing, the feds are making it easier for sluggish agency IT departments to save money and update aging systems by embracing the cloud.
The first incarnation of Apps.gov is divided up into four sections:
Business Apps, which is everything from analytics to ERP. This is currently one of the areas where Salesforce.com and Google are predominate.
Cloud IT Services, which is currently labeled as "coming soon" and is devoid of apps.
Productivity Apps, another area Salesforce.com and Google appear almost exclusively.
Social Media Apps, which is the most diverse area of the site thus far.
The government is playing it safe in all of the areas right now. Salesforce.com and Google Apps crop up in all categories, even in those where there are far better options. The comparatively low risk area of social media is the most diversified right now, featuring around 20 popular apps like FriendFeed, YouTube, MySpace and Flickr.
The government has spent most of its energy on bringing cloud computing leaders on board with Apps.gov. Clearly federal agencies will benefit from the official endorsement of vendors they're likely to be familiar with already. But before Apps.gov becomes a truly useful resource, the site will have to diversify its marketplace.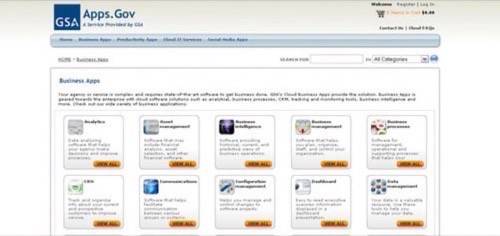 hat tip to chris messina