Collaboration tools and online storage applications offer many possibilities: online collaborative editing, synchronizing across computers, sharing multiple files and discussion boards, and sharing windows and documents on the spot, to name a few. The following review of major products in this space will help you choose the right collaboration tools for your needs.
This is a guest post by Eyal Sela, author of the productivity and Internet blog ProductiveWise. He is a freelance Internet and social-media project manager.
Online Editors
Online editors are web applications that let you create and edit documents, spreadsheets, and presentations online through your web browser. No installation is required, and you can use them in offline mode when there is no Internet connection.
You can share documents with other people by entering their email addresses and inviting them to collaborate or just view the documents. Several collaborators can edit the same document at once. Collaborators can also add inline comments. Version management features allow you to retrieve earlier versions of a document in case you are not happy with the initial result.
Zoho and Google Docs are two online editors that work (and look) quite the same. Both require you and the people you collaborate with to have an account (Zoho allows you to sign in using your Google or Yahoo account).
Zoho has built-in chat for collaborators to communicate in real time while editing. It also has a plugin for Microsoft Office that makes changes in your Office documents reflect directly in your Zoho account (but it is available only for documents and spreadsheets).

Zoho Writer in action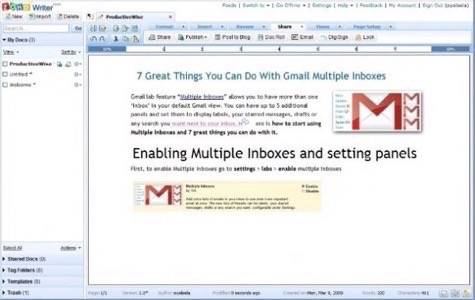 Google has built-in chat only for the spreadsheet application. Collaborative features vary among Google's applications (see "Simultaneous editing and viewing" for more information). Notification of changes is available only for Google spreadsheets.

A Google Docs document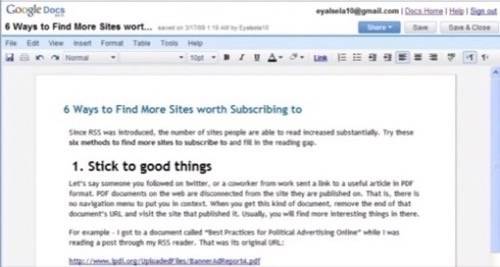 Use online editors in the following cases:
You want to collaborate with someone on a document, spreadsheet, or presentation and you or they don't have collaboration software.
Some of your collaborators do not have access to a word processor, spreadsheet, or presentation tool on their computers.
You wish to collaborate simultaneously.
Synchronization Services
Synchronization services allow you to keep working with your desktop applications as usual, without having to learn a new interface or work through your web browser. They automatically save folders and files to all of your computers, to the computers of people you collaborate with, and to the web, keeping everybody in sync. All collaborators must register, download, and install software.
To collaborate with others, you just need to enter their email addresses and invite them. Once they accept, they can view and edit shared files and folders. Whenever someone makes a change, it syncs across the documents of all the other collaborators and notifies them of the change.
Syncplicity, DropBox, and Live Mesh are synchronization services, each with its own advantages.
When you install DropBox, a new folder is created, and only this folder and its sub-folders are synchronized. To collaborate on files and allow others to comment, you need to share the folder that the documents are in through the web interface. DropBox keeps previous versions of your documents, allowing you to view and restore any one of them, even if it has been deleted. DropBox works on Windows, Mac, and Linux and can synchronize across the three.

DropBox main panel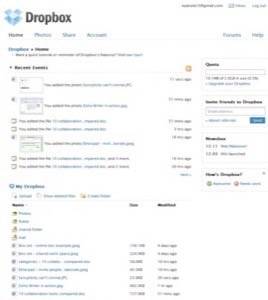 Unlike DropBox, Syncplicity can synchronize whichever folder you choose. Sharing folders is a bit easier, because this is done through the folders themselves. On the other hand, users cannot write comments in the web interface. Syncplicity's major advantage is that it can sync files between your computer and Google Docs (mentioned above), allowing you to enjoy Google's collaboration capabilities. Syncplicity has a polished client for Windows, a Beta client for Mac, and nothing for Linux.

The Syncplicity file browser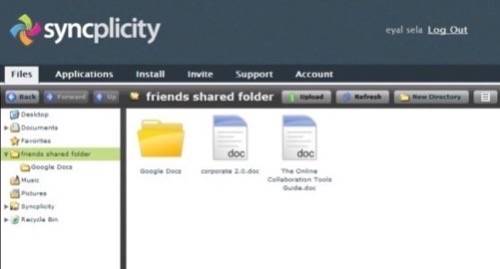 Microsoft's Live Mesh also allows you to sync any folder on your computer and share it without a web interface. Though not in real time, collaborators can communicate directly through their computer by writing little posts in the sidebar that appears in the folder once it is shared. Live Mesh works on the Windows and Mac OS X platform and is compatible with Internet Explorer, Firefox, and Safari.

Live Mesh's online desktop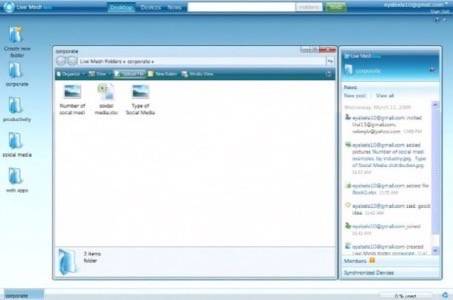 Use synchronization services in the following cases:
You work with your team or other people on a regular basis, and all of you can install the client program.
You wish to keep working with your desktop applications.
Sharing and Collaboration Spaces
Sharing and collaboration websites are spaces that allow you to upload, share, and discuss files and links. Unlike with synchronization services, files are stored only on the web and not on your computer, and no installation is required. Collaborators can preview files online, comment on them, and download them without registration (the owner just needs to send them a link).
Drop.io is an online file-sharing service. The process of setting up a shared space, called a "drop," is easy and does not require you to register (although you may want to in order to administer the drop). A drop expires one year from when it was last viewed (or earlier, if you choose). One of Dropo.io's advantages is that you can create a disposable sharing space in a matter of minutes. Once you upload a file, you are given a link to the new sharing space. You can also make it secure by adding a password.
To edit a file, collaborators have to download it, make their changes, and then upload the new version. There are numerous ways to add files, including by direct upload, email, fax, and voicemail. Collaborators can choose to be notified of changes by email, RSS, SMS, and more. Built-in chat for real-time communication is also available.

A Drop.io drop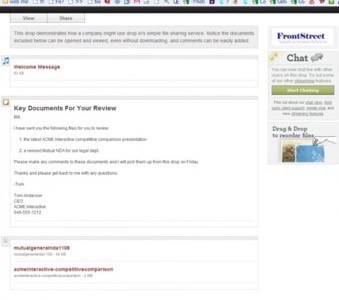 Box.net is a web-based content storage and collaboration solution. You have to register to set up a shared workspace. Creating one is easily done through the web interface: once logged in, you need only create a new folder and then upload files. Box.net allows registered collaborators to edit files via Zoho (mentioned above) or Box.net's own online editor (neither offers collaborators the ability to edit simultaneously). They may also choose to make changes with their regular desktop application and then upload the new version.

Box.net: online document example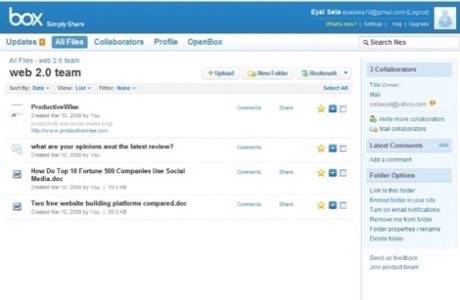 Use sharing and collaboration spaces in the following cases:
You need a non-simultaneous collaboration solution that does not require registration (such as for when others need to review and comment on your work).
You want to share several files with someone, and at least one of you doesn't have any collaboration software installed.
You cannot make the people you collaborate with register for a service (such as clients).
You need to collaborate only a few times and do not want to invest time installing and teaching others how to use a collaboration tool.
You want to discuss documents and share links, rather than just share documents.
Ad Hoc Simultaneous Collaboration
Some web apps let you create a space for simultaneous collaboration on the spot. These document spaces can be set up immediately and do not require any installation or registration.
ShowDocument is a document-collaboration web-meeting tool. Once you upload a document, you can launch a session and invite people to join. Participants see the window of the session manager (who you can select) and watch him or her draw on and scroll through the document. Once the session is over, you can save the results as a PDF.

ShowDocument live session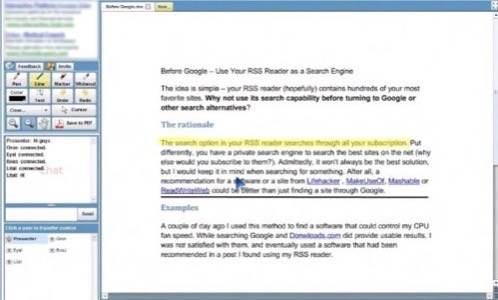 Etherpad is an online word processor that lets multiple people work on and chat about the same text simultaneously. Just go to Etherpad, open a new pad, invite other people, and start collaborating. Etherpad highlights each author's contributions with a different background color, making it easier to recognize who wrote what. It supports infinite undos, unlike other collaborative writing tools. According to the Etherpad team, the application refreshes up to 30 times faster than Google Docs, making it a real real-time collaboration tool.
Etherpad allows you to write, but not format or upload, documents. At the end of each session, you have to copy and paste what you have written, because exporting is not supported. Etherpad is supported in IE, Safari, and FireFox. Beware: once you create a pad or save a revision, it will be accessible forever; and if anyone gets its URL, they will be able to access your document!

EtherPad live session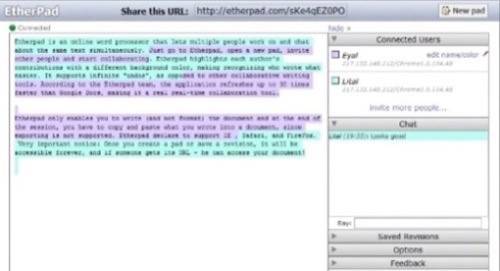 Use ad hoc simultaneous collaboration apps in the following cases:
You need to instantly write or display files to someone in real time (like when tele-conferencing).
You don't have the time or ability to register and install software.
You need real-time ad hoc collaboration, but not formatting options.
You want to collaborate with non-technical people or people with whom you don't often collaborate or use another tool.
What is your experience with online collaboration tools? Have you tried any of the ones reviewed here? Tell us about it in the comments.
Eyal Sela is the author of the productivity and Internet blog ProductiveWise. He is a freelance Internet and social-media project manager.