Faviki is a new social bookmarking tool that offers something that services like Ma.gnolia, del.icio.us, and Diigo do not – semantic tagging capabilities. What this means is that instead of having users haphazardly entering in tags to describe the links they save, Faviki will suggest tags to be used instead. However, unlike other services, Faviki's suggestions don't just come from a community of users and their tagging history, but from structured information extracted straight out of the Wikipedia database.

About Faviki
Faviki's backend uses DBpedia, a community-maintained database created by extracting structured info from Wikipedia and turning that into a database which you can query. (You can read our previous coverage on DBpedia here).
This means that instead of just being words, the tags in this data model become references to objects which are categorized automatically. An example from the Faviki blog cited an example using the tag "Coca-Cola." An item you tagged with this concept would actually reference the unique URL http://dbpedia.org/data/Coca-Cola (the tag is the last part of that URL). Under other tagging systems, the same item may have been tagged with cocacola, coca-cola, coca+cola, CocaCola, but in Faviki, it's simply "Coca-Cola." And because the tags structure is already emanating from the largest collection of concepts in the world – Wikipedia – their format is already standardized and agreed upon by the community.
Using Faviki
Despite Faviki's lofty goals, it's just as easy to use as any other bookmarking service. Once you sign up, you can install a browser bookmarklet which you can use to save links and tag them. You can also search your tags or click through the site's tag cloud to view some of the most popular saved links from the Faviki community.
A Search on Faviki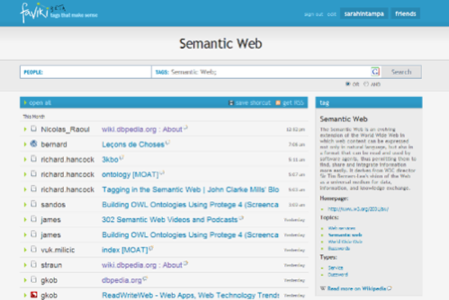 Unfortunately, there is no way to import your bookmark collection from another service. This is probably because doing so would necessitate completely re-tagging every link- that would certainly require too much effort on the part of a user if it was a manual process and I imagine it's also difficult to create a service that would automatically scan each link and tag it appropriately. However, without this option, it will be hard to get users to completely switch over from whatever service they are using now.
What Problem Faviki Solves
Because Faviki uses structured tagging, there is more that can be learned about a particular tag, its properties, and its connections to other tags. The system will automatically know what tags belong together and how they relate to others.
There has been a lot of discussion around this topic lately. At the recent Next Web conference in Amsterdam, Nova Spivack, the founder of Twine, predicted that over the next 10-15 years, tags will play an increasingly important role in the structure of the web, while keywords disappear.
If that turns out to be true, then Faviki represents a big step in that direction by offering a transitional service between social bookmarking and a purely semantic-based bookmarking service that would automatically know how to tag any content saved by discovering the semantic aspects already associated with that web page.