Adobe has acquired Waltham, Mass.-based Virtual Ubiquity for an undisclosed sum, and in doing so has officially entered the web office fray. Virtual Ubiquity are the creators of Buzzword, an online, collaborative word processing application powered by Adobe's Flex framework. It runs cross-browser in the Flash player and just might be the best word processor on the web.

That sounds like hyperbole, but after playing around with Buzzword for the past couple of days, I'm nearly ready to trade in Microsoft Word — nearly. I've been long hesitant to trade in my faithful Microsoft Office suite for Zoho, ThinkFree, or Google offerings, but Buzzword addresses a number of my niggling concerns and even manages to do some things far better than Microsoft does.
With this acquisition, Adobe appears to be announcing their intentions to go head-to-head with Google and Microsoft in the coming office wars. Microsoft has long held the dominant position when it comes to office software, but that may be about to change due to the increasingly more usable nature of the growing field of web office applications. And because of a planned Adobe Integrated Runtime version of Buzzword, Adobe has designs on the desktop, too.
Buzzword
I admittedly had not used Buzzword until this past week, though some commenters called me to task for not including it in the 10 Must Have Online Office Apps post — and they were right. In terms of user experience, Buzzword trumps Google Docs easily.

As I said, Buzzword is built on Adobe's Flex framework and runs in the browser using the Flash player (it requires version 9, which as Emily Chang pointed out in August may limit corporate adoption). The interface is slick and seems reminiscent of recent Adobe imaging applications, such as Lightroom (at least to my untrained eye).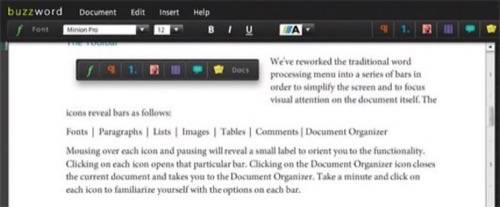 The first screen that greets users upon logging in is a file browser. Files can be sorted alphabetically, by author, by last viewed or changed, by your permissions (more on that later), or by size. Sort by size is an interesting feature because Buzzword sorts by number of pages rather than file size, which is a much more helpful visual tool.
Buzzword uses a system of slidable "pleats" for menu navigation, which means no digging through loads of nested menus to find a feature. Everything is presented visually on screen in each pleat. The system is reminiscent of the ribbon menus in Microsoft Word 2007. Stylistically, they are a bit different (the ribbons are better suited to the larger number of features that Word has), but functionally they accomplish the same goal.
I can honestly say that Buzzword is the first online word processor that I have used that made me forget I was using an online word processor. Much of the reason that I have not yet made the jump to Zoho or Google Docs is that I just think Word does things better, but Buzzword feels very comfortable to me, coming from Word. Buzzword actually beats Word in some areas. One feature that I used very often as a freelance editor was track changes. While Buzzword doesn't have a track changes feature, it does have comments, and anyone who has left comments on a Word document knows that it can quickly become a confusing spiderweb of lines and margin bubbles. Buzzword cleverly avoids all that confusion by ditching the connecting lines, instead dimming the background and highlighting the related text when viewing a comment. It is these little touches that I think makes Buzzword so special.

Buzzword certainly isn't as full featured as desktop competitors, but it nails the basics with a certain panache. It also adds some features that its desktop brethren can't, such as document sharing. Every document in Buzzword can be shared under any of three permissions levels: co-author (allowed to edit), reviewer (can read and comment), and reader (can read only). Buzzword keeps track of every version of the document and can roll back to previous version with a single click.
Conclusion
That Adobe has acquired Virtual Ubiquity is a major development on the web office front. Until now Buzzword had mostly been flying under the radar, but with Adobe's backing it should be pushed into the mainstream a lot faster. Of all the online word processors I have tried, it is easily the most enjoyable to use and the first that I think could seriously give Microsoft a run for its money, especially given that Adobe and Virtual Ubiquity plan an offline AIR-based version of the app that would automatically sync up changes you make to any documents with your online storage space.
The question now becomes: is Adobe planning a larger push into the web office space?
Note: Josh Catone is at the Adobe MAX 2007 conference in Chicago, September 30 – October 3, courtesy of Adobe.