Guest author Paul Roehrig is global managing director at Cognizant's Center for the Future of Work.
Here's some tough love for the MBA crowd: The biggest challenge faced by living, breathing business leaders is not something that can be solved with the scary math of a capital-asset pricing model. The problem keeping most leaders awake at night is nearly always some form of, "How do I identify what information really matters to my business? How do I separate signal from noise?"
If you're skeptical, just wander into a bookstore. Not a digital one that ends with dot-com. Find a physical one—they still exist—where you can see and touch an actual book that would be familiar to Johannes Gutenberg. Now go to the business section. If you're at all interested in the world, you'll find stacks of fantastically enticing books; wisdom collected from past and current leaders and thinkers; more than you could ever get through (with more coming in every day).
How can any of us possibly pick out the ones we should read? Which will give us the most value? From this wall of information, how do we find what really matters vs. what might be merely interesting (or worse)?
Mo' Data, Mo' Problems
It's this confounding challenge—separating signal and value from noise and distraction—that has fueled the current fixation with Big Data. Since you're already in the business section, look at all the latest titles. Many have something to do with data and information. What is it? How big is it? Where do we put it? My data seems small, so do I need more? Should my data go on a diet? Is there a 12-step program for data?
Back at work, the problem gets even worse. We all know our company has valuable data, but we don't know where it is, what to do about it, or whether it's worth doing anything. Most decision makers stay stuck because there's so little justification for why you should divert focus to what often feels like some sort of science project.
In this context, enterprise data starts to feel like that kitchen drawer we never clean out because we don't really have a compelling reason. We don't know what lock that old key fits into, but maybe we'll need it someday, so there it sits, unlocking nothing.
What's At Stake
But a path forward is finally coming into focus, and it's almost alarmingly simple. Winning companies are creating business value by building a richer understanding of customers, products, employees, and partners. They are successfully extracting business meaning from a torrent of data to drive performance.
We say this with confidence because—with the help of the Oxford Economics group and futurist Thornton May—we studied over 300 companies to understand the real-world economic impact of making real-world business meaning out of data, and the impact couldn't be more critical.
Big Data Is A Big Deal
Firms we studied achieved a total economic benefit of roughly $766 billion in just one year (including roughly $399 billion in increased revenue and $367 billion in cost reductions) based on their use of business analytics.
Business Analytics Can Reshape Your Income Statement
Investment in business analytics yielded an average 8.4% increase in revenues and an average 8.1% improvement in cost reduction over the previous fiscal year. Companies that generated the most value from business analytics—what we called the "Meaning Makers"—did even better than the average.
Companies Are Leaving Billions On The Table
If the surveyed companies used all the analytics techniques currently available, respondents estimate they could release an additional 11.9% of economic value in the next 12 months. Right now, that's real money being left on the table.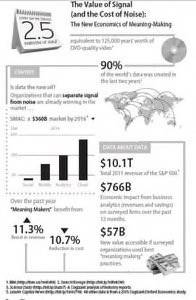 A common misconception is that wrangling data well simply drives down operating costs. That's still true, but another lesson that came through loud and clear is that companies that separate the signal from the noise do better than their competitors in both revenue generation and cost cutting.[*] Those that did a good job extracting value from information had significantly better business results.
[*] We identified 78 of 300 companies (26%) as "meaning makers" who generated significantly more value than others. "Data collectors" are those that lag significantly behind industry leaders (24%). The remaining 50%—"data explorers"—are companies in the middle of the pack.
How You Can Make Your Data Work For You
These results aren't science fiction or unattainable goals reserved for the current crop of high-fliers like Google or Apple. This matters for all of us.
UPS has become a technology company with trucks, and it saves millions every year by harnessing data to shape decisions about loading, delivery runs, and even truck engine efficiency. Netflix has driven business analytics and meaning making deeply into the core of its product development process to create hits like House of Cards and Orange is the New Black. Toyota is harnessing data from multiple sources to better understand how cars are performing and anticipate problems before they arise. Clorox uses unstructured data to determine what is resonating with clients and better connect advertising spend to business results.
So what to do tomorrow? Every company is different, so there is no single "right" answer, but there are a few simple tactics companies can start tomorrow.
Become A "Meaning Maker" (Or Pay The Price)
Companies that use data to connect customers, partners, devices, and their brands can thrive. Companies that do not act to become "meaning makers" will undoubtedly face a tough journey—or even an extinction event. Executives should look at their businesses and decide where to apply the new economics of meaning-making in the near-term.
It's All About The SMAC Stack
Social, mobile, analytics and cloud (SMAC) technologies are coalescing into a new IT architecture that can help rewire virtually every business. Data from mobile devices, social tools, and cloud-enabled solutions contains massive value if de-coded and harnessed. Business process owners and technology leaders should be proactive about finding ways to leverage these tools.
Narrow Your Focus
The imperatives to "do analytics" or "use big data" are just too broad to be useful. Focus on a specific business process. Whether it's your underwriting process, clinical drug trials, wealth management service, supply chain or customer relationship management process, target work that shapes at least 10% of your costs or revenues. This is exactly what companies such as Zappos, Netflix, UPS, Toyota, Pandora and others do around key processes.
Don't Overlook Your Small-Data Problems
Most companies have tremendous wisdom locked up in spreadsheets, call centers and employees' heads. You don't always need a billion records to derive business meaning. Start by exploring the data you do have. Get the right people in the room and dig deeply into what you have. This will help break the inertia and start people thinking about how to make business meaning.
Build A Business Analytics Ecosystem
Winning based on knowledge requires a new set of skills. The harsh reality is that there will not be enough people with the right skills to keep up with demand, so most companies won't be able to go it alone. Savvy decision-makers know that building an ecosystem of consultants and service providers can help deliver the right capabilities to the company.
The power of insight is starting to shape markets and disrupt business processes. We're well beyond theory building, and these trends will only accelerate in the coming quarters and years. The companies that ultimately win will be those that de-code the new economics of meaning-making. They will reimagine work, see business processes and customers as sources of insight, and find ways to keep human judgment and values embedded in real-world business decisions.
Cognizant's Malcolm Frank and Benjamin Pring contributed to this piece. Together with Paul Roehrig, they are the authors of Code Halos: How the Digital Lives of People, Things, and Organizations are Changing the Rules of Business.
Lead image courtesy of Shutterstock