If you are a visual artist, chances are you collect tons of images. You either pin them to the wall of your studio, shove them into neatly labeled folders or just leave them on the dining room table and hope that they'll one day find a home. The imagery inspires ideas, and further thought bubbles and additional drawings and paintings. What if there was one digital space in which to house those ideas?
Unless you have been living under a non-WiFi connected Internet rock, you've probably heard the hubbub about Pinterest, the Web's new social network darling. It is predominantly lady-dominated, may in fact violate copyrights and definitely does something that Facebook does not.
I spoke to five artists: Marilyn Frank of The Franks, Lauren Levato, Justin Kemerling, Christine Rogers and James Green. They are all using Pinterest to do something, whether it's to organize ideas, share inspiration, study the culture of social networks or just to make the Internet a more aesthetically pleasing place to be.
Early Warning Signs: Marilyn Frank of The Franks
Chicago-based artist Marilyn Frank is one-half of the collaborative "The Franks" . The duo's work is ethereal, conceptual and at times ambiguous, as one can see from their 2010 work "Untitled," an acrylic on linen painting. Frank's boards on Pinterest cast a similarly straightforward yet looming feel, not-yet-birthed and raw in its emotional appeal. The words, however, are abstracted, causing one to question why something seemingly banal casts such an eerie impression.
"If you think about us as creatures of habit, I as an artist have been tearing things out of magazines and saving them…but then it's like, oh my god, I have all this crap in my office," says Frank. "And it became a burden. Then when Pinterest came out, it was like wow, I can get rid of that paper and organize my own files in a more efficient way."
With a background in graphic design, Frank's Pinterest boards feel neat and clear. There is no questioning how she sees, and how useful Pinterest has become to her. "For me, it's almost like having sketchbooks, separate sketchbooks," she says. "Everything is neat, never messy."
As she uses Pinterest more, Frank has found that her Facebook profile has taken on a different purpose all together. Now it is more useful as a space for articles and photos, and less so for visual content.
Like any social network, however, Pinterest is also social. Frank sees that as less important than the pinning mechanism. "It's a reference tool first and foremost," she says. "If other people can see it that's fine, but that's not as important."
Frank has already curated nine boards on her Pinterest profile, including Color, Space, Words, Style, Lost, Found, Love, Design and Sweet & Savory. On Words, a poster from tumblr.lostandtaken.com communicates in three letters what most Internet users are probably thinking right now. One such image came to Marilyn via Kathleen Schmathleen, a random Pinterest user based in Brisbane. It's inspiration – so does it matter where it comes from? No, not really. But copyright violations could eventually get in the way of Pinterest's success.
"I thought Napster was going to be one of those things where you just share music, and then high school kids were being taken to court," she tells me. "At the worst, maybe Pinterest will be shut down."
Paging through the works on The Franks' website, however, it becomes clear that the art itself is perhaps as fluid as the Internet and social networks. The Franks' work is based on chance, and is always in flux from the formal. Collaboration is the stabilizer, which gives the work its more material quality.
"We're constantly finding new things to explore, and usually it starts with the material or the environment around us, which is why Pinterest is so appealing," explains Frank. "If Pinterest was 'static' it would be boring. So it goes with our work. We are constantly adding to and subtracting from this palette of interests."
The Franks' next show is in May 2012 at the Beverly Art Center, which is located on Chicago's Far South Side.
Images via Marilyn Frank's Pinterest page and Franks.cc
The Bug Lady: Lauren Levato's Pinterest Love Parade
Chicago-based artist/writer Lauren Levato (a.k.a. Hi-Octane Red Head) has a lot of art crushes. When she's not in love, she's searching for bugs or shoes.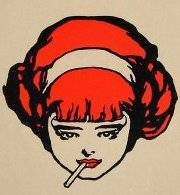 Of her eight Pinterest boards, the three that have gathered the most imagery are "Artists I Adore," "What do do when you are in love" and "BUGGERY!"
The fiery red-headed Levato is a classically trained draftswoman who was raised by wolves and resides somewhere in Chicago's bordering-on-outsider art community. For her, Pinterest is most useful as a curatorial platform for inspiring images.
"When I got on I thought, 'I can make albums,' but they're all scrapbooks. And that's the same thing I can do on Facebook," she tells me. "Right now all the people who follow me are on the same platform."
She is also using Pinterest as a way to share things that influence her beyond just art. "For example, I have a real obsession with fashion and shoes – I collect shoes."
Why does she use Pinterest? "It's just so much easier to put it together visually, so you can make this giant place where people can take one look into your thought process."
Most of the artists I talked to saw some overlap between Pinterest and Facebook, including Levato. "I use Facebook in a really personal way," she says. "I feel like Pinterest has an obsessive quality. It's like the hangover – I feel a little bit dirty. I consciously have a personality on my Facebook page, I've made decisions that these personal things are OK to talk about. And so, I do."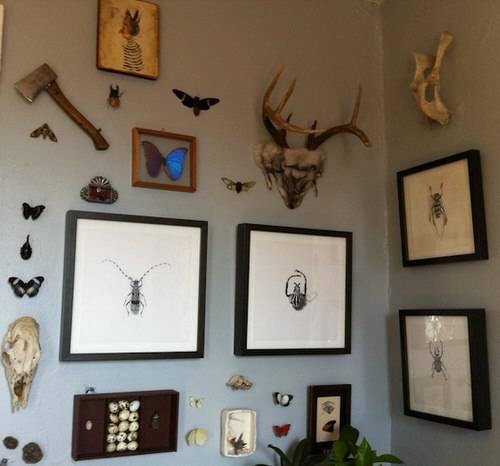 Levato's solo show at Chicago's Packer Schopf Gallery opens on June 1, 2012.
Lead image is a 1920s cigarette ad, not by the artist; image of the artist's studio courtesy of Lauren Levato
Follow These 5 Artists on Pinterest
Look into My Beta Eyes: James Green
Chicago-based artist James Green lives and breathes Web technology. A former Apple Store employee and freshly minted freelance graphic designer, James keeps his eyes on the fast-moving image.
Naturally, James is a Pinterest fanatic who is on top of all-things tech-related. When I stopped by his Facebook page in order to find his website, he had already posted a link to a blog post he authored about the Photoshop Touch App for iPad.
When James and I met for coffee the other weekend in Chicago's art-y Pilsen neighborhood, our conversation meandered like an Internet search trail and resulted a blog post by James entitled Being Social About Social Networks. James was made for the Internet. He joined Pinterest about a month and a half ago. For him, it was a natural fit – especially since he doesn't like paper.
"I try to be as paperless as possible," James tells me, between sips of his hot chocolate. "Pinterest is like an online printer. Rather than having online file folders of things you see online, printing them out and posting them online, I can take images and organize them virtually online. I can take a picture with my phone and upload it to a board, and then share it with other people," he tells me, matter-of-factly. His seven tightly curated boards include Art + Installations, Technology, Design + Typography, Crafts + Illustrations, For the Apartment, Etsy Shop (that he is working on with his girlfriend), Fashion + Style.
Why not just drop those same images onto Facebook? James sees Facebook as more of a connection tool, "a way to connect to people you know in real life," he explains. "Pinterest is like a virtual mindscape, like virtual, digital brainstorming. I can post this on Pinterest, but I post it on Facebook it's gonna be awkward. It's like that person who posts too many links."
For his most recent show, "Beta Eyes" at ACRE Projects, James looked at the way black people are portrayed on the Internet, particularly Twitter and Google Search. He used Pinterest to organize the imagery, and when the show ended, he deleted the board entirely.
"I used it as a visual organizer to-do list," he says, "and this was my less stressful show yet."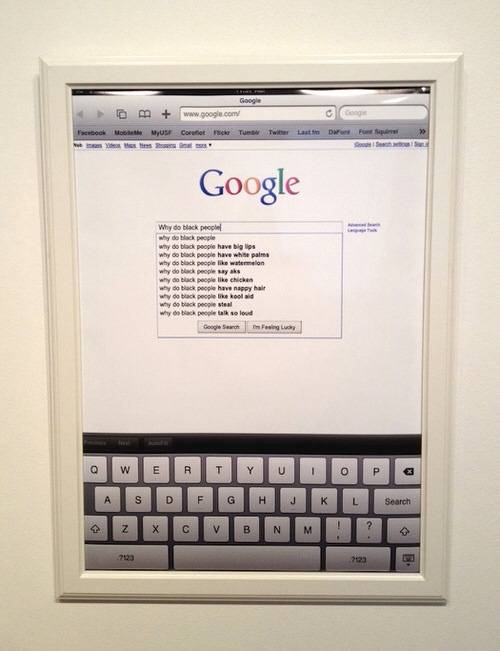 "Artists are scatterbrained," James says. "I like to say I'm organized, but I'm not. I'm organized in terms of files, but in terms of my mind, I'm pretty scattered."
Images via JamesGreen.com; thumbnail entitled "This May Or May Not Be A Self-Portrait That is Highly Influenced By Post-Blackness" and "Why Do…" (2011).
Christine Rogers Is New to Pinterest, and She Likes It That Way
Based in Nashville, Christine's photography is of the thoughtful, long-lasting variety, rather than the quick hit viral shot. She is more interested in social networks from an anthropological perspective than the user experience. She thinks in terms of the culture rather than tool, of observing and bringing her ideas to the fore rather than actively participating. This is a seemingly cautious approach, but in reality it's about smart observation, which reveals as much about the culture as a power user could and would. Here is her Pinterest page.
"I don't go to Pinterest often. When I do, I pin a lot of things and then I give it a break for awhile," Christine tells me via phone. "I think of Pinterest as a weird gateway drug for a blog. Like, this is cool, I may as well have my own blog – I guess that's the part of artists who need to be ambitious, front and center."
Pinterest is an excellent space to organize visual imagery for public access. But Christine is not a self-proclaimed organizer, like many Pinterest lovers claim to be.
"When I had a studio, I never had an extensive wall of detritus," she says. "I am not a collector or organizer. For artists who are, Pinterest makes a lot of sense. I like to look at other artists' inboards, bit it's not this great too for me to do something different."
All that said, she has some dazzling and hilarious images on her Pinterest boards. They are of the long-lasting variety. On "material culture xo," we see a pair of kitties, one with a blue-and-white striped hat and collar piece, another with pink floral-patterned bunny ears and a pink neck piece. They are delightful, posing like dainty women, gazing at the camera with longly adorable looks. They are puss in boots.
Christine points out that Pinterest brings the format and layout, and the user must bring the images. So if a user does not agree with Pinterest's format, then the site itself will not be of any value to you. Rogers likens this to what she sees as the oh-so-similar problem of Instagram.
"It's the same with Instagram," she explains. "It's like a weird cultural format that I haven't quite figured out yet, and I don't know how to be a part of it as an artist. I think of it as something that's outside of my life as an artist. It's much more of a social thing."
What is her work like? Beautiful. In her 2010 piece, "On Earth that is in Heaven," she examines the strange phenomenon of YouTube videos of young children praying.
"Their prayers are strange, beautiful and unsettling," she writes in her artist statement. "The fact of their prayers existing in a public domain is also strange, beautiful and unsettling. Something about it feels like a message in a bottle hurled across the Internet, waiting to be found."
One of the YouTube children recites the Lord's Prayer incorrectly, replacing Earth with Heaven. Christine pairs stills of the children praying alongside various landscapes (both real and Google-ified) of the Earth. The last aspect of this installation is a video of Christine herself lip-syncing the Lord's Prayer. Because the child said the Lord's Prayer wrong, she changes the meaning entirely. "Earth replaces heaven, rupturing the past, allowing for something new," writes Christine.
Images via Pinterest/Vice.com and cerogers.net
Follow These 5 Artists on Pinterest
Making the Web a More Beautiful Place: Justin Kemerling
Omaha-based artist/designer Justin Kemerling admits to using Pinterest, but not as a space to promote his own work. In fact, quite the opposite.
"Even though I'm a visual artist, I don't have my work on there," he explains. "I use it to categorize out things that I hold dear and understand. Book covers, band album covers, film covers and design, those are my categories," he tells me as we chat via phone. "That's how I categorize it out."
For Kemerling, however, the goal is not to curate his own stuff. He sees something bigger than any of that, actually.
"Pinterest, where all the beautiful stuff is on the Internet," he tells me. "Pinterest is all about the image. On Facebook, there's image supporting – but it's all about the context, the story. On Pinterest, the image is the focal point and the story, so the quality of images on your Pinterest stream is better than anywhere on the Internet."
I still want you to see some of his work, though. Here it is.
Kemerling is not using Pinterest to promote his work because, he admits, he already dumps his work a lot of places – especially Facebook. "As an artist to a certain degree, or a visual designer, if I can help sort of curate the general visual quality of images being thrown around there."
As for the strange gender divide – Pinterest is more than 80% women, last we heard – Kemerling has a simple answer.
"I think women have better taste," he says. "I can see Pinterest educating people on what good imagery is. People don't know. Even though we're surrounded by all this visual advertising and images, we have not spent much time with images. They're attached to a gateway – buy something."
On Pinterest, there's a chance to reclaim the image – to highlight the beautiful, the special, the ideal.
"If you just focus on the image, that's a better place to be than what you're doing on Facebook, where you are on Foursquare, the conversation you're having on Twitter," says Kemerling. "It's this nice beautification of the Internet."
"You Are Extra" image courtesy of Justin Kemerling