With near half a million Android devices being activated every day, there are a lot of people learning the best ways to use their brand new devices. The natural thing for a new user to do is look up their favorite websites using the native browser on the phone. Yet, a lot of times they will find that the site is not optimized for the mobile Web. This makes for a clunky Web experience that detracts from the perceived value of the shiny new smartphone.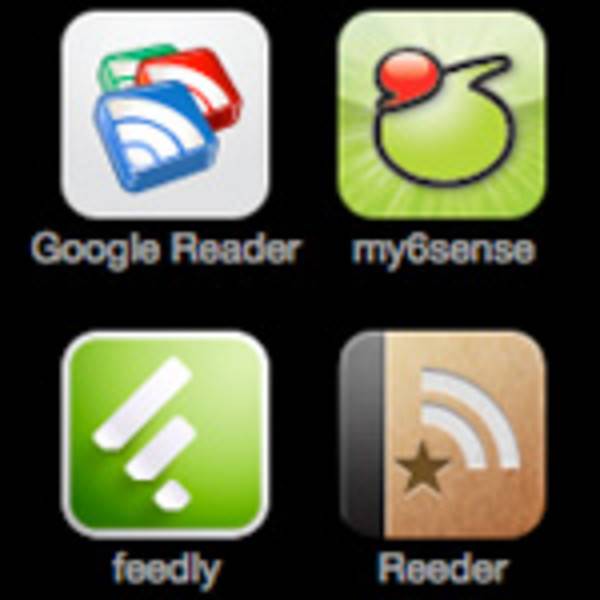 That is where RSS applications designed specifically for Android become incredibly useful and powerful tools. Available through the Android Market, there are a plethora of terrific RSS readers that will render users' favorite sites into delightful, visually appealing feeds. What are the best Android RSS readers in the Market? Let's take a look.
This content series is brought to you by Samsung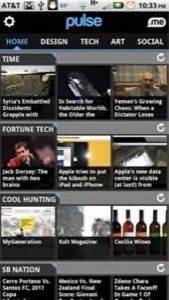 Pulse
When it comes to intuitive design and well-crafted user experience, Pulse is at the top of the Android RSS ecosystem. Pulse allows for a user to set up rows of publications that are easily scrollable from right to left with a flick of a finger. One of the newest updates to Pulse institutes pages within the app that allows for customization of topics. Do you like a lot of tech news? Page 1 can be your tech home page. If you like sports or politics or business, Pages 2, 3 and 4 can be set up for any topic you can think of. Pulse is fully social-enabled, allowing users to tweet, email or recommend stories right from the app. Use Pulse in landscape mode for the best use of screen space.
Feedly
In terms of visually appealing, customizable RSS readers, Feedly is the father of third-party RSS readers. It has made a grand transition from the Web browser to mobile, offering a user interface that is easy to use and packed with content. Users can import their Google Reader feeds or sign up for RSS feeds on the Web and have them be imported to the app. Feedly's color scheme is also customizable from either a white background with black text or a black background with white text, good for those who prefer a darker interface.
Google Reader
Google Reader is the original, ubiquitous Web-based RSS reader. It has always been more functional than flashy (the way Google has always made their products). Google Reader on Android is no different. If a user has a robust list of RSS feeds in their Google Reader and does not feel like going through the hassle of reconfiguring a new application with all their favorite publications, Google Reader is the way to go. Since it is Android, the smartphone knows automatically what the users' Google account name and login are, so installation is as easy as allowing the app to access their Google account. Just like in the browser, Google Reader allows users to star items, see the people you follow and explore articles from sources you may not be following.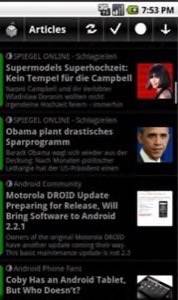 NewsRob
NewsRob is a geared to the power user who wants a little bit more functionality than the normal Google Reader. It works on a freemium model – the free bare bones version of the app encourages the user to buy the paid version ($5.78 currently in the Android Market). The free version is relatively sparse. It allows for a user to import reader feeds from Google Reader and set up new feeds either by entering the URL of the feed or searching by keyword. The paid model allows for comments and third-party content to be seen in the app, functionalities that are uncommon in a typical news reader.
Find Topic-Related RSS Apps
In the view of many, the simpler the RSS reader is, the better if functions and the more users want to come back. The Android Market is full of pre-populated RSS readers for a variety of topics – tech, politics, cooking etc. One of my favorite is called "Simple Tech News" and is a list of RSS feeds from the top tech blogs.
Any self-respecting publisher has an app in the Android Market. A lot of them amount to mobile versions of their websites in the form of RSS feeds and work better than visiting the site through the mobile browser. Want to access all of CNN's published content? Or maybe you like conservative politics and want to check out Political Fizz. Essentially, if there is an RSS feed for your favorite website, there is a good chance that some developer has figured a way to stick it into and Android applications, either for a dedicated publisher or through customizable applications.