Evgeny Morozov's book, "The Net Delusion," is a condemnation of what he calls "cyber-utopianism." This is the belief that the social web is so sui generis that its essential difference alone will save those who use it from repression and tyranny.
Indeed, it may have seemed like that at the beginning. But as even third-rate tin-horn dictators learn from the pioneers in the field of online tyranny, these technologies have become as much a tool of oppression as they ever were of liberation. The problem is, much of the public, and a great many influential western politicians and diplomats, still believe it is the way and the light.
I should, at this point, state for the record that I am a terrible book reviewer. I love books but I hate reviewing them. This book has glowered at me across the expanse of my desk for weeks. I admire people who can make tidy little essays based on the books they read. That's not me and that's not this review. I'm going to examine the book and say what I think. Don't expect more.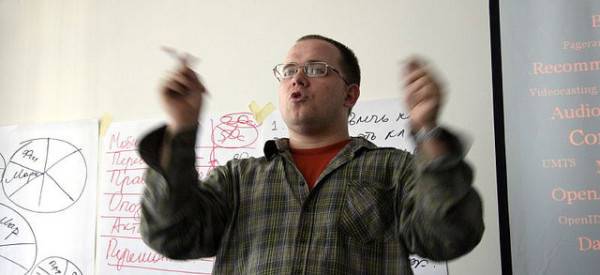 Opportunities and Vulnerabilities
As the founder of the Committee to Protect Bloggers, the first organization devoted to the safety and liberty of bloggers worldwide, I was always acutely aware of how vulnerable social media users were. The majority of people we found who were getting arrested initially were doing so because they made no effort to hide their names, believing that what they were doing was in some sense "private." Not only was it not private, the truth was that governments were watching the web.
These days, tech savvy oppressors use filtering, special state security investigators and an invariably friendly relationship with the (largely American) creators of this technology to hunt down and seize those trouble-makers who do not have the politesse to write out their full name.
So Morozov's notion that both the public and diplomats overemphasize the power of the social web to effect democratic change may seem discordant given the Jasmine Uprising that has (perhaps) successfully changed Tunisia and Egypt. But I don't think it is. Here's why:
Although some in those countries, most prominently Wael Ghonim, have advertised how much Facebook in particular was instrumental in effecting the changes there, most of their compatriots it seems do not. I think their compatriots were right. Not because the people were the agents of change, although they were. But because the social tools were used not as mysterious planes of soul-changing existence through which the people or country passed, but as communications tools that amplified and extended what the people were already doing. In this respect, the social web is extremely important to democratic change. Of course it is. Communication is paramount. But it's important because it is, used well, an extremely effective tool not article of faith.
Samizdat
OK. Back to the book. Morozov makes the argument that the current belief in the redemptive effects of communications technologies comes from the U.S. experience of the cold war, in which copy machines and fax machines were smuggled into the U.S.S.R. That, combined with the enduring fiction that Reagan, and not the "structural conditions and the inherent contradictions of the Soviet system" were responsible for that country's downfall, has led the diplomats and politicians of the U.S. to the belief that next generation technology and a strong leader will do the same thing for Islamist states and post-colonial dictatorships.
That belief, Morozov claims, is unrealistic. I agree. Further, I believe that if your mission is change, as well as preservation of life, extension of liberty (whether domestically or internationally) and you favor your hugable ideology over effectiveness, you're in the wrong business. Even those who are self-declared pragmatists can number among those Morozov calls "Internet centrists," people who place the tool over the cultural and political contexts necessary for real change. Those folks can retard change toward democracy as much as any of the ideologically ham-strung.
This combination of cyber-utopianists and Internet centrists create what the author calls the Net Delusion. His book attempts to salvage the Internet as a tool for social change by acknowledging this delusion.
Morozov examines Iran's "green revolution," as a case study for overemphasizing the effect of the social web and efforts of change. He mentions the empathy that witnessing the protests with less mediation than normal gave people a feeling of investment.
"(S)uch networked intimacy may have also greatly inflated popular expectations of what it could actually achieve."
What it actually achieved was, arguably, not much, not on the ground for those who took part. Yet the discussion of Twitter, of how this was a "Twitter revolution" was widespread and non-stop.
Panem et Circenses
In his chapter "Orwell's Favorite Lolcat," Morozov points up a thing we tend to gloss over if we spend any time online reading, or participating in, instances of democratic change. Most people don't. And even we do not spend most of our time doing any such thing. If I have a minute, am I more likely to read Foreign Policy or the Libyan Twitter stream; or am I more likely to read a quick post on io9? The latter. And I'm not alone.
For most governments, and perhaps repressive ones more than others, the use of the Internet as a modern arena for ludicrous and distracting ludi is a salvation.
The Western notion that informational outreach to repressed nations would create revolution is, Morozov says, off-base. The wall between "I'd like those blue jeans" and "I'm willing to risk jail and torture" is extremely high. Not to mention the fact that, if information as a whole is tainted, you probably aren't going to accept a new information stream from that same tainted well.
The Anti-Bloggers Fund
Iran and China have large, competent cadres of technical types and hackers who serve the state. Some search out, shame, report and censor their fellows. Others engage in more overt attacks, country-to-country.
Egypt had, at least prior to its uprising, a group called the Anti-Facebook Police. The Cuban government called upon its "journalists" to man the PR ramparts. And Nigeria tried to set up the Anti-Bloggers Fund.
"(It was) intended to raise a new generation of pro-government bloggers to engage in online battles with anti-government opponents."
There are people who fear change, others who believe in the ideology or family that's in charge of their countries, or fear those who they believe would fill the vacuum. Still others simply need the cash. The social web allows a repressive government to employ people to muddy the social media waters. In other words, social communications technologies are a double-edged sword and governments have long ago lost any reticence they may have had to swing it.
Slacktivism
At the Committee to Protect Bloggers, we quickly discovered that the blogosphere was good for one important thing, one unimportant thing and little else. The important thing was quickly attracting attention to the plight of an imprisoned or threatened blogger. The unimportant thing was racking up clicks on a petition. The "little else" we did was not a function of the distributed nature of the blogosphere but old-fashioned activism. For instance, we found – through friends and phone calls – an attorney from Shirin Ebadi's Nobel Prize-winning practice willing to represent a young Iranian accused of "immorality" (he had posted satirical pictures of Iran's leaders). This was not a crowdsourced activity. By definition, it could never be.
Raising awareness to a point where coverage by news organs of social media users' troubles is common was a good thing. But it was what it was. It was limited. People will click a button to "free" someone. It makes them feel good. But has button-pushing ever freed anyone? I think it's the longer-term activities, that use the social web as a tool to, again, amplify and extend the reach of the people behind them, that creates change.
The efforts by governments like the U.S. to encourage the formation of Facebook groups devoted to democratic change are on a par with a business telling its social media specialist, "Do us up one of them 'viral videos.'" Wishing does not make it so. If the social web has a role to play in change it is, again, probably in the area of communicating information to a group of people predisposed to positively receive that change. This happened recently in Tunisia and Egypt. It is not happening to speak of in Saudi Arabia. The reason is, it is not Facebook per se that makes a difference, it is the people in their specific context.
Technology is Neutral
In his conclusion, Morozov warns against the "banal" belief that technology can be neutral.
"(C)ertain technologies, by their very constitution, are more likely to to produce certain social and political outcomes than other technologies."
We are obliged to regard the "affordances" of these technologies. Affordances are the perceived qualities of action inherent in objects or technologies, such as the affordance of sitting a chair possesses. Comparing the affordances in a technology should give us an idea as to its overall utility, or danger. Morozov rejects the notion that the technology itself is neutral, that it depends wholly on who is using it for its ethical coloring.
"(U)nder no circumstances should we be giving technologies – whether it's the Internet or mobile phones – a free pass on ethics."
Asserting that "because it can be done, it will be done" technologically, Morozov warns policymakers, and us as adjuncts to them, to analyze the affordances of information technology prior to promoting them as tools for democratic change. When we examine issues of democratic change, stop the cyber-utopianism, stop the Internet centricity and stop to consider the implications of what a product or process can do.
In other words, stop believing and start examining. While you may be able to believe a non-existent thing into being, you cannot believe an untrue thing into truth. If we wish to encourage the creation of native democracies, we may wish to spend carefully on training and strategy (on people, in other words) instead of blindly on machines.
Morozov's "cyber-realism" encourages thoughtful consideration not of sociological ideas, but of specific situations and how a given technology might effect them. The former, in the end, are hard to get wrong, given their squishy vagueness. The latter, in the end, are hard to get right, but when you do, you change the world.
Gesticulating Morozov photo by Nurgeldy | samizdat via Raquel Baranow | quadriga photo by Martin | Slacker poster from Wikipedia | Da Vinci drawing from Wikimedia Commons