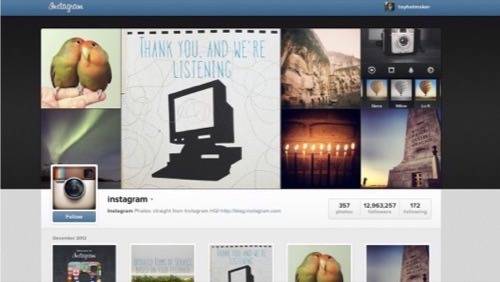 The Web has spoken. And it wants your paws off of its little-square-filtered-photos, thank you very much.
In response to a tidal wave of backlash among users, Instagram has rolled back the portion of its new Terms of Service agreement that pertains to advertising. Instagram users seized on the section's language, interpreting it to mean that the company would leverage user photos in future ad partnerships.
In a blog post Thursday night, Instagram CEO Kevin Systrom clarified the issue in plain language: "Instagram has no intention of selling your photos, and we never did. We don't own your photos – you do."
Then, in a new blog entry perhaps designed to change the subject, Instagram announced an update to its just-updated Android and iOS app that makes a number of minor improvements and adds a brand new filter – Mayfair.
More on that later – the big question is whether the ToS backtrack means Instagram is really out of the woods?
Meet The New Boss (Same As The Old Boss)
Instagram's new policy around advertising is its old policy, which has been in effect since October 2010. The proposed language, which prompted the backlash, is as follows:
"Some of the Service is supported by advertising revenue and may display advertisements and promotions, and you hereby agree that Instagram may place such advertising and promotions on the Service or on, about, or in conjunction with your Content. The manner, mode and extent of such advertising and promotions are subject to change without specific notice to you. You acknowledge that we may not always identify paid services, sponsored content, or commercial communications as such."
The original/reinstated policy is this:
"Some or all of the Service may be supported by advertising revenue. To help us deliver interesting paid or sponsored content or promotions, you agree that a business or other entity may pay us to display your username, likeness, photos (along with any associated metadata), and/or actions you take, in connection with paid or sponsored content or promotions, without any compensation to you.
You acknowledge that we may not always identify paid services, sponsored content, or commercial communications as such."
The return to the former policy is a mixed blessing for users. While Instagram's prompt response highlights the power of user feedback in shaping the app's choices, it also marks a return to the considerably more ambiguous language of the original terms of service. In the proposed language, Instagram did more to outline its plans around promoted posts like those that Facebook employs in its news feed to generate revenue.
Did Instagram Put The Cart Before The Horse?
Systrom also stated that in the future, Instagram won't make announcements of this kind without developing the actual plan that such a policy change exists to accomodate.
"Going forward, rather than obtain permission from you to introduce possible advertising products we have not yet developed, we are going to take the time to complete our plans, and then come back to our users and explain how we would like for our advertising business to work."
That could be good news or bad news for users. While overhauling the app's terms for hypothetical future use cases obviously spooks users, a fully developed ad product wouldn't be quite as easy for users to overturn.
Lasting Damage?
It's difficult to say if Instagram will actually see a dip in user numbers after this week's policy fumble. Flickr's app shot up the iTunes free app charts this week, hitting the top 20 range, according to The New York Times. Now Flickr sits at #78, with Instagram at #24.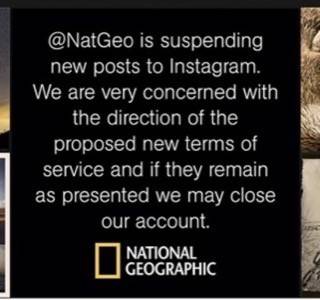 The boost might have been a spike in Instagram defectors, but it just as easily could be a result of buzz around the app's newest update, which was released on December 19. ReadWrite has reached out to Yahoo, but the company has yet to comment. Even if photo-sharers show a renewed interest in Flickr, it may not translate into lasting damage for Instagram, which boasts more than 100 million users. National Geographic, among Instagram's mist high-profile defectors, has announced its return to the service, where its account boasts 716 photos.
Instagram's Fate Is Tied To Trust In Facebook
In a stroke of good timing for Instagram, Facebook's newest update to user privacy controls began its global roll-out last night. Facebook echoes Systrom's efforts to renew user trust in Instagram, which has its fate bound to the world's biggest social network. In an updated newsroom blog post addressing the new controls, Facebook takes a welcome stand on transparency: "We believe that the better you understand who can see the things you share, the better your experience on Facebook can be."
The update, aimed at making privacy settings more understandable, makes a direct effort to assuage users' suspicion of the social network's intentions around the intersection of privacy and revenue – the heart of this week's Instagram ToS kerfuffle, too.
Mayfair Brightens Things Up
Oh, and that Mayfair filter, which now appears in the first screen of the app's filter list, is a warm, pink-ish effect that darkens the corners and brightens up the center of a photo. Instagram suggests the filter for evenly and well-lit shots in conjunction with "lux", the app's punchy contrast tool.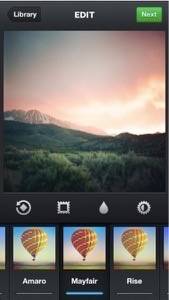 ReadWrite is not one to turn our noses up at a new Instagram filter, but the feature push kind of feels like a diversion. Instagram rarely updates its set of photo filters – and it just added a filter known as "Willow" on December 10.