PayPal predicts that the real spike in holiday shopping won't happen on Black Friday or Cyber Monday, but rather on Thanksgiving Day right after dinner. And this shopping will all be online, from the couch. PayPal says that shoppers will participate in "couch commerce," otherwise known as sitting on a couch and shopping from smartphones and tablets. A new report from Nielsen concurs with the idea of "couch commerce," indicating that 80% of consumers will be skipping the stores on Black Friday. TechFlash.com takes this idea one step further, calling Thanksgiving Day the new Black Friday.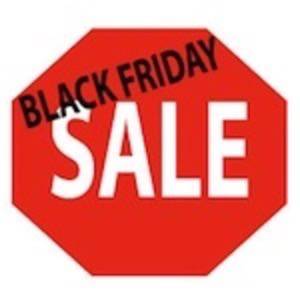 Big retailers like Target, Toys R Us, Best Buy and Walmart are all offering Black Friday deals online one day early. These same stores are planning to open early on Friday, and a few may be open on Thanksgiving. But the store that's always open is the one online – and retailers are banking on the idea that consumers want to buy, and fast. According to data from Hitwise, Walmart is the most frequently searched Black Friday term. For the four weeks ending on November 12, 2011, Walmart received 10% of Black Friday-related terms, up 9 percentage points from the same time frame last year. Walmart is number two after Google.com in a chart of BlackFriday.info top destinations from November 2010.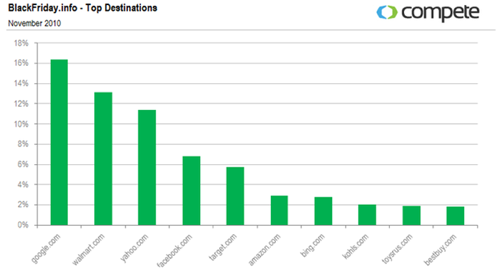 Another survey from NielsenIncite notes that the daily buzz about Black Friday/Cyber Monday on social media sites has been on the rise for the past two years. The most Black Friday buzz comes from Twitter, not surprisingly. Public posts accounted for 63% of the buzz. Message boards and groups were another venue for online buzz, comprising 22% of the online discussion.
Stats from InsideFacebook.com reflect the strong social media presence of Target, Macy's and Toys R Us. All three have joined the list of top 20 Facebook Pages by Likes for this week.
Image via BlackFridayDeals98.com.