We barely have time to pause and reflect these days on how far communications technology has progressed. Without even taking a deep breath, we've transitioned from email to chat to blogs to social networks and more recently to Twitter. Here is my representation of the current ecosystem, which we will explore in this post: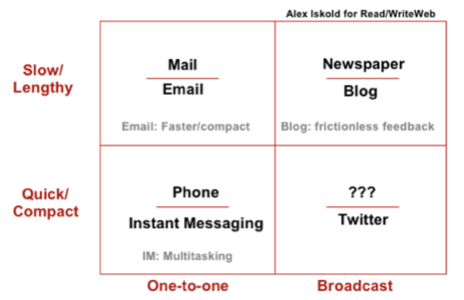 In a recent post, Fred Wilson asked what is going to trump email? (implying that even email is getting old). Certainly email is still the most broadly used form of digital communication, particularly in businesses, but is it beginning to be displaced? And more importantly why?
To answer these questions, we need to understand the patterns behind all forms of digital communication. How they came about and why; and what are the differences between them. Perhaps going back and looking at regular mail, phone and newspapers can give us insights into the reasons and potential life-span of email, chat and Twitter.
Email vs. Mail
It is always useful to start at the beginning and understand the basics. How is email different from the regular mail? The obvious differences are that email is faster and virtual (i.e. not physical). And it has different economics, since you do not have to pay per email message (at least we do not perceive it this way). Now, because email is delivered faster, we send more of it. Because we send more of it, each message is much smaller than a typical letter. So thinking about it this way, we realize that email not only redefined mail, it created a completely different way of communicating. Instead of sending more information less often, we send less information more often. The speed and quantity of communication created a qualitatively different communication medium.
Phone vs. Chat
Way before we had the Internet, we already had a way to communicate faster then via mail – the telephone. Phones allowed us to instantly get in touch. Then when the world went online, Instant Messaging was invented – which, unlike email, allowed people to reach each other immediately. But there are big differences between phone and chat. Firstly, most of us, at least initially, were not as good at typing as talking. Even today, conversations via chat do not have the same flow as a phone call, because people have learned to multi task during chat. That is not something that you would typically do on a phone call (unless you are on a really boring corporate call!). Despite the differences, the key common attribute between a phone call and an instant message is essentially immediate reach-ability.

Extreme multi-tasking; pic by defining moment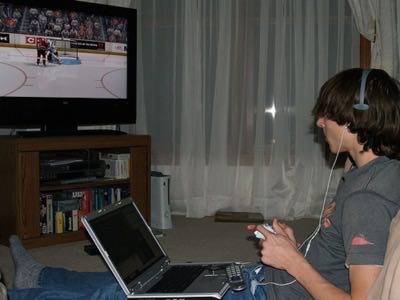 Newspaper vs. Blogs
Regular mail and phone are typically used for one-on-one communication. Newspapers and radio are older forms of one-to-many communication. These methods are examples of broadcast or push technologies. Over the past decade, blogs arrived on the scene and they've had tremendous success as a form of one-to-many communication. The reason for this is that blogs leveraged something that was done very poorly in newspapers and somewhat better in radio – our need for feedback. Blogs made feedback frictionless. Anyone can comment on a post.
The ability for people to get involved and to express their opinions, created a completely different dynamic. In a way, blog posts are like mass mailings with massive CC lists – but executed in a much more organized way. This form of non-instant communication has won our hearts, but overwhelmed our RSS readers. And that, in turn, created an opportunity for the micro version. Here comes Twitter.
Electrodes vs. Twitter
Twitter is a new form of communication that is both a natural step from blogging and a weird experiment normally found in neuroscience labs. Because blog posts are typically lengthy, there was an opportunity to break them down into smaller chunks. Twitter arrived on the scene and in a way it asked us to break down all of our thoughts and actions into succinct chunks. As the result, they can be delivered faster, processed faster and there can be more of them. And once again, the interplay between speed and quantity created a qualitatively different experience. People are collaborating on Twitter in real time. They are discovering news, watching each other and getting advice. Twitter pushed us all to the edge of real communication. Any more real would probably be telepathy!

Squaring it all out
So now we come to our diagram: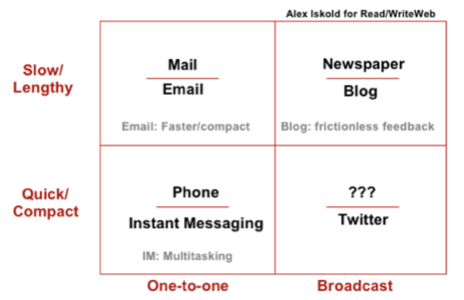 We see that all the squares in our diagram are filled out. Twitter jumped in and gave us a new form of communication – instant broadcast with feedback. Each of its digital predecessors was an improvement over the physical equivalent. So the question is, what else can be improved?
The mobile twist
The axis not reflected in the diagram above is reach-ability. With the recent explosion of mobile devices, the communication game has changed once again. While with traditional computers instant reach-ability was not always possible, mobile devices eliminate this gap. There has been an explosion of chatting and twittering on cell phones, proving that real-time communication is what people crave.
The outcasts, or the way to the future?
Just about when we cannot imagine anything that can beat the real-time broadcast nature of Twitter, things get even more strange. The popular Justin.tv show has a guy walking around with the camera attached to his head, recording everything that is happening around him. While we may question the sanity and usefulness of this, we cannot deny that we are curious about this phenomenon. Is this an aberration or a way to the future? The answer is not a simple no!. There is more to the story, which we are only finding out as we go along.
And along the lines of strange, what do you think when Amazon Evangelist Jeff Barr invites you to a AWS meeting in Second Life? Maybe this is not odd, because people are using AWS to build services in Second Life – so in that sense it is quite natural. As Second Life gains mindshare, we can expect the emergence of a new communication medium. This medium is going to have new rules and new possibilities that, undoubtedly, people will rush to explore.

Amazon Web Services Chat in Second Life; pic by labsji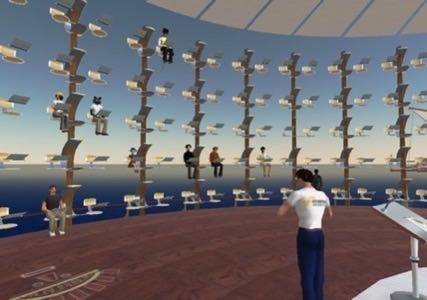 Conclusion
We are witnessing a breathtaking evolution of new forms of digital communication. More than witnessing, we are facilitating it. All of this is unfolding so quickly that we do not have time to pause and reflect on what is happening. But if email is becoming an endangered species, then we need to pay attention. So the question still stands: what really different and new forms of communication are we going to see next? We leave this as an open question and invite our readers to comment.