It seems that every day a new IoT device or means to connect existing devices is revealed. With so much energy being devoted to telling us how, when, where and what we can connect to each other, the "why" may be getting a little blurry. So we want to take a step back every now and again and take a calm, cruel and critical look at the connected devices that you can actually go out and buy, right now.
Here's what caught our eye, for all the right – or wrong – reasons:
LVL wearable hydration monitor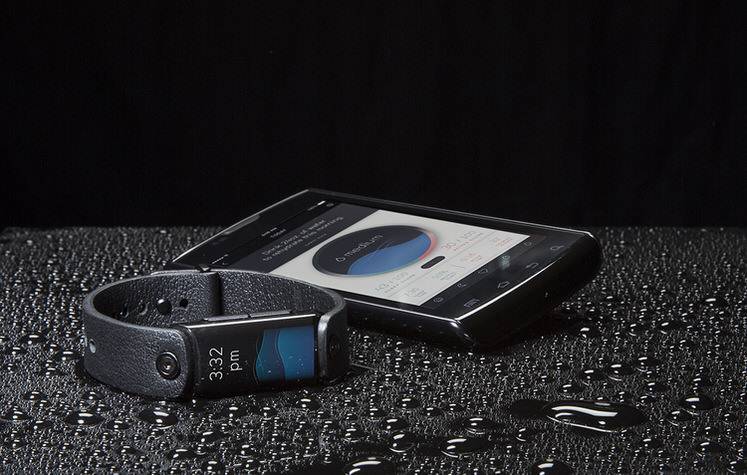 We've all read recommendations on how much we should drink to stay properly hydrated. The problem is that there's no agreed-upon rate of said hydration — with some touting the "eight glasses a day" missive and others suggesting less or more.
We also lack the knowledge of how much water we've actually absorbed, especially when it's hot or we're exercising. But now, health startup BSX Technologies has created LVL, the first wearable device that promises to measure your hydration levels in real time.
The LVL Band also tracks hydration, heart rate, sleep quality, steps, and calories burned.  It measures hydration and heart rate using NIRS (Near Infrared Light), similar to the red light sensors utilized within their BSX Insight device. While it's being primarily marketed towards athletes, you could imagine applications in health and aged care, the military and for people living in hot countries.
Verdict: Hit
SuperSuit
At first glance, the SuperSuit has a lot going for it. It's the world's first wearable gaming platform. Players wear the suit, go out in their backyards and start playing right away with Zi-Fi — an ad-hoc standalone wireless network that sits in between BLE and ZigBee in terms of range, no phone needed — and 15 pre-loaded games.
As they run around, hide and zap each other, a proprietary gesture engine activates "superpowers." They can generate "Force Fields," unleash "Shock Waves" and much more.
The problem is that it's kind of uncool and not in a good kitsch way, more in a Power Glove way. I can't see kids committing to this. After all, you need at least one other friend to buy one to be able to play together, and as I suspect most kids would be a touch embarrassed to be seen playing with this in public. I can see this being popular with parents but not necessarily kids.
Verdict: Miss
Kello Smart alarm clock
Anyone who struggles with long-term poor sleep typically doesn't lack insight into their condition. The markers of the smart alarm clock Kello are refreshingly aware of this, noting:
"Kello improves your sleep by training you to improve your lifestyle. People with bad sleep habits don't need another smartphone app, a sleeping pill, a gimmicky alarm clock, or spreadsheets full of sleep data. They need to change their lifestyle.

People don't NEED a one-time gimmicky alarm clock that makes gourmet coffee, threatens to donate to the Trump campaign if you press snooze, or forces you put 2 feet on the ground."
Kello is a device based on extensive sleep study research into effective sleep strategies. It offers a range of programs based on behavioral change. For example, a "Wake Up Earlier" program helps you get to your personal wake-up goal by knocking off a few minutes from your alarm every day. The "Deep Sleep" feature prompts Kello to emit a gentle pulsing light that mimics a rhythm typical of breathing.
Just follow the lights with your breath, and you'll quickly slow down to your own natural sleep rhythm. It's also compatible with smart home devices like Samsung's SmartThings Hub and Philips' Hue, and can automate simple tasks with IFTTT.
Verdict: Hit
Tgoma digital trampoline
In response to the problem that kids no longer play outside as much as they used to, Australian company Tgoma have created a digital trampoline. The trampoline mat features sensors around the perimeter that directly integrate with the users' own tablet device.
Users place their tablet in the Tgoma tablet holder and can play games while they jump. There's even a fitness program for adults that includes fitness exercises and the tracks the number of jumps and calories burned. The problem, however, is in the execution. It's not all that easy to see instructions on a small screen clearly, particularly when you are jumping up and down, or to be able to click on the screen as required.
Hence the player has to keep stopping to click on the tablet, somewhat defeating the purpose of the exercise incorporated games. This could perhaps work better in the future with gesture control armbands or a pair of VR or AR googles. A WiiFit session seems far more appealing. But seriously, what's wrong with a simple gadget-free jump on the trampoline?
Verdict: Miss
Vue Smart glasses
For those of us who wear glasses every day as a necessity rather than a choice, it makes sense to make them smart. After all, they're the first thing we put on at the beginning of every day and the last thing we remove at night.
These frames are smart yet subtle and come with a range of functions including bone conduction audio for listening to music, an activity tracker, hands-free calls and gesture control. The glasses are campaigning on Kickstarter, priced at $159 (with prescription lenses) making them incredibly affordable. They have an API so it'll be great to see what functions fellow developers create for them.
Verdict: Hit
Flatev tortilla maker
When you hear a product described as "the Keurig of tortillas" you know it's going to be another one-trick pony contributing to excess packaging and bad food.
Flatev is a "magic box" where the "freshest little ball of dough jumps out of the recyclable pod and into the baking system, ready to be a tortilla." After seconds of baking, your tortilla slides into the warmer and waits for you to enjoy the "aromatic perfection."
It retails at $437 per machine and the makers anticipate that each dough pod will retail for $0.79. Did I mention that each pod is only for one tortilla? This makes it rather expensive and time-consuming as you can only make one tortilla at a time. You can store it next to the bread maker and waffle maker that you bought but never use.
Verdict: Miss