The autonomous car industry is quickly becoming one of the most valuable emerging technology markets, but it will be hard, if not impossible, for manufacturers of hardware and software to reach a global audience without extensive partnerships.
That's according to research firm Vision Systems Intelligence, which says that manufacturers will have to build relations with chip, sensor, mapping, and development tool firms to make its autonomous car functional on all fronts.
See Also: Rolls-Royce unveils an autonomous car for the 1%
"No one company owns all the expertise necessary to build an autonomous vehicle. From low-level component suppliers to modules or systems, each domain is a highly complex field in itself," say Phil Magney, founder and principal of Vision Systems Intelligence.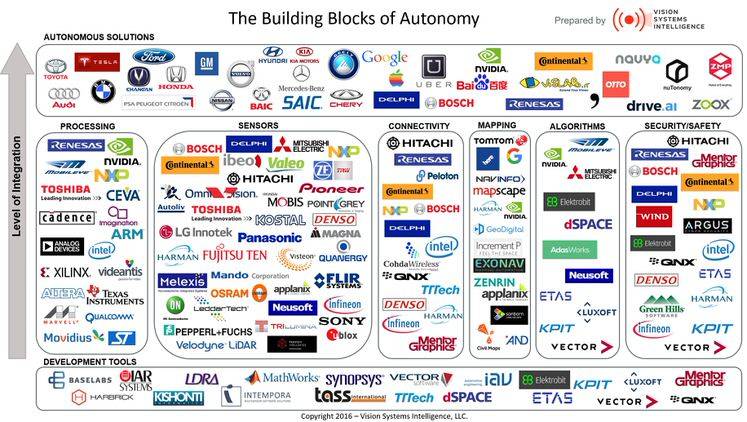 In the infographic above, Vision Systems Intelligence shows the various sectors of the autonomous car market. What it doesn't show is the partnerships already established, like Google and Uber's mapping partnership on Android, or General Motors acquisition of Cruise Automation for $1 billion and $500 million partnership with Lyft.
Other partnerships between 'autonomous solution' firms and suppliers are most likely active, though we doubt many are disclosed.
It is interesting to see what blocks companies are active in. Intel is apparently active in processing, connectivity, and security/safety, while Nvidia works on autonomous solutions, processing, and algorithms. Google is only active in autonomous solutions and mapping according to the infographic, though we suspect the search giant is working on its own development tools and sensors for the autonomous car prototype.
Partnerships are always important for emerging technologies to gain traction, but the autonomous car market will require a vast amount of interoperability between software, hardware, and services, similar to the smartphone or computer but on a larger scale.
Some manufacturers are showing a willingness to work together, Fiat Chrysler was reportedly in talks with Uber and Amazon, on top of its Google deal and General Motors has once again hinted at a possible partnership with Google.