With three recent announcements, Lyft, a ride-hailing and -sharing service, is making moves that suggest it will soon become more open to third-party developers.
On Tuesday, Lyft announced a new way to hail a ride through an integration with Slack, the team chat service. Instead of using a mobile app to summon a car, you can now install a bot within Slack that orders one for you.
See also: Taxicab Industry Has A New App To Compete With Uber
That follows a recent announcement by Lyft of a still-brewing partnership with Starbucks that would let you tip your drivers with credit towards a cup of coffee instead of cash, and a broad-ranging deal with Chinese ride-hailing giant Didi Kuaidi to share customers traveling abroad.
Losing The Race For Developers
What all of these have in common is a need for partner systems to talk to Lyft—through, as one does these days, an application programming interface, or API.
Lyft and its larger archrival, Uber, have for the most part, raced to match each other's features and scrap for market share in the cities where they compete. But—despite Lyft CEO Logan Green's rhetoric—Lyft hasn't matched Uber in courting developers with a platform that can extend its ride-sharing service into other apps.
Uber has embedded itself in a variety of apps, from Google Maps, where it offers people searching for public-transit directions a tempting trip-time estimate if they take a private ride instead, to Expensify, which uses bookings you've submitted for an expense report to order a ride when your flight lands. Uber even gives developers an incentive to hook up with its API by paying them a bonus when a new user signs up for Uber through an app.
Lyft has an API already, CTO Chris Lambert recently told me—it's just private, meaning that its details aren't published and developers must apply to use it.
Slack is "our first external marquee API integration," Lyft spokesperson Katie Dally told me. (The Starbucks and Didi Kuaidi integrations, while announced, have yet to be rolled out.)
Slack's chat interface, while friendly to humans, also gives a pretty good idea of what API access to Lyft means. Besides calling a car, you can also get an ETA or a price estimate. Here are a list of commands—which, you can imagine, maps pretty well to functions available in Lyft's private API: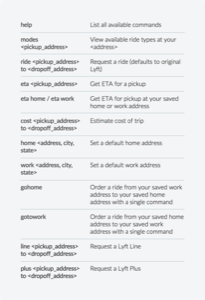 The Lyft chat bot still has some rough edges. For example, while you can set a home and work address within Slack, those aren't synchronized with the home and work addresses you pick in Lyft's mobile app. Before Lyft opens those features up to developers—say, connecting an address book app to one's Lyft account—it needs to do some back-end work to tie up loose ends like that example.
Get On Board The Developer Train
There's far more that Lyft could open up, of course, than just letting bots hail rides for you. Fare data could go into expense-reporting systems like Expensify or deduction trackers. Cities might be interested in an API that offers aggregate data about traffic conditions Lyft drivers experience.
That's precisely the point of having an open API—to unlock the imaginations of developers and put them to work extending services like Lyft to new interfaces, like Slack's chat bot, and new experiences. As Slack cofounder and CEO Stewart Butterfield discovered years ago, when he was running Flickr, it's far easier to open up your API than labor your way through one-off business deals.
Lyft's team seems ready. Notably, Lambert's second-in-command, Lyft VP of Engineering Peter Morelli, oversaw APIs at developer platforms at Twitter and Salesforce. And before Lyft, Lambert worked on the Maps product at Google, which is heavily used by third-party developers. So the company's technical brain trust has the experience necessary to run a big, successful developer program.
Caution is due. No one wants a poorly written script to call bogus rides that must be cancelled. And Lyft is certainly going to be watchful for signs that rivals like Uber are poking at its systems. (The two companies are already taking each other to court for various claims and counterclaims of digital skulduggery.)
But that's no excuse. Lyft has gotten us to open up our cars to strangers. The least it can do is open up its API to developers. I've got a feeling they're ready to share the ride.
Lead image by Brad Berman for ReadWrite; screenshot courtesy of Lyft