It's been the worst-kept secret in technology recently, but Google finally made its Nexus 5X and 6P smartphones official at a media event Tuesday in San Francisco. The company also showed off a redesigned, upgraded Chromecast media streaming stick, and a brand-new Pixel C Android tablet.
There were few surprises in terms of the phones for anyone who was keeping track of the recent rumors. The Nexus 5X, made by LG and powered by a Snapdragon 808 processor, features a 5.2-inch screen running at a 1920 x 1080 resolution. 32 GB and 64 GB models are available and prices start at $379.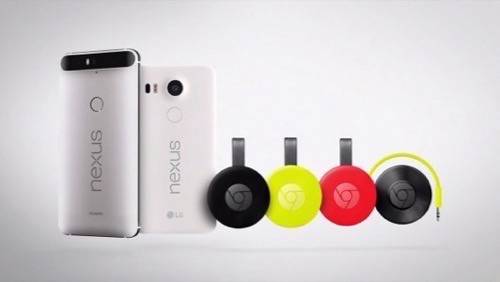 The Nexus 6P is manufactured by Huawei, runs on a Snapdragon 810 CPU, and comes with a 5.7-inch AMOLED screen running at a 2560 x 1440 pixel resolution. Google says the phone is a mere 7.3 millimeters thick. It's also the first Nexus phone to have an all-metal body. Prices start at $499 and it's available with 32 GB, 64 GB, or 128 GB of internal storage.
The biggest features on these phones are what they have in common: Nexus Imprint fingerprint scanning technology, USB Type-C connectors and a 12.3-megapixel camera sensor made by Sony that Google says is the best to ever find its way inside a Nexus device.
The camera offers slow-motion video recording (120 frames per second on the 5X and 240 fps on the 6P), 4K video, and superior low-light performance, according to Google.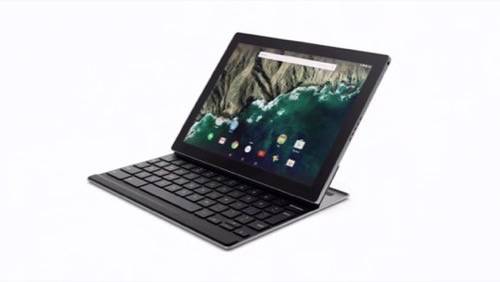 Google wasn't finished there, though. It also showed off a redesigned Chromecast dongle, the Chromecast 2, which is easier to plug in and has improved Wi-Fi capabilities. We also saw a new Chromecast Audio device for attaching to speakers and streaming music from a compatible smartphone or browser app (including Spotify, Pandora, and Google Play Music).
Finally, there was a Pixel C Android tablet, though in this case it was more of a preview than a full reveal. Inspired by the Chromebook Pixel in terms of looks and purpose, it's also very reminiscent of Apple's new iPad Pro and the Microsoft Surface. There's a clever keyboard attachment, a 10.2-inch screen and again USB Type-C as the connector. Like the new Nexus phones, the Pixel C will be running Android 6.0 Marshmallow when it sees the light of day sometime later this year.
After a quiet period for the Nexus hardware program, this puts Google's signature devices right back into the spotlight in three key areas: smartphones, home streaming, and the tablet/laptop hybrid. With another Surface Pro rumored to be around the corner, consumers have got a lot of choice in the runup to the holidays—whether all of these devices can find enough buyers remains to be seen.
Images courtesy of Google