The Fire Phone might have fallen flat on its face, but Amazon isn't getting out of hardware just yet: The company today announced no fewer than seven new devices, covering tablets, set-top boxes and streaming dongles—there are updates for just about every device in the Amazon portfolio, save for the Kindle and Echo.
More important than the hardware, though, is the news that Amazon's smart assistant software Alexa is making the jump from the Echo to the newly updated Fire TV. We were expecting Amazon to make a move for the smart home of the future, and it looks like the wheels are in motion.
See also: Amazon's Awesome Alexa Voice Tech Reaches Out To Other Devices
On one level, this isn't a new strategy for Amazon: From the very start, its hardware devices have been shipped with the aim of getting more people on its digital services, which now cover music, video, e-books and, most recently, the Washington Post.
But the expansion of Alexa is something new, a digital assistant and smart home controller rolled into one, with no visible interface. The app can run Web searches, read out audiobooks, check the traffic or the weather and turn your lights on and off—in other words, very much in the vein of Siri, Google Now and Cortana, with the added bonus of letting you order items straight from Amazon too.
Amazon is encouraging developers to get involved as well, though the roll-out of tools for third-party coders to play around with hasn't been particularly speedy. In time it seems likely that Jeff Bezos is going to want as many people as possible on board with Alexa, and that will probably see the app finding its way to tablets, in addition to the Fire TV.
Taking The Tablets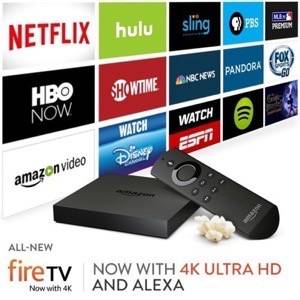 Perhaps the most headline-grabbing device in Amazon's latest batch of products is a $50 tablet designed to compete at the lowest end of the Android market. It's accompanied by a $99.99 tablet aimed at kids (complete with chunky case and age-appropriate software), plus upgraded Fire HD tablets with better hardware specifications, at 8-inches and 10-inches.
The revamped Alexa-enabled Fire TV can now play video content in 4K resolution, and the cut-down Fire TV Stick gets an update too, though it has to make do with voice control rather than the full Alexa experience. A gaming edition of the Fire TV rounds out the new line-up.
It was only last week that Apple was showing off a set-top box that tells you the baseball score while you're watching your favorite comedy show or playing a game on the big screen, and now Amazon has launched something strikingly similar.
Amazon's modified version of Android has always struggled to attract developers and users—it's in the same chicken-and-egg situation as Windows Phone—but while that ship may have sailed, smart personal assistants and voice control is where we're seeing most of the innovation and progress on mobile devices right now.
Microsoft realizes it, hence Cortana's rapid expansion to just about every platform possible, and it looks like Amazon realizes it too: These intelligent, AI-driven apps are the future for mobile phones, smart homes and everything in between. If Jeff Bezos gets his way, you'll be hearing a lot more from Alexa in the future.
Images courtesy of Amazon