This article is sponsored by Cujo. It reflects the views of the sponsor, not ReadWrite's editors.
Cujo is announcing a smart device that guards all of your connected home devices from hacks. It's simple to start, with no installation necessary. Cujo blocks malware, viruses, phishing attempts, and hacks. You get an app that alerts you anytime your devices are in danger. Best of all, you can get it for only $49 when you back our Indiegogo campaign.
We have all read stories about the Ashley Madison and Sony hacks. We may think that only corporations are affected by cybercrime. Chances are, you've probably been hacked yourself in the past. In fact, almost 50% of Americans were hacked in 2014, CNN reported.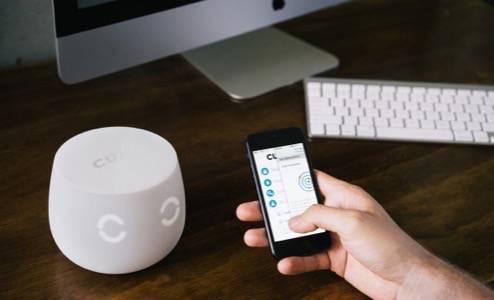 The days of protecting your home with just an alarm system or antivirus softwre are over. If you have a TV, a smartphone, or even a baby monitor at home, then you are an easy target for cybercriminals. It can take just 20 minutes before criminals begin attempting to hack a newly connected device. More often than not, they succeed.
Why is it important to get extra Internet security for your home? Criminal hackers break into your home devices to steal your identity, watch your cameras, access your financial info, and worse. Kids and older adults are especially susceptible to falling victim to stalkers and impersonators. Your home is full of smart devices, but antivirus software is designed only to protect your PC, so it is ineffective in most cases. And firewalls are outdated the moment they ship. Your Internet of Things need security. Cujo continuously adapts to guard your entire home Internet.
How does Cujo work? Cujo was engineered to start in seconds. It connects to your wireless router with one cable. Your connected devices will still stream directly to the router, so your wireless range is not affected. Cujo will inspect all of the connections within your network as well as data leaving and entering your home. Its patent-pending technology enables Cujo to learn from your device behavior so that it can detect anomalies as soon as they occur.
Click here to visit Cujo's Indiegogo presale campaign. We need backing to get Cujo to the masses, so we are selling the device for only $49. At that price, it comes bundled with many months of free service. Even small contributions help by raising Cujo's popularity and giving the cause of better Internet security at home more visibility.
This article is sponsored by Cujo. It reflects the views of the sponsor, not ReadWrite's editors.