Nextbit is not just any Kickstarter startup. The company, formed by Google and HTC alumni, unveiled its Robin smartphone earlier today and, as of this writing, nabbed more than half of its crowdfunding goal on the first day.
So far, more than 1,100 backers have pledged upwards of $400,000 towards the $500,000 target, making Robin's launch look like an inevitability. The reason for its success seems to stem from a very clear and straightforward message that cuts to the heart of a common complaint from mobile users: lack of storage.
See also: Why Android Won't Save BlackBerry, And BlackBerry Can't Help Android
Called "the only cloud-first smartphone" by its makers, the device runs a customized version of Android that automatically offloads photos, apps and more, and stashes them online. Google's mobile OS is already very cloud-centric, from Gmail to Google Photos. But Robin takes it another step further.
Storage Wars
The speed with which the Robin's Kickstarter campaign has taken off can't simply be down to the discounts on offer for early birds—it shows users really don't want to worry about local storage any more.
Our mobile devices increasingly manage to do more these days, which also means that people store more on them. But built-in phone storage can be expensive, as larger capacity models run at a premium. Meanwhile, features like SD card support are quickly going out of style, in favor of unibody designs unmarred by things like unsightly card slots or removable back covers.
See also: Chip, The $9 Computer, Could Fuel An Explosion Of New Applications
Robin attacks this problem as its raison d'être. The device is more affordable than the full retail cost of other premium smartphones, at $399 (full price, though some $349 tier offers are still available at the present moment). For the money, it offers 32GB and 100GB of online space. That cloud storage is key. Rarely opened apps automatically dispatch themselves to the cloud, with their icons grayed out until you need to use (and download) them again. It also backs up full-sized photos over Wi-Fi.
There's another benefit of this approach. Like Google's marketing approach for its Chromebooks, Robin's promotional video practically says, "Don't worry if you drop it in the drink [or see your dog chew on it], because you can just pick up where you left off."
https://www.youtube.com/watch?v=bJntCtPfgok
The phone boasts distinctive looks as well: Users can pick from a Mint or Midnight color theme, and the handsets come with a Snapdragon 808 processor, 3GB of RAM, a 13-megapixel camera and a 5.2-inch 1080p IPS LCD display.
Devs, Start Slimming Those Apps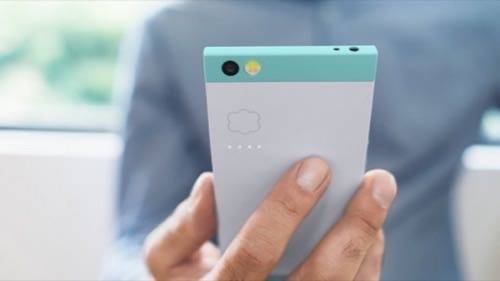 Nextbit's success points to the frustrations today's mobile users put up with, and if this marks the beginning of a trend, then many app makers may have to consider more lightweight approaches to building their software and services.
Users likely lose patience first with large apps or apps that cache a lot of data. Games can be some of the worst culprits, and the category could explode further still, if trends like virtual reality explode. But really, any kind of media application is also most probably a storage hogger (particularly if it doesn't have a strong cloud component).
Consumers are clearly nonplussed at having to pay so much for larger phone-storage capacity, just to manage their apps and photos. While, it's too soon to say if Robin's tactic hits on the right formula to solve this dilemma, early signs look good.
The approach itself, however, is not entirely revolutionary—in fact, it's somewhat similar to the approach Google and Apple are already taking. An Android or iPhone user can now quickly retrieve apps, contacts, emails and photos with a single sign in on a new phone, even if the process isn't as intuitive or as seamless as Nextbit is trying to make it.
iTunes, Google Play, as well as third-party apps like Netflix and Spotify, already keep content in the cloud and download it as needed.
What the Robin brings to the table, though, is an intelligent, automatic clear-up process that saves users the effort of doing the same job manually. Or at least, that's the claim.
Cloudy Matters
For tech makers, cloud storage may seem like the answer to some major problems, but it's not a panacea. It can come with its own set of issues for them and their users—such as available bandwidth, data use, cost and connectivity.
Still, if Nextbit's early Kickstarter popularity proves anything, it's that developers need to work on syncing solutions that operate like magic—without leaving users with a huge data bill or a buffering icon at the end of it. That's not easy.
As of 2015, plenty of users still want that local, offline option despite their storage woes—Amazon beat Netflix to the punch with an offline mode earlier today—and that's likely to continue until high speed Internet access becomes more ubiquitous and inexpensive.
Meanwhile, Google and Apple will probably watch Nextbit's rise with interest. So don't be surprised if iCloud and Google Drive become even more essential to their respective platforms in the years to come.
Images courtesy of Nextbit