A wise man once said that reality is "simply electrical signals interpreted by your brain." Oculus, the virtual reality harbinger now owned by Facebook, agrees. And it wants you to believe it too, so you can accept virtual reality as a new form of reality.
"VR is more than just another platform," Oculus chief scientist Michael Abrash said at the F8 conference Thursday. "In the long run it has the potential to create the whole range of human experience. Virtual reality done right truly is reality as far as the observer is concerned."
Like the series of optical illusions Abrash showcased on stage, virtual reality works because of our brain's stubborn quest to make sense of the world. Feed a slightly different image into each eye, and it will gladly decide you are seeing depth and motion. It will gladly process virtual images as real, giving you a sense of actual presence.
It's this model of the world, filtered through our brain's limited sensors, that we experience as "real" and trust implicitly, Abrash said. It's a model built by millions of years of human evolution that is based on assumptions that are almost always right. Virtual reality works because it feeds the brain enough matching information that the brain assumes what it is seeing is real. That's presence.
Merging The Virtual Into Reality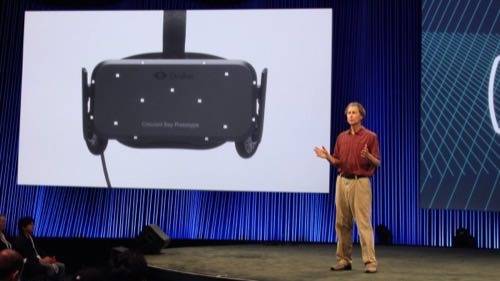 VR is only in the beginning stages. Abrash said over and over that it just just now reached that minimal level or presence. By adding haptics—physical feedback that corresponds to the virtual world—better screens and improved audio, virtual reality can become even more lifelike. The hardware itself will get smaller, lighter and more powerful.
Abrash also talked about bringing the real world into the virtual. For example, you should be able to look down and see your own body. If you want to reach out and grab your coffee, there's a virtual representation you can pick up without taking off your mask. It sounded like a hybrid form of augmented reality, a different way of experiencing the real world.
Oculus didn't make any announcements about the long-awaited release of Oculus Rift. Abrash did say it will be "shipping in quantity before long." Facebook CTO Mike Schroepfer showcased a video game and said, "You're going to be able to do this this year in VR. You're going to be doing it in something shipped by Oculus."
@vindugoel did not announce anything regarding shipping just said pc hardware available this year can create these experiences

— Mike Schroepfer (@schrep) March 26, 2015
Both Schroepfer and Abrash threw up images of Crescent Bay, the latest publicly-shown Oculus prototype. Schroepfer was quick to clarify on Twitter that he wasn't talking about an actual Rift release, and never mentioned Gear VR, the mobile headset slated for a broad consumer availability later this year.
In my reality, I'm going to go ahead and envision a 2015 Rift ship date.
Photos by Owen Thomas for ReadWrite