Nothing can get Amazon down, not even brouhahas over warehouse labor relations. Instead, the e-commerce giant would rather put on its Douglas Fir-colored glasses and get into the spirit a little early.
Amazon's earnings may be dismal, but its e-commerce business remains the core of its business. With that, there's a lot of pressure to make the most out of the holiday shopping season. In addition to discounts—in particular, big upcoming Black Friday deals—the company is courting the public with free holiday music, as well as a couple of new digital offerings for Fire tablet users.
See also: The Fire Phone May Have Cratered, But It Hasn't Dented Amazon's Tech Delusions
Call it an all-out Amazon assault on the bah-humbugs.
Amazon's First Deals Are The Quickest
When did the holiday season begin stepping on Halloween's toes? Black Friday, the day after Thanksgiving, traditionally kicked off the season. Now retailers lick their chops as soon as we put away our costumes and wigs.
On the Web, the fervor has only just begun. But Amazon's not waiting until Black Friday or its cohort, Cyber Monday. It's striking early with new Lightning Deals tomorrow. The site will add new deals every 10 minutes or so for eight days straight. It will also offer three Deals of the Day, beginning midnight on Thanksgiving, with three more tacked on when Black Friday arrives. That piles on to its regular rotation of limited-time Lightning Deals.
How you shop Amazon could change too. The company's partnership with Snapchat—which itself just hooked up with Square for SnapCash—just yielded a new way to send gift ideas, recommendations and Snapchat-exclusive temporary deals, which vanish in seconds. The first "snap" goes out today.
See also: Snapchat: Our New "Snapcash" Won't Disappear—Oh, And Neither May Your Snaps
To help spread the cheer (or shopping addiction) even more, the company just released the free holiday soundtrack you never knew you wanted. Now you can mimic the in-store experience by playing the sort of Christmas songs that retailers love to play in the background, while you cruise Amazon's goods.
The catch: The collection comes courtesy of Prime Music, so you have to be an Amazon Prime member. You can click here right now to access 40 songs—from "O Holy Night" to "I'll Be Home For Christmas" to "I Want A Hippopotamus For Christmas"—on the website, or through an iPhone or Android device.
Fire Perks For A Cold Season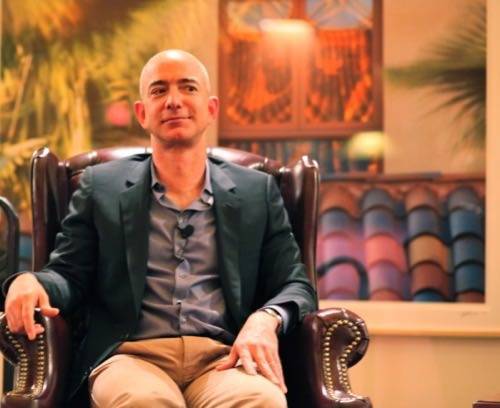 People wondered what Amazon CEO Jeff Bezos was up to when he bought the Washington Post last year for $250 million. Now we know: Papa Bezos wanted to drop some journalistic knowledge on users of his Fire tablets.
The Post, and its newsroom of nearly 700 staffers and 60 Pulitzer Prizes, comes to Fire tablets courtesy of its brand-new app. The Washington Post Fire tablet app, available in the Amazon Appstore, costs nothing for the first six months. That includes the app and a digital subscription to the newspaper. Users get a "pinch view" that lets them flip through virtual pages like a magazine. The editorial team won't skimp on stories for this version either—it will release two editions daily: at 5 a.m. ET and 5 p.m. ET.
For now, the app will be exclusive to Fire tablets, including the Fire HDX, Fire HD, and Kindle Fire HD, but it will come to additional devices next year.
If you're not into shopping or reading, Amazon Game Studios has another tidbit up its sleeve: Today, it launches a new family-friendly game, "Tales From Deep Space."
The company describes it as "a comedic mis-adventure set on Big Moon, the most eccentric space station in the galaxy." Players help a traveling salesman and his loyal luggage drone, CASI, escape from the locked-down Big Moon by fighting battles and solving puzzles. The game supports both single-player and two-player mode.
While this one's not free (it costs $6.99), people with the Kindle Fire HDX or any 2014 Fire tablet get an extra benefit: They can play in a local, two-player "co-op." Think of it as being connected, but without the latency of playing online. In this mode, each person controls their avatars on their own tablets.
The studio partnered with comiXology on a free "Tales From Deep Space" prequel comic as well, which offers some background narrative on just how E ended up on Big Moon. The comic is available on Fire tablets and 2013 Kindle Fire tablets.
Amazon's Robotic Santas (Or Scrooges?)
Amazon may be putting its cool holiday face on for the public, but behind the scenes, it's gearing up like mad to get ready for the thongs of shoppers.
With no Santa Claus on the payroll, the company knows it will take an army to fulfill all the gifts that will shuttle through its pipeline. To manage the load, Amazon will have a fleet of robots ready to arm its warehouses, or so reports The Wall Street Journal. Short, squat and orange, as many as 10,000 wheeled machines could make for an imposing lot—not entirely unlike Doctor Who's Daleks. But instead of "destroy!" their chant may be "deliver!"
According to the paper, which cited people "familiar with the matter," the robots bypass the need to have human employees searching the vast product warehouses for goods. The sources also say that Amazon's 1.2-million-square-foot warehouse in Tracy, Calif.—roughly 60 miles east of San Francisco—is first up, with four floors of fixed shelving replaced by the robots. They'll bring products to human "pickers" who will stand by to receive.
A robot army could help expedite shipments, which should please consumers. But if this initiative takes off, that holiday spirit may not extend to the flesh-and-blood employees in Amazon's 40-warehouse network of fulfillment centers.
See also: What To Do When A Robot Takes Your Job
They've been on a roller coaster ride lately. Under their settlement with the National Labor Relations Board, the company agreed to change some of its rules. Amazon will finally allow its U.S. warehouse staff to communicate about pay and working conditions. Previously, it took a dim (sometimes punitive) view of such behavior.
The settlement also compels Amazon to allow posted notices informing employees that they have the right to unionize and collaborate on collective benefits—which would be a first for the online retailer.
The two events seem linked. Machines, after all, don't complain or unionize—which may partly explain why the company has been exploring drone delivery, and bought robotics maker Kiva in 2012. The idea of robots replacing people has been a long-running fear for warehouse staff, factory workers and others in distribution or manufacturing.
Given that, as Amazon customers enjoy their deals and freebies—perhaps delivered more efficiently and cheaply than ever—the workers responsible for delivering them may not share in the cheer.
Product photos courtesy of Amazon; Jeff Bezos photo by Steve Jurvetson; Robot photo courtesy of Kivan Systems