Apple's message this week was loud and clear: Forget everything you thought you knew about the iPhone maker or its mobile products.
The plan: Reboot the iPhone product line as a beautiful phablet line, give the larger flagship an even bigger premium sibling, introduce Apple's first-ever smartwatch, and tackle brand-new categories—from health and fitness to mobile payments.
You might think the Apple Watch was the highlight of the press conference, given how CEO Tim Cook and his inner circle dedicated more than 40 minutes of its fast-paced two-hour presentation to the wrist device. But that wasn't the biggest news. This was: The company's hitting a dead end with smartphones, so it's clearly branching out everywhere else.
Much Ado About iPhone Sizes
Cook did a smart thing. He opened the event by harking back to his company's past, invoking his legendary predecessor's accomplishments. Even the choice of location was savvy. This year's iPhone event swept the same venue where deceased co-founder Steve Jobs revealed the first Macintosh computer 30 years ago.
It takes a self-assured man to pay homage to a track record that could easily eclipse him. Consider it an effort to prove that he doesn't feel threatened or intimidated by that storied past. He had reason to feel confident. Before the Tuesday event, Apple stock had hit $98.36, a jump of 38 percent from the year before.
.See also: What's The Difference Between The iPhone 6 and iPhone 6 Plus?
Invoking the past may have been a calculated effort to not seem disrespectful, even when the company later up-ended Jobs' fundamental smartphone stratagem.
In 2010, then-CEO Jobs told a roomful of reporters that no one would buy a big iPhone. Having just presented the 3.5-inch iPhone 4 to the world, he criticized competitors' massive handsets. With successor Cook looking on from the next stool, Jobs took aim at phones so huge that "you can't get your hand around it."
Now Apple, under Cook, just presented the biggest iPhones the world has ever seen, while also eliminating the last of the 3.5-inch phones Jobs held dear. He seems poised to do the same to the 4-inch models next year, which could make the 4.7- and 5.5-inch screens of the iPhones 6 and 6 Plus the only options.
The fervor around big phone sizes should surprise no one. There's only so much power and so many specs you can stuff into a handset before the law of diminishing returns takes hold of consumer interest. It's a lesson Samsung is learning, given its lackluster earnings this year. But unlike the South Korean tech company, whose users have long had an embarrassment of phablet riches, monster phones were unexplored territory for Apple. Until now.
But it doesn't solve a pressing problem for the iPhone company, or many other smartphone makers, for that matter: Once you've got a terrific device with stellar hardware, where do you go from here?
If you're Cook's Apple, you loosen the reigns on app developers, so they can make your products shine, and you try to wow people with new services and product categories. Ultimately, you stop making mere smartphones, and you start making smarter phones that act as hubs to everything else in your life.
Apple See, Apple Do, Apple Watch
On Tuesday, tech reporters, fashion journalists and an impressive herd of Apple staffers filled the hall for the most significant Apple event in years. This is the company's Hail Mary play to put itself everywhere in your life that matters.
See also: What You Can Do With The Apple Watch
That vision represents a multi-pronged approach intended to push technologies that remain just shy of mainstream popularity into the lives of millions. Apple believes it's the one to do it by going out on a literal limb.
And that limb is your arm.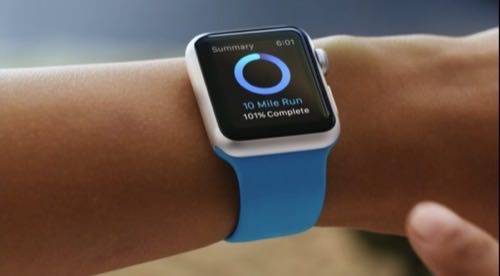 You can call the new Apple Watch a smartwatch, though Cook doesn't. Perhaps the word is too geeky for its taste—and taste is key. That's why the CEO, who notably introduced the gadget himself, gave his baby a slew of wardrobe choices covering a standard, sport and luxury edition in a range of metals, watchband styles and colors. Cook really seems to like colors. (See the iPhone 5C.)
He took a risk, inviting fashion reporters and renowned style experts to the event. Their reaction? As mixed as the numbingly vast array of Apple Watch options.
Alexandra Shulman, editor of British Vogue, told Reuters that "it is immaculate in terms of how function meets design. The issue is really about how much people want to wear something so clearly, essentially an amazing gadget." But fashion expert Roseanne Morrison said, "It's not pretty. It's very future techno as opposed to feminine sexy."
Described as rather masculine by some fashionistas, the Apple Watch's aesthetics make for a sleek, lovely gadget design. But as a timepiece—objects known for extremely long life and even family heirloom status—the takeaway seems to be "meh." (Perhaps Apple should have made the watch circular instead.)
The $349 price tag—minimum price tag, that is—doesn't help. For that amount, you could pick up one of the new iPhones instead. Actually, you may have to, if you don't already own a fairly recent model. Like many of its competitors, the Apple Watch requires pairing with a smartphone from the company.
See also: Without GPS, Apple's "Sport" Watch Is A Non-Starter
For all the Apple Watch's plethora of sensors and other hardware, a GPS antenna is not among its features. Instead, the device relies on an iPhone for location tracking (which is key for fitness), mapping, as well as other apps.
We Want Your Wallet
Features might be where the message gets muddy. The Watch is not just a watch. It's a fitness gizmo. A communicator. A pipeline to your phone notifications. And—like the iPhones—it's also your wallet, capable of paying for things at the store with a physical tap on a terminal.
As if convincing the public to embrace a wearable, one with a somewhat confusing identity, isn't challenging enough, Apple has also decided to galvanize another not-quite-there technology: mobile payments.
The company's Apple Pay plan of attack involves three fronts: Give its gadgets the Near Field Communication (NFC) chips necessary to make pay-by-tap work, get the banks and credit card companies on board to broker the transactions, and rally retail stores behind the plan so people have places to use the newfangled tech.
The company has done all of that now, striking deals with American Express, MasterCard and Visa, as well as big-time banks like JPMorgan Chase, Citibank, and others. To start, retailers like Walgreens, CVS, Subway, Toys R' Us, Macy's, Panera, McDonalds, Disney and, of course, its own retail stores will soon take Apple Pay, amounting to an Apple-led revolution in mobile payments.
Or so the company hopes. There's no doubt that this is an impressive first step. But there's more work to do. Many (if not all) of those stores already take NFC payments, making Apple Pay a no-brainer. Convincing other retail giants who haven't embraced NFC yet will be key, as well as reducing the barrier to entry for small businesses—i.e., the huge landscape of mom-and-pop shops, some of whom will dread intimidating technology or unproven point-of-sale systems.
This needs to happen before anyone can proclaim mobile payments to be a thing. In the weeks and months ahead, as more details about the company's plans emerge, we'll hopefully see more of what the Apple Pay game plan is.
Some say that if anyone can succeed at mobile payments, it's Apple—the originator of the modern concept of the smartphone, as well as the billion-dollar App Store.
If anyone has a chance to make wireless payments a Thing, it's Apple. It's persuading stores AND online companies to accept ApplePay.

— David Pogue (@Pogue) September 9, 2014
Others seem less impressed about the company's prospects.
Oh, And "One More Thing …"
Apple's strong pre-announcement stock price hit a lot of turbulence during the event—which is not entirely unexpected, given all the newness that abounded. But since then, says CNBC, the stock has been downgraded in the face of iPhone 6 and Apple Watch concerns.
It's an indication that the business world isn't as confident as Cook about all those new devices. According to CNBC, a Pacific Crest note to investors said:
We continue to believe Apple's strong customer loyalty will protect margins and cash flow, limiting downside in the shares. However, unless Apple Watch proves to be a surprisingly large mass-market hit, we believe multiple contraction will offset earnings growth over the next year and prevent significant stock appreciation.
They are, frankly, missing the point. Because Tim Cook didn't just release a bunch of doohickeys, hoping to garner consumer electronics sales. With Tuesday's event and previous announcements, he's paving the way for an army of gadgets, software updates and services that hit upon—and, let's not forget, monetize—almost every facet of modern life.
See also: The Purple Scarf That Ate Tim Cook's Apple Watch Launch
It's a brash push into both your hands, as well as your wallet, wrist, home, health, fitness and car, and this plan is fraught with challenges. But the inner circle of executives, headed by Tim Cook, has the resolve, the leadership and the cash flow to try.
That doesn't mean they'll succeed. But, like their enormous smartphones, the ambition on display is humongous and spectacular, possibly even ridiculous. In that way, Cook's outsized vision may even trump the glorified ego of Steve Jobs. Because he just gave us a day to mark in the calendar.
This is the moment that the iPhone maker leapt out of the pocket. And there may be no going back.
Screenshots by Stephanie Chan for ReadWrite