Soon, Windows smartphone users will be able to command their houses by just speaking a word or two.
Smart home company Insteon will take the wraps off an intriguing new announcement Wednesday—a forthcoming Windows Phone app feature that ties into Cortana, Microsoft's voice control.
With that, users will be able to speak into their smartphones to verbally command their Insteon hubs—and therefore all of their connected home appliances, Iron Man–style.
A Stark Look At The Smart Future
I had a chance to check out this J.A.R.V.I.S.—er, Cortana integration, Tuesday afternoon at a Microsoft retail location in San Francisco, where Isaac Sanz, Insteon's director of marketing, walked me through a demo.
The Cortana feature is in alpha testing—a very early prerelease phase—but even so, the voice control worked rather well, at least in the store's fake home setting. Previously, the primary way of interacting with the existing Windows app has been through the touchscreen, much like other smart-home apps.
Sanz showed me various taps and swipes on a Surface tablet. "I can bring down the lights here; control the thermostat here …" he said. It all worked well, but it was unexciting. Similar inputs are common in other do-it-yourself smart-home products, such as SmartThings and Revolv.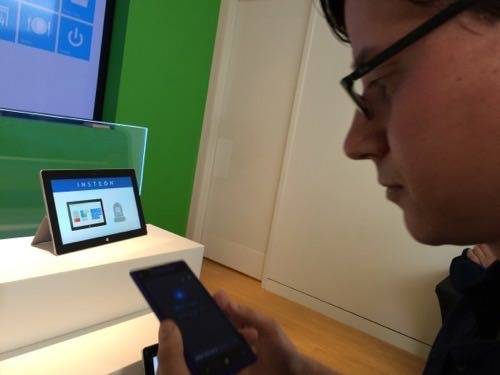 Finally, Sanz grabbed a Windows Phone device and spoke into it. "Insteon, turn on the lights."
Now we're talking (literally). The room was noisy, so I braced myself for some errors or bugginess. There were none. Cortana dutifully triggered the lamp on the table in a short moment.
The new voice feature will be able to turn devices on or off, like lighting, or even switch groups of settings across various devices, in what Insteon calls "activity scenes." For example, uttering "movie time" into the phone could bring down the lights, warm up the thermostat and turn on the home theater speakers all at once.
House Talk
Seeing how voice control worked to manage lights, heating and cooling, cameras and more, it struck me as an incredible omission that home automation and control hasn't worked this way all along. Of course people would want to talk to their homes. It beats tapping through a dozen screens on a smartphone just to kill a lamp. Those complicated experiences are a major reason smart homes haven't taken off yet in the mainstream market.
"[It was] the breakthrough in smartphones that has really made the difference," Dan Cregg, Insteon CTO told me. Indeed, earlier attempts at voice features—whether in phones or even in desktop computers—were too glitchy and bug-prone to be genuinely useful. Or they forced users to speak in a strange format.
"It very elegantly looks at the way that the user has named the devices, homes, scenes or rooms, and it incorporates that naming convention in what it's looking for," said Joe Gerber, president and chief operating officer of SmartLabs, Insteon's parent company. "I don't want to learn somebody else's convention. I want to talk naturally about my son's room, and have the lights come on."
I noted that, as Sanz turned off the light and then switched scenes, he spoke in natural tones, not gibberish or overly literal syntax.
The commands are still rudimentary at this point. Users wouldn't be able to, say, configure their smart-home gadgets by talking out loud. What does work, however, works well.
Network Disconnect
Too bad users won't be able to get their hands on this for at least another couple of months.
Another downside: Only Insteon-compatible devices that tie into its hub can be voice-controlled. That's approximately 200-some devices, which sounds like a lot, but is really only a fraction of what's out there.
So if you have a Wi-Fi-only device like Dropcam or a device that only supports ZigBee or Z-wave, the other two major networking standards for home devices, you're out of luck.
And since app-enabled voice features only work through Cortana, it's a Windows Phone experience only. In other words, there's no Insteon voice command on PCs, much less Android or Apple devices.
That doesn't mean voice command won't come to iPhone users. Eventually. Insteon reps told me that Siri integration could be on the menu someday. They just don't know when.
Although the iPhone maker promised to do so last month, when it announced HomeKit software for developers, Apple hasn't actually released Siri-specific programming tools just yet. So, even though Insteon has been working on HomeKit compliance, it can't enable voice command for iPhone and iPad users.
In the mean time, the smart home purveyor has been pushing forward with Microsoft—which, Sanz told me, has been enthusiastic about this relationship.
Of course it is. Apple has HomeKit. And Google has Nest. That smart-home device maker has been rather busy lately. After having bought Dropcam, the smart thermostat company corralled a gang of partners on a new ZigBee-compatible wireless protocol for the connected home.
With Insteon, at least Microsoft can prove it has some mojo in the smart home space. And in the process, it has ushered in what looks like a really cool feature—ahead of Apple, no less.
For Insteon, it has been the culmination of a long road. The company, with its mix of wireless and old-school wired (power line) technology, is practically an elder statesman of the DIY smart-home industry. It's been in the business of connecting houses for more than a decade. The company has always remained low key, watching as the frenzy around the so-called Internet of Things achieved maximum froth. Now it appears to be coming out with guns blazing, offering features that trump recent contenders.
Now we'll see if Insteon can beat back the competition. After all, that's what Tony Stark would do.
Feature image via YouTube video by Tabrez; all other photos by ReadWrite