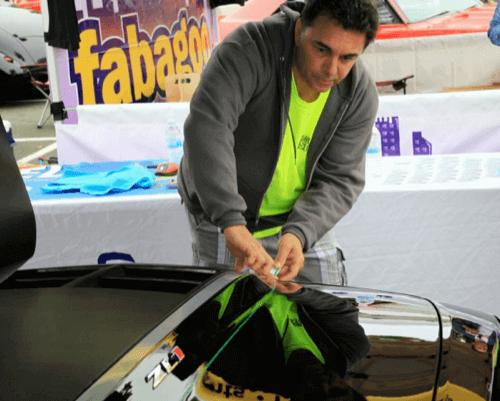 Presented by OPEN Forum®.
The death of print? Ken Carbone has been in the printing business since 1986, and he doesn't see it.
Instead of fearing the march of progress, he's used digital technology to grow his business, Dolphin Graphics, to compete on a larger scale.
Carbone opened Dolphin Graphics in 1986. The company, based in Castro Valley, Calif., initially started in print publishing with business cards and signs. The business quickly grew to include screen printing on apparel and embroidery for jackets, hats and other items.
Over the past few years, however, Carbone has expanded his operation thanks to an array of technologies that have helped him become more digital. He does this through a wide range of technologies to create, distribute and monitor his products' progress. This has allowed Dolphin Graphics to keep track of its customer base, expand its digital marketing, reach out to new customers with social media, and speed up the time it takes to complete orders with more accuracy and less waste than before.
Breathing Life Into Publishing
One of the obvious benefits of the new age of graphics publishing is the time saved by getting file transfers direct from a client. Previously, a graphic would be hand-drawn and carried over to the printer manually. Now the digital files are transferred with online services like Dropbox, Box or Hightail.
"These large custom graphics files can be almost a gigabyte in size," Carbone said. "We utilize these file-transfer systems in a way where we never could before. Now we can process these jobs in a few hours instead of a couple of days."
Because the files are digitized, orders large and small can be created and changed with fewer mistakes—which have become more costly as Carbone expands his business lines. Whereas a ream of stationery can cost a half a cent or a penny a sheet, mistakes on a garment like a jacket can cost $40 to $50. Over the last three years, Carbone says he's reduced wasted materials by 30%.
However, Carbone says he speaks for a lot of small businesses when he says he wishes his connection to the Internet were a bit more robust. While AT&T and Comcast provide high-speed services in the area, they are still very slow. A fiber-optic network installed just over the hills in the nearby city of San Leandro is showing promise of speeds 100 times more than current cable or telephone networks.
Driving New Business
One of the latest ways Dolphin Graphics has expanded its business is to transfer digital designs to an adhesive-backed vinyl sheet that can be wrapped around some or all of a truck, car or other vehicle.
The vinyl wraps are quite popular with customers who want splashy and colorful advertisements on their fleet vehicles. They are also mobile marketing tools that help draw in many referrals into Dolphin.

"It's always about getting in front of a customer or their friend," Carbone says. "You could have a passerby see a vehicle and we'll get a referral because they recommend this to their husband or another business associate."
As the product is relatively new, Carbone says he places a high premium on tracking his spending on marketing, which includes social media, digital advertising, and of course email.
"We have email lists that go out to clients through Constant Contact; that's our main marketing tool," Carbone says. "We also found success in letting people see what we are doing on Facebook. We might post pictures of a certain product, and people will come to us and let us know what they would like to work on."
Email Is King
The Dolphin Graphics story is common among small businesses. A recent report sponsored by Oracle's Eloqua division found 71% of small businesses use email as their primary marketing tool, followed by webinars, social media, and blogs and case studies. The report also revealed 64% prioritized some type of marketing tracking to ensure a healthy return on their investments.
One new growth area for Dolphin Graphics is QR codes—scannable codes embedded in a graphic or logo. The pixelated images allow for customers to scan the image with a smartphone and get sent to a relevant website or app.
"We've printed the image on the bag, which people can use for shopping, and if they scan the image with their smartphone, they can be entered into a contest to get a special prize or a discount on services for their car," Carbone said.
He adds that the next step for digital graphic publishing is to discreetly embed QR codes into regular photos—these can trigger an action on a smartphone when a photo is taken.
Carbone says his company is now working with local auto dealerships to supply them with this new technology for everything from a vehicle graphic to tote bags—replacing an ugly black-and-white pattern with a simple, scannable image.
While people may be printing less in homes and offices, the need for distinctive graphics in marketing has, if anything, increased—and Carbone sees more opportunities coming.