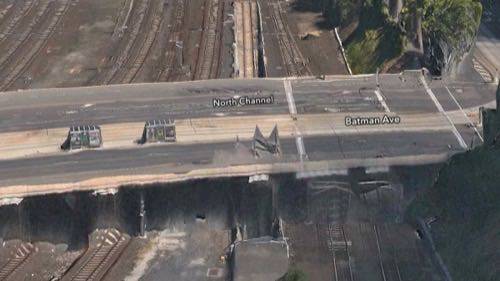 Apple Maps is on a tear, taking market share from Google Maps according to new comScore data. Apple fans will cheer, but will U.S. and European antitrust authorities? Given the similarities to Microsoft's illegal tying of Internet Explorer into Windows back in the late 1990s, Apple may be setting itself up for an antitrust lawsuit.
Apple Maps: Winning By Default?
As can be seen in the comScore chart below, Apple Maps took off when Apple dropped Google Maps … despite having a far inferior product: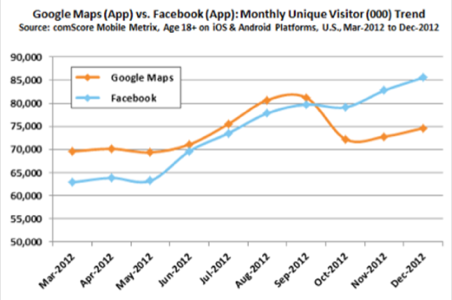 Today, as The Guardian reports, Apple's lead has widened:
[A]s iOS 6 began to roll out, and introduced Apple's maps as the default, the number using Google Maps dropped precipitously, even as the number of iPhones and Android phones began rising … By December 2012, even though the base of iPhones and Android phones had grown to 112.9m—up 9.3m—the total number across both platforms using Google Maps on mobile at least once a month had dropped, to 74.4m.

Latest figures from ComScore, published for September 2013, say that the total number of iPhones and Android phones in the US has grown to 136.7m, the number who used the Google Maps app has kept dropping—down to 58.8m—while the number of Apple Maps users stands at 35m out of a total iPhone population of 60.1m.
To be sure, Apple has introduced significant improvements to its Maps product in the last year. But let's not kid ourselves: Apple isn't increasingly winning over maps users because of its product. It's winning over new Maps users because its product is tightly integrated into iOS, according to Ben Wood, mobile analyst for CCS Insight: "On an iPhone all roads lead to Apple's maps. They're putting this front and centre for users."
This used to be called exercising monopoly power. Is it still?
Microsoft, Internet Explorer and Monopoly Power
Back in 1998, the U.S. Justice Department brought an antitrust lawsuit against Microsoft, alleging that Microsoft was violating the Sherman Antitrust Act by illegally tying Internet Explorer to Windows. Ultimately, a U.S. district court found Microsoft guilty of abusing monopoly power, which findings of fact a federal appeals upheld. The case subsequently regressed into a morass of watered down settlements and concessions, only to have the European Commission pile on and require Microsoft to offer alternative browsers as default options with the installation of Windows.
Some cheered, but the market yawned. After all, the market was already shifting to mobile devices, where Microsoft's anemic presence allowed for new hegemons to emerge.
Hegemons like Apple.
While the free market ultimately did more to decide Microsoft's fate than any justice system could, it's interesting to note the parallels to Apple today. Apple, like Microsoft, is using its strength in one market (mobile devices and operating systems) to privilege products in adjacent markets.
Will antitrust authorities care?
Defining A Monopolist
To be adjudged a monopolist, one needn't have an overwhelming market share, though that helps (or hurts, as the case may be). Rather, the U.S. court system has evolved over time in its views on tying arrangements, and whether they are per se illegal. In general, the following elements must be met, as summarized by professors Christina Bohannan and Herbert Hovenkamp:
(1) two separate products or services are involved, (2) the sale or agreement to sell one is conditioned on the purchase of the other, (3) the seller has sufficient economic power in the market for the tying product to enable it to restrain trade in the market for the tied product, and (4) a not insubstantial amount of interstate commerce in the tied product is affected.
In other words, the fact that Google's Android owns a bigger share of the market isn't dispositive here. What matters is that Apple makes its Maps product available only to iOS users, that Apple has considerable market power in iOS and the tying of the two together has the potential to significantly impact interstate commerce.
After all, some may recall that a single firm can constitute a market. Just ask IBM, which got swatted by the European Commission. We've seen several cases where a company's efforts to block third parties from providing maintenance services for their software were deemed to be anticompetitive under the antitrust laws.
And even if we take the broader market view, it's easy to forget that Apple once routinely took the WWDC stage to crow about its 90% market share in smartphones and then tablets. If it lacks market power today, did it not have it back when it had a Microsoft-esque 90%-plus share of the market?
But it's not that easy. As noted by the U.S. Justice Department, the U.S. Court of Appeals for the D.C. Circuit's 2001 decision in United States v. Microsoft rejected application of the per se rule to "platform software," thereby "carving out what might be called a 'technology exception' to that rule." The court reasoned that application of traditional per se analysis in the "pervasively innovative" platform software industry risks condemning ties that may be welfare-enhancing and procompetitive.
In other words, maybe tying/bundling, historically considered per se anticompetitive, is actually pro-competitive. Who knew?
What It Means
Apple's tying of Maps to iOS would almost certainly have run afoul of U.S. and European antitrust laws 10 years ago. Today, it's not so clear. Whereas a strong case can be made that Apple's bundling of Maps with iOS harms competition by effectively blocking Google Maps and other contenders from its platform, one can also counter that great innovations are enabled by the practice.
Plus, it's harder to cry "Foul!" against Apple when vertical integration is now the norm in mobile, with everyone attempting to bundle disparate services into their operating systems to provide a clean user experience. While Google arguably alleviates concerns of tying Google Maps into Android by making this and other Google services available on other platforms, courts will likely step gingerly into the fight.
Which may, ultimately, be the best thing to have happened since United States v. Microsoft. Courts seem to be much more deferential to the market, rather than trying to second-guess it. While Microsoft was adjudged to be a monopolist, it wasn't a court that stripped it of its market power. It was Apple and the free market.
Which is exactly as it should be, to my mind.
Apple Maps image courtesy of Flickr/JaseyR573 via CC.