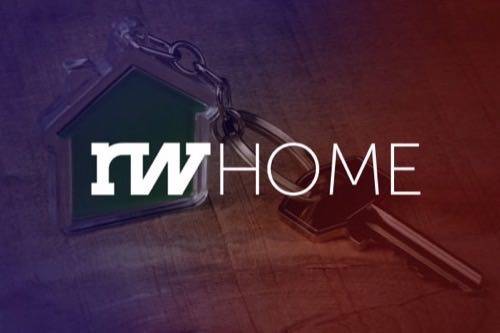 This is a post in the ReadWriteHome series, which explores the implications of living in connected homes.
Before we enter the connected home to see what's within, we can pause a moment and look around at lays without: the beautiful gardens and lawns that many of us want to have.
Growing a garden or lawn can be a lot of hard work. Since plants can't communicate, you're left guessing whether you ought to water them more, fertilize the soil or transfer them to a sunnier spot.
If you find yourself accidentally killing your plants, maybe it's time to hand over the controls to somebody else. Make that something else—connected devices that use quantified data to nurture your plants into their most verdant and fruitful selves.
If you'd like to have vegetables, flowers and herbs that practically grow themselves, you're certainly not alone. In 2013, Internet of Things gardening Kickstarters blossomed all over the Web like alfalfa sprouts. The most prolific has been Click & Grow, which earned eight times its funding goal—over half a million dollars to fund gardening devices.
When looking at the latest tools equipped with sensors—automatic watering, "smart soil" and other high-tech gardening gadgets—you might wonder how plants ever flourished under our own care. Here are some of the ways the garden of the future could prosper when left to smart devices.
Automated Metrics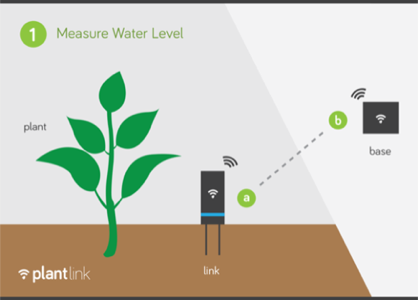 The scenario works like this: you grow a plant in a "smart pot" with built-in sensors. Or, if you're growing the plant outdoors, you can place a wireless device in the soil next to it.
From there, the sensors transmit data about air temperature, humidity, soil moisture, light intensity—even pH level in some cases—to the cloud. Once it has acquired a sufficient amount of data, the device prompts you—or another device—to take action.
Plant Link will either text your phone when the soil moisture is low, or water the plant by itself if you've bought an accessory hose attachment. HarvestGeek sends you detailed analysis based on the data in order to give you a plan for achieving the highest yield. Both services track plant growth data in real time, or close to it.
The connected garden will also track data points you're either unable to measure yourself or simply don't have the time and energy to track.
Open Data
Bhut Jolokia is not only the hottest pepper plant in existence but also one of the most difficult plants to grow in captivity. So when John Gordon set out to grow one in his basement, he was determined to do it right.
Since this was back in 2011, before the Internet of Things started taking over the gardening space, Gordon hooked up an Arduino device to monitor his Internet of Peppers. (It's worth noting that if you're more of a DIY type, you can still make your own Internet of Things gardening device using resources like GardenBot.)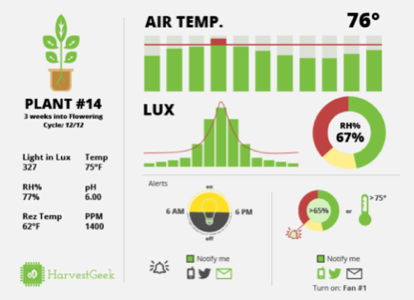 Once Gordon had figured out the secret sauce of nurturing thriving Bhuts, he put up a feed on Xively so anyone could attempt to emulate his success. It's the beginning of crowdsourced gardening—where gardeners can share their progress down to the data point.
Harvest Geek takes Gordon's model one step further by creating an open source model for gardening. You can choose to share your growth data, and browse growth data from other users. Eventually, crowdsourcing and tweaking growth plans will result in the easiest possible way to grow tomatoes, for instance.
Nanotechnology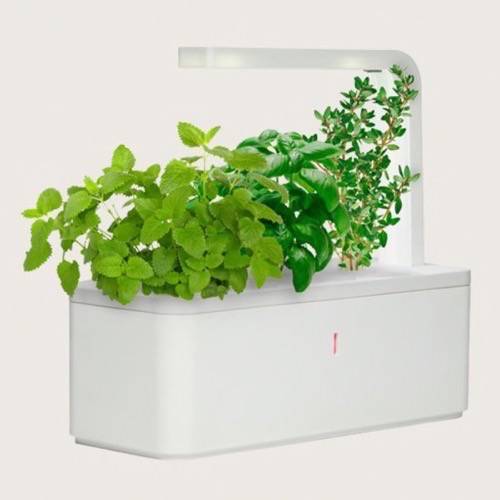 According to some movers in the connected home space, it's not just that we need computers to make our plants smarter. We also need more intelligent growing spaces.
Click & Grow says it took over four years to develop the nano technology behind its patented "smart soil." The soil is finer, allowing oxygen and water to pass evenly through it, and filled with nutrients that are supposed to release depending on the plant's growth cycle.
The idea of intelligent soil isn't unique to Click & Grow. Sanctuary Soil, a small gardening business in California, developed Perfect Planter, soil intended to resist fungi and mildew, thanks to an antimicrobial layer.
But don't expect smart soil to protect your plants against anything but microscopic pests. Earlier this year, the Environmental Protection Agency announced its plans to regulate and restrict the use of nanotech in plant pesticides. Why? "Their small size may allow them to pass through cell membranes or the blood-brain barrier." Not exactly appetizing.
Hydroponics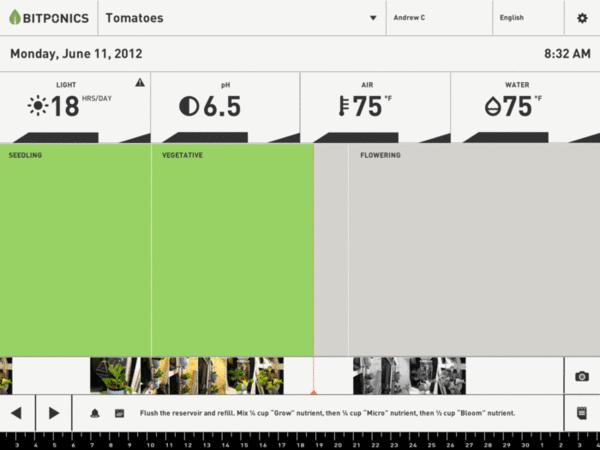 Hydroponics is a gardening technique of growing plants in an environment other than soil, such as gravel, sand, water or another liquid. It uses added nutrients in order to help plants thrive in the comparatively harsher environment.
There's a reason most Internet of Things gardening devices, like the aforementioned HarvestGeek, were designed to work with hydroponics. It's not just better for the environment and water conserving, but it makes it easier to grow plants in smaller, urban spaces, where many savvy computer users live.
However, it's also tougher to do than dirt and water gardening. That's where tools like Bitponics come in. This connected home device comes with a waterproof sensor you put right into the water where your plants are growing. Whenever your garden needs attention, the sensor alerts a Wi-Fi device, which sends you a text or email. Think Hydroponics For Dummies.
It's an example of how the connected home doesn't just make gardens smarter, it makes gardeners capable of more advanced planting strategies with little effort.
Lead image courtesy of Wikipedia.